Are you considering leveling up your data & tech skills with Pluralsight but unsure if the platform is right for you? If yes, this Pluralsight review is here to help you make an informed decision.
I explored the platform and completed a bunch of courses, and in this article, I'll share my experience and every crucial detail about the platform.
So to not miss out on any critical detail about Pluralsight courses, instructors, price, and course structure, keep reading till the end.
Pluralsight: A Quick Review
| Aspect | Description |
| --- | --- |
| Number of courses | 7000+ |
| Types of courses | IT operations, machine learning, software development, cybersecurity, information & cybersecurity compliance, business professional, manufacturing & design, etc. |
| Price | The individual plans start from $29 a month, and the business plans start from $399 per year per user |
| Features | Learning paths Mobile app Offline viewing Discussion forums Assessment projects and quizzes Course certification |
| Best for | Aspiring developers Technology professionals IT and DevOps teams Data science and |
| Course quality | High-quality courses with a strong emphasis on technical and professional development projects |
Who Should Opt for Pluralsight Courses?
Pluralsight is the best platform for anyone looking to polish their skills in the mentioned field. The platform has courses for beginners, intermediates, and professional learners, making it an open learning platform for learners of all levels.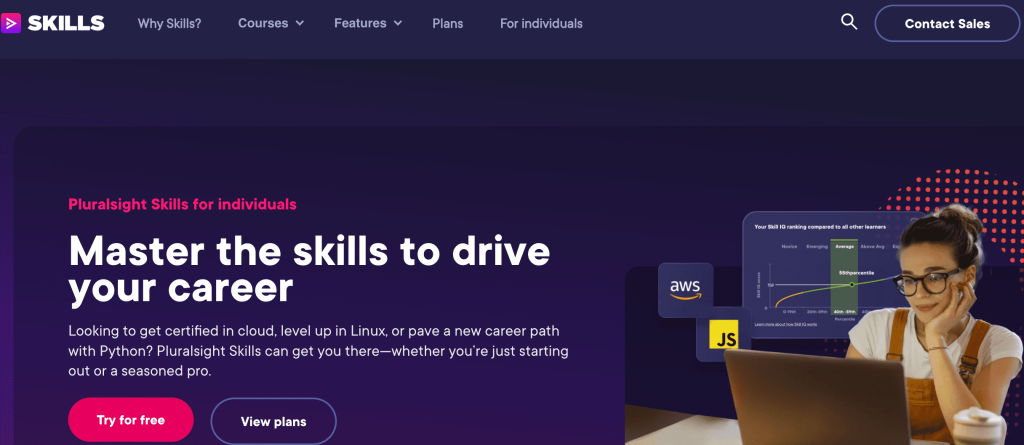 The best part is, Pluralsight has separate course categories for businesses and individual learners. The idea is to make quality education in the field of technology available to all.
Additionally, as a reputed learning platform, Pluralsight certificates are widely acknowledged by various institutes. So a certificate from the same would stand as a testament to your knowledge and skill helping you progress in your career.
Pluralsight Pros and Cons
Now that you have a brief understanding of how Pluralsight works let's quickly go through the benefits and drawbacks of its courses.
Pros-
Gives access to more than 200 free skill assessments 
Tailored courses and learning paths for individuals and businesses 
Vast course library with updated course content  
Great customer support 
Courses are taught by experienced and expert professionals 
Pluralsight certificates can help you advance in your career 
Offline course access 
Cons-
Short free trial period 
Pre-recorded classes do not leave enough room for student-teacher interaction. 
Pluralsight Price Plans: Explained
This platform has different price plans for individuals and businesses, and here is what the prices look like: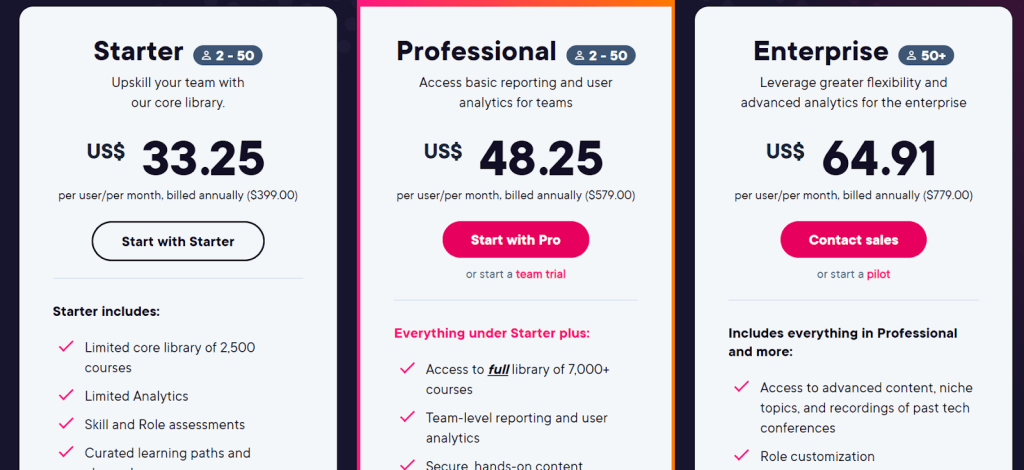 For Individuals
| Prices | Standard | Premium |
| --- | --- | --- |
| Monthly | $29 | $45 |
| Yearly | $299 | $449 |
For Business
| Starter | Professional | Enterprise |
| --- | --- | --- |
| $399 per year (for each employee) | $579 per year (for each employee) | $779 per year (for each employee) |
Free Trials
Pluralsight offers free trials for both individual and business plans. The individual subscriptions (standard & premium) come with 10 days trial period.
During this time, you get access to everything and get a chance to test and try the courses.
The business plan comes with a 2-week trial period with the same benefits as individual subscriptions.
Please note you must provide your payment details to be eligible for the trial period. But no money will be deduced till the trial period ends.
How Does Pluralsight Work? Best Features
Here are some of the best features of Pluralsight that make the platform stand out among various other online learning institutes offering the same courses:
Learning Paths
Learning paths are carefully curated lists of courses from a particular subject. These paths make it easier for learners to navigate different courses and build a comprehensive skill set in a particular domain.
Skill Assessments
The skill assessment feature comes in handy, especially for learners who are not sure which subjects to pick.
I also took the test while signing up here. It helped me figure out which I'm in and the courses I should begin from.
The skill assessment is a quick quiz where you have the answer a few questions. Based on your answers, it suggests courses suitable according to your skill level and interest areas.
You can take the assessment skill without signing up for any subscription plans, which is great.
Cloud Labs
It's a pre-configured cloud station for learners to practice everything they have learned. So once you complete a lesson or the entire course, you can go to cloud labs and put whatever you learned into practice.
Hands-on Learning
Courses on Pluralsight include quizzes and real-world projects to enable you to gain practical knowledge and hands-on experience to reinforce your understanding of the concepts.
Mobile App and Offline Viewing
This is one of my favorite features of Pluralsight; it enables offline viewing. You can download the video lessons on your device and learn anywhere and everywhere you want.
Community Interaction
The platform encourages community engagement through discussions and forums, allowing you to interact with instructors and peers, share knowledge, and gain valuable insights.
Enterprise Solutions
Pluralsight offers tailored solutions for businesses and teams, making it a valuable resource for corporate training and upskilling initiatives.
Flow
Pluralsight Flow provides insights and analytics to help software development teams to measure their productivity. Optimize their workflow, and identify bottlenecks.
This feature is especially beneficial for teams and co-workers to get complete transparency into ongoing projects and fix any issues quickly.
It's a paid feature that costs between $38/month to $50/ month.
Pluralsight Course Categories
Pluralsight offers a wide range of courses in different technical fields, and we can separate them into 10 categories, such as-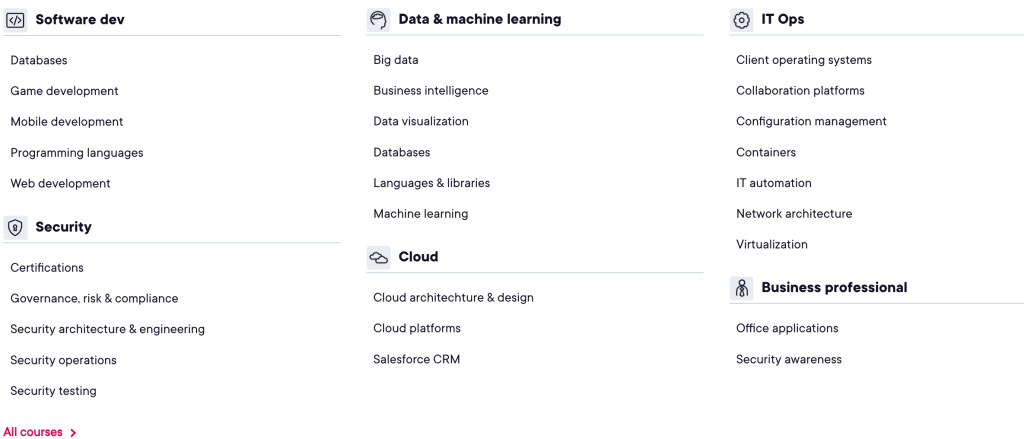 Software Development
Under this category, you'll find courses like game development, mobile development, databases, programming language, and web development.
Each of these categories contains numerous courses from beginners to advanced learners.
Data & Machine Learning
If you want to learn big data, business intelligence, data visualization, databases, language & libraries, and machine learning, go to the courses under this segment.
IT Ops
Client operating systems, collaboration platforms, configuration management, containers, IT automation, network architecture, and visualization-related courses can be found under IT Ops.
Data Professional
You can learn in-demand skills from data analytics, engineering, and science from the courses under this category. The courses cover everything from big data, cloud, internet, and mobile-related things any data professional should know.
Architecture & Construction
Pluralsight architecture and construction-related courses are here to help you polish your architecture, engineering, and construction skills.
Taught by industry professionals, these courses will give you glimpses of real-world experience of the same.
Security
If courses like governance, risk, & compliance, certifications, security architecture & engineering, security operations, and security testing interest you, go to this segment.
Cloud
Cloud includes courses like cloud platforms, cloud architecture & design, and salesforce CRM. The number of courses in this category is comparatively low, yet there are suitable options for learners of all skill levels.
Business Professional
Lastly, we can find office applications and security awareness courses under the business professional category.
Manufacturing & Design
Polish your manufacturing and design skills through Pluralsight courses taught by experts with years of experience in the industry.
Information & Cyber Security
Learn everything about security fundamentals, security auditing, penetration testing, digital forensics, etc., with the Pluralsight information and cyber security courses.
Pluralsight Instructors
Pluralsight has more than 1400 instructors, and all are subject matter experts. The fact that Pluralsight courses are designed and instructed by subject matter experts adds to the platform's popularity.
Here are some of the notable instructors that deserve to be mentioned:
Greg Shields: Full-time author at Pluralsight and the Evangelist 
Scott Allen: Microsoft MVP (Most Valuable Professional) for over 14 years, software developer, and instructor with extensive experience in .NET technologies and web development.
Simon Allardice: Experienced software developer, instructor, and author of multiple technical books, focusing on various programming languages and technologies.
Tory Hunt: World-renowned cybersecurity expert, Microsoft Regional Director, and creator of the data breach notification service "Have I Been Pwned."
Andrew Mallett: Linux and IT trainer with years of experience, providing expertise in Linux administration, shell scripting, and various IT concepts.
Nigel Poulton: Docker Captain, author, and cloud-native evangelist known for his expertise in containers, Kubernetes, and cloud-native technologies.
Dale Meredith: Certified ethical hacker and instructor at EC-Council. 
Scott Hanselman: Principal Program Manager at Microsoft, known for his contributions to the .NET community and web development. He is also a prolific blogger and speaker.
List of Most Popular Pluralsight Courses
After some research and consulting a few ex-Pluralsight students, I prepared this list of some of the most popular Pluralsight courses and learning paths.
1. Software Development
Courses
Introduction to Testing in Java by Richard Warburton
Getting Started with Web API Test Automation in Java by Andrejs Doronins
Learning Paths
Java Language Fundamentals
Core Python
2. Data Professions
Courses
Working with Temporal Data in SQL Server by Dejan Sarka
Communicating Data Insights by Janani Ravi
Learning Paths
Querying Data with T-SQL from SQL Server
Building Data Storage Solutions with Microsoft Azure Services
3. IT Ops
Courses
Fundamentals of Cloud Computing by David Davis
Computer Fundamentals: Software Troubleshooting by Daniel Lachance
Learning paths
Fundamentals of Virtualization
Fundamentals of DevSecOps
4. Architecture & Construction
Courses
Introduction to AutoCad by Pierre Derenoncourt
Introduction to Drafting & Annotation in AutoCad by Pierre Derenoncourt
Paths
AutoCad: Core Skills
Maya: Environment Modeling
5. Cloud Computing
Courses
Fundamental Cloud Concepts for AWS by David Tucker
Cloud Computing: The Big Picture by David Chappell
Paths
Google Cloud Certified Associate Cloud Engineer
Google Cloud Certified Professional Cloud Artichetct
6. Manufacturing & Design
Courses
SOLIDWORKS: Design for Mill Manufacturing by Matt Perez
Getting Started in Solid Works by Dave Urasky
Paths
7. Business Professional
Courses
Managing OneDrive for Business by Theresa Miller
Planning for Business Analysis by Casey Ayers
Learning Paths
Becoming a Business Analyst
Pluralsight Alternatives
Here are few best pluralsight alternatives.
1. Udemy
Udemy is a well-known and more accessible online learning platform that offers a vast array of courses across various domains, including technology, development, IT, business, and creative subjects.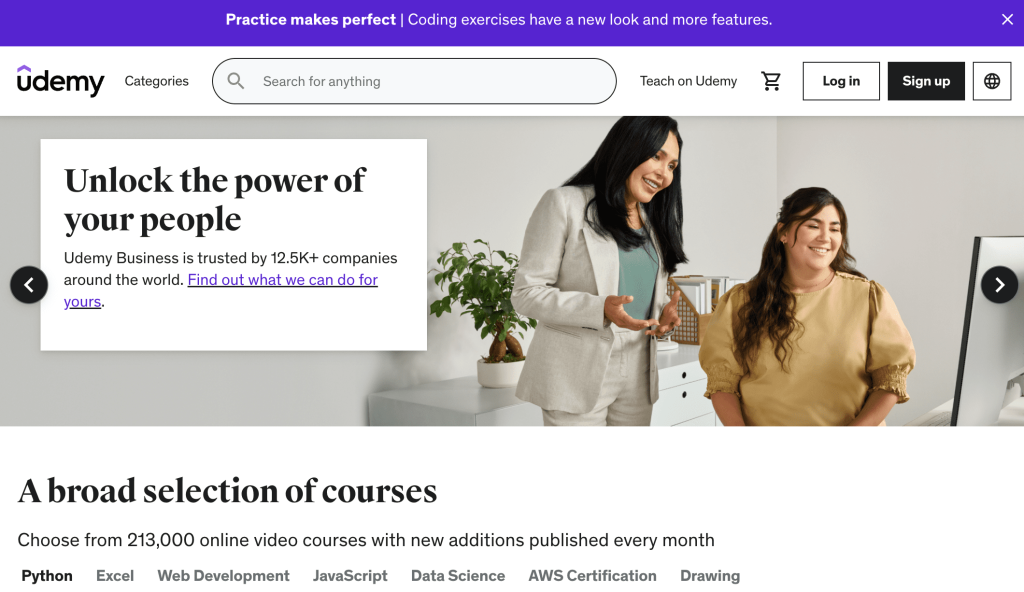 Unlike Pluralsight, Udemy follows a marketplace model, allowing individual instructors to create and sell their courses. If you want to get more insights on Udemy, you can read our review on the same.
2. Coursera
Coursera partners with top universities and educational institutions to provide courses and even full degree programs. It offers a mix of free and paid courses, and some courses come with official certifications.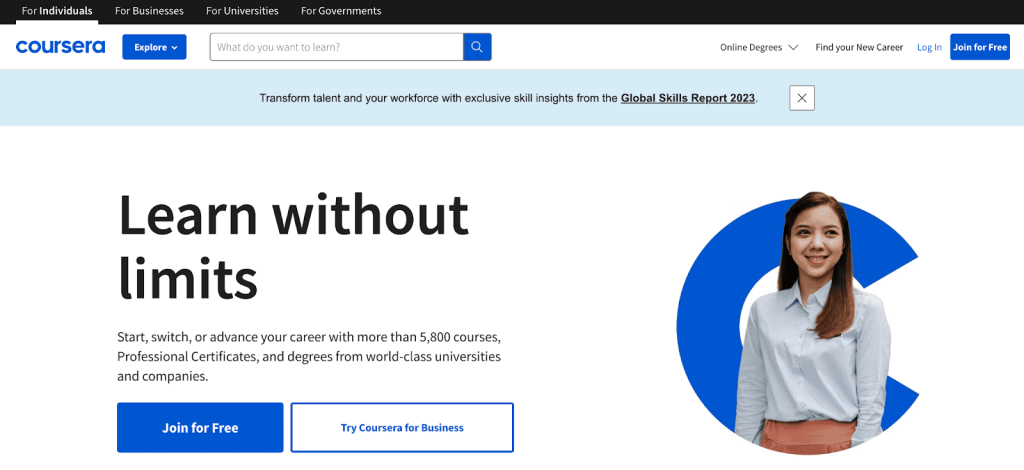 It offers a strong selection of technology-related courses and specializations similar to Pluralsight. Want to know more similarities and differences of Coursera and Pluralsight, read our article here.
3. Codeacademy
Codecademy is a platform that focuses specifically on coding and programming education. It offers interactive, hands-on coding lessons and projects in various programming languages, web development, data science, and more. Get more insights into Codecademy with our detailed guide, here.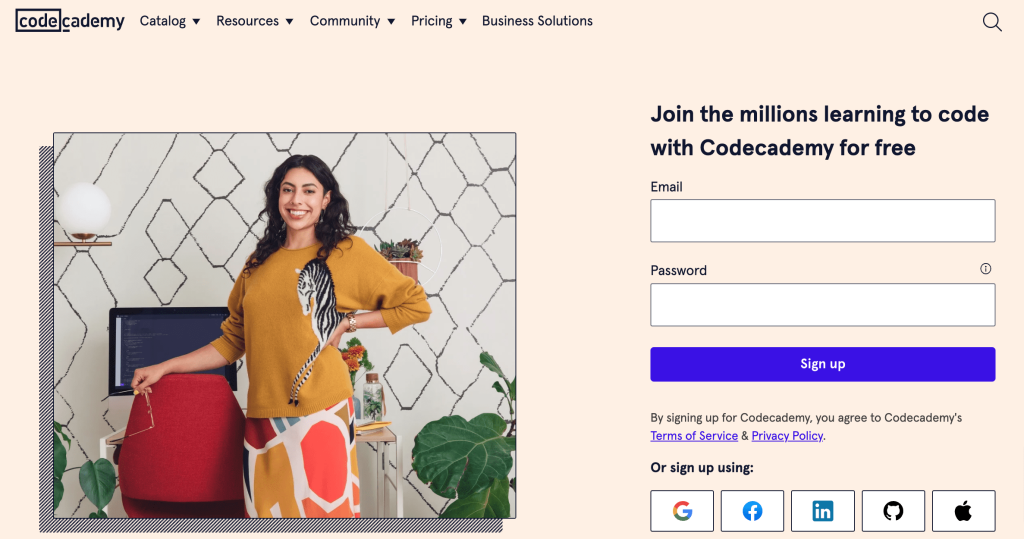 Codecademy's gamified approach makes it a popular choice for beginners looking to learn programming skills.
If you want to know more pluralsight alternatives here is a detailed guide where we have.
Related Reads:
Concluding Thoughts!
There you have a detailed Pluralsight review. I have discussed everything related to the course structure, learning paths, instructors, and how the platform works.
Pluralsight is a great platform for tech and data enthusiasts. The platform keeps updating its course content to ensure learners like you and me stay updated with the latest data, security, and technology trends.
In my opinion, the only drawback is the lack of teacher-student interaction. Once you sign up, you're on your own, and there are no doubt clearing sessions as such.
Other than that, the course content and delivery process are excellent and would be suitable for learners of all skill levels.