Looking for an edX review? Well, I have got you covered!
In this era of online learning, there are many platforms that offer a variety of educational resources and online courses to learners worldwide.
And I enjoy testing and reviewing these online learning platforms to help users understand them and choose the right one.
edX is one of those excellent platforms that provide exceptional courses to their learners. So, here I am going to review the complete platform to help you decide whether it is worth taking or not.
So without wasting time, let's start with the edX review!
Overview Of edX (2023)
A massive open online course (MOOC) provider, edX was founded by Harvard and MIT in May 2012, offering free courses from top universities worldwide, with the option to get paid certificates. The online education site runs on the free Open edX open-source software platform.
As of 2023, edX has 230+ partners, including universities, for-profit organizations, NGOs, 15 thousand instructors, and over 42 million edX learners.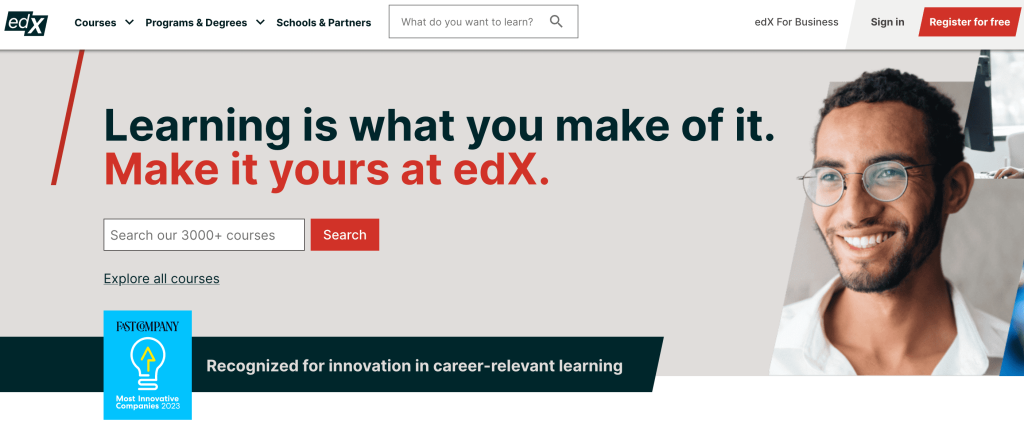 edX courses generally consist of weekly modules with pre-recorded videos that you can watch at a schedule or your speed. There are homework assignments, short quizzes, and exams to assess your progress. Auditing courses let you learn for free. However, the paid approach allows you to enjoy the benefits of learning materials and a verified certificate when you complete the course.
Features of edX
edX offers over 3000 courses covering various subjects and disciplines, including art, law, and medicine.
Top-notch educators from multiple top institutes and colleges like Yale, Harvard, and MIT.
edX provides various learning pathways like short courses, bachelor's degrees, master's degrees, etc.
Most of the courses are beginner-friendly and self-paced.
Pros Of edX
Accredited Certificates: Paying a fee lets you avail of a verified certificate, along with unlimited access to the course and graded homework.
Partnerships with Prestigious Organizations: edX has world-class instructors from top schools such as MIT, Harvard, Berkley University, etc., and has ties to Microsoft and IBM, among other companies.
14-Day Refund Policy: If you decide to terminate your membership within 14 days of purchasing a verified course, edX will provide you with an immediate full refund.
Free Course Audit Option: A large selection of information on edX is free to learn without a certificate and graded assignments.
Learn at Your Own Pace:  Most of edX programs allow you to begin and continue a course as and when you like.
Accessible on All Devices: edX is available on laptops, desktops, smartphones, and tablets. The app has a 4.7-star rating on both Android and iOS.
Cons of edX
Limited Topics: edX focuses on higher education and the sciences so you won't find courses on topics like baking, filmmaking, etc.
No Course Structure: Instructors on edX can create a course in whatever flow they like, which can lead to course inconsistency.
More Expensive than Other Platforms: edX courses have a hefty price tag between $50-$300 compared to cheaper alternatives like Coursera and Udemy.
edX for Business
edX for Business is a learning platform that assists companies in retaining top talent and efficiently training their employees in the skills their job demands. It has worked with top-notch corporations like Goldman Sachs, Boston Consulting Group, and Mercedes Benz – and all these companies have given positive edX reviews.
edX for Business offers over 3000 courses that uplift learners to maximize learning. The Corporate Learning Platform also has administration and learner dashboards to deliver insight into an employee's progress. Supervisors can view company-level data and narrow it down for a detailed overview.
However, some talent management features, such as compensation management, are not offered, which are equally important. Since it customizes a flexible learning path for each organization's needs, there is no pricing estimation.
Courses Offered by edX
edX provides a plethora of courses divided into different subjects with multiple topics under each subject. One can choose from more than 3000 courses according to interest and difficulty level. These courses are offered by top universities and colleges and usually last between 4 – 12 weeks. Many edX courses require some prerequisites and have time limits to finish the path to get certificates.
Some of the disciples available on edX:
Architecture
Business Administration
Data Analysis
Engineering
Language
Medicine
Computer Programming
Art
Chemistry
Economics
History
Humanities
Business Communication
Biology
Design
Electronics
Healthcare
Maths
Nutrition
Science
Popular edX Courses and Programs
There are many edX courses and programs that excel in terms of quality and value for money. Some of them are listed below:
1. edX Computer Science Course
The following is the most popular Computer Science Course on edX.
1.1 Introduction to Cloud Development with HTML5, CSS3, and JavaScript
This course is brought to you by IBM. It will help you discover the key tools and programming languages to bootstrap your career as a Cloud Developer. It is an introductory-level course and does not require prior knowledge of computer programming.
You will practice and work with HTML, CSS, and JavaScript. After completing the course, you will become familiar with the developer tools and IDEs used by web programmers and will be able to work with programming languages used by developers for creating user interfaces. It is a 2-week-long self-paced course requiring 2-4 hours per week.

1.2 Programming for Everybody (Getting Started with Python)
This course is brought to you by the University of Michigan and seeks to teach the basics of programming computers using Python 3.
It is an introductory level course, and anyone with moderate computer experience should be able to master this course. In this program, you will learn about variables, conditional execution, repeated execution, and how we use functions. It is a 7-week-long self-paced course requiring 2-4 hours per week.
2. edX Business Courses
There are two popular courses within this category:
2.1 Exercising Leadership: Foundational Principles
This course is accredited by Harvard University. It aims to help mobilize people to meet enormous adaptive challenges. This is an introductory course where you will approach complex strategies for leading in a changing world. It is a 4-week-long self-paced course requiring 2-3 hours per week.

2.2 Introduction to Project Management
This course is brought to you by the University of Adelaide, where you will learn to apply project management principles in your work and life. You will discover practical ways to analyze and comprehend the goals of your project and consider factors that may influence it. This is an introductory-level course that requires no prerequisites. It is a 6-week-long self-paced course requiring 2-3 hours per week and has great edX.org reviews.
3. edX Data Science Courses
The below are the best courses on data science offered by edX.
3.1 Python Basics for Data Science
This course is published by IBM and aims to get you started with the basics of programming, machine learning, and data visualization. This is an introductory-level course, which requires you to understand basic maths. Additionally, you will learn how to use pandas, a must-have package for anyone attempting data analysis in Python. It is a 3-week-long self-paced course requiring 4-10 hours per week.
3.2 Probability: The Science of Uncertainty and Data
This MIT-accredited course will help you build foundational data science while covering the elemental probability concepts, including random processes and the essential elements of statistical inference. This advanced-level course requires you to be thorough with college-level calculus, mathematical reasoning, sequences, limits, infinite series, the chain rule, and ordinary or multiple integrals. It is a 16-week-long instructor-paced course requiring 10-14 hours per week.

4. edX Design Courses
Here are the most engaging edX design courses:
4.1 The Architectural Imagination
This edX certificate from Harvard University has gained a lot of popularity. It helps you read, analyze, and understand different forms of architectural representation — by studying some of history's most important buildings. This is an introductory-level course and does not require previous knowledge of architecture. The course will also familiarise you with the social and historical contexts behind major works of architecture and the basic principles to produce your architectural drawings and models. It is a 10-week-long self-paced course requiring 3-5 hours per week.
4.2 Product Management Fundamentals
This course is brought to you by the University of Maryland. It is to help you understand the roles and responsibilities of a product manager, marketing challenges and guiding principles, and managing innovative product teams. This is an introductory level course requiring no previous business and management knowledge. It is a 4-week-long self-paced course requiring 2-3 hours per week.s and management. It is a 4-week-long self-paced course requiring 2-3 hours per week.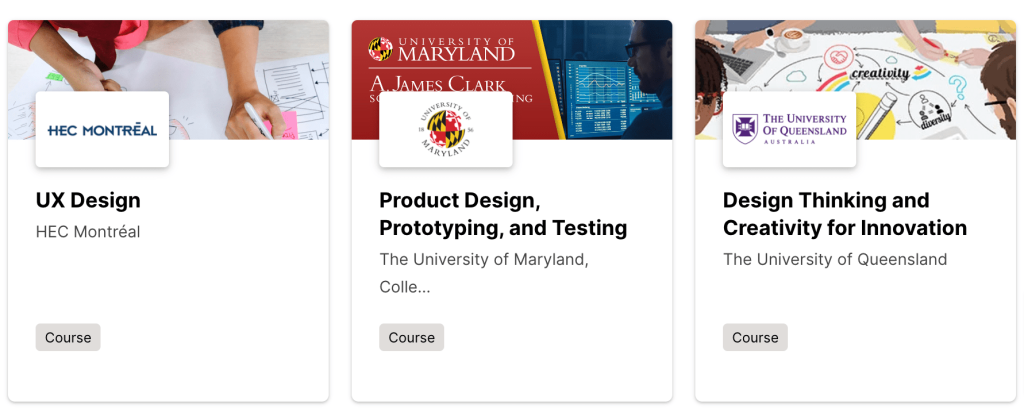 Pricing Of edX
Pricing is one of the essential parameters when it comes to online learning. edX has a slightly different approach towards pricing the courses. They offer two options, namely verified courses and audit tracks.
The verified courses of edX usually range from $50-$300. The degree of price varies with the programs and instructors. You will get all the necessary study materials and certificates.
The audit tracks are self-paced and uncharged courses offered by edX to audit the courses. In this track, you won't get any certificate or study material.
Scholarships – edX Review
One of the qualities that set edX apart from other online learning platforms is its scholarship and financial assistance program. It is different from the audit feature that lets you enroll in a course without paying. The edX scholarship fund offers up to a 90% discount on verified courses.
If your scholarship application is accepted, you must use your coupon code within 30 days of approval to avoid forfeiting the scholarship. Even if you do not qualify for the scholarships, you can still apply for financial assistance.
Is edX Suitable for Me?
edX has recorded over 110 million enrolments and issued 1.4 million verified course certificates since it started. It is a perfectly legit website that provides you with quality certificates to refresh and recharge your resume.
If you want to study a higher education program or learn a new set of skills to advance your career, or if you are looking to positively set your resume apart and add a verified certificate to your LinkedIn profile, or to expand your knowledge, then EdX is the right choice for you.
Is edX Worth The Hype In 2023?
Unlike other websites, edX tutors are certified professionals who are qualified to teach. Therefore, there is no compromise on the quality of teaching. Each tutor has a dedicated profile page that you can visit to read about their area of specialization and accomplishments. Moreover, let us not forget that Edx has tie-ups with more than 150 leading experts.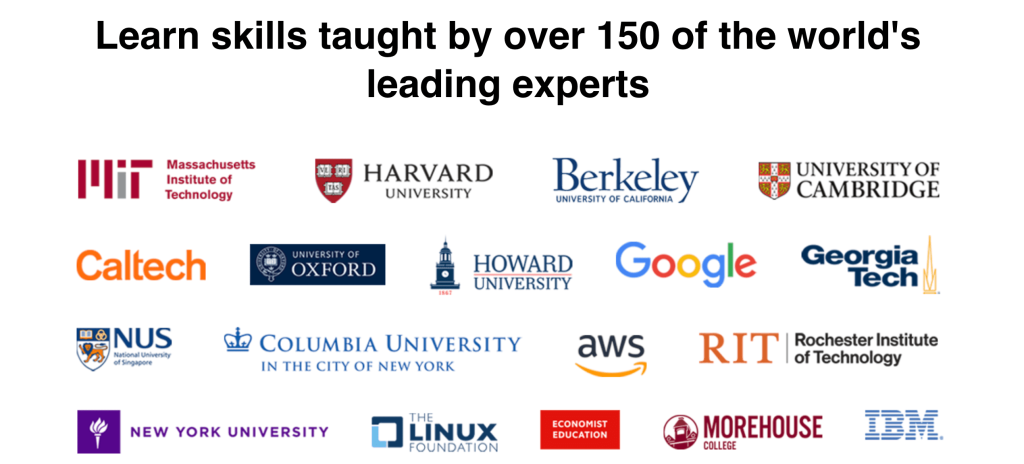 The programs are valuable and designed to pass knowledge to students and professionals. Moreover, what you learn from any program will improve your skill and performance. Companies acknowledge the edX certificates as edX has tie-ups with top institutions and organizations. It will include your name, the institution's name, the course title, the professors' signatures and names who taught the course, and the edX logo.
Articles that you might like:
Final Notes On edX Review
edX has a custom dashboard for each course. You can find the payment option, estimated completion time, the class's nature, details about the program, what you'll learn, the syllabus, information about the instructors, ways to enroll, and FAQs. All this information is unique to each course. So, you always know what to expect out of each class beforehand.
This article contains all the necessary information to make up this virtual learning platform's most reliable edX review. Hopefully, after reading this article, you can purchase your ideal course from this platform. If you have any queries regarding this edX review please feel free to comment below.
Frequently Asked Questions- edX Review
Is edX legit?
edX is the perfect platform for giving a boost to your career. Moreover, it is a legit website that provides you with quality certificates to refresh and recharge your resume.
Is edX worth it?
On purchasing edX courses, you receive certificates on completion, such as Harvard certificates from premium institutions, which will reflect greatly on your CV.
Is edX accredited?
Yes, moreover edX courses are known for their high-quality content and applicability in the working sphere.
Is edX free?
edX offers some courses free of cost. However, you need to pay a fee for graded assignments and to obtain certification.

Which is better, edX or Coursera?
Though both platforms are great in their own different ways, some may consider edX better in terms of the quality of content provided to users.
Can I get a job with an edX certificate?
Adding an edX certificate to your resume gives you an upper hand at job interviews.
Which is better, Udemy or edX?
Udemy provides users with a certificate of completion, and edX provides university certificates. This gives the edge to edX over Udemy.
Does the edX certificate have value?
Verified certificates from edX provide validation to a future employee, job promotion, or a college application that you have completed a course.
Is edX accredited in the USA?
edX is recognized not only in the USA but at all institutions all over the world.
Can I get a job with an edX certificate?
Adding an edX certificate to your resume gives you an upper hand at job interviews.

How much does the edX certificate cost?
The fees for a course on edX usually range from $50 to $300.