EdX vs Coursera: the two leading online learning platforms that provide a plethora of learning programs in diverse fields. 
If you're considering taking courses from either of the two institutes, you must be wondering which platform would be better for you.
To help you make an informed decision, I made a detailed analysis of edX and Coursera, which will help you understand the nuances and unique features of each learning institute. 
So let's get started.
EdX vs Coursera: Verdict at a Glance
While we have compared the two platforms in detail, let's get a quick overview of Coursera and edX below!
| Parameters | EdX | Coursera |
| --- | --- | --- |
| Core Idea | To offer high-quality courses in science, technology, engineering, mathematics, business & more | To offer top-notch courses in business, programming, art & design, data science, etc. |
| Number Of Courses | 3500+ | 7000+ in Coursera Plus |
| Course Format | Pre-recorded short-form lectures | Pre-recorded course content |
| Available language | Primarily in English, but some courses are available in Spanish, French, Chinese, Mandarin, etc. | English, German, Spanish, Korean, French, Japanese, Chinese, Arabian, Portuguese, and Russian |
| Ease Of Use | User-friendly interface | A bit cluttered |
| Instructors | Professors and top experts in their fields. | Professors from reputed universities and industry leaders |
| Certificates | Only with paid courses | Provided with paid courses |
| Price | Starts from $50 | Starts from $29 |
| Return Policy | 14-day refund policy | 14-day return policy with the annual subscription |
| Additional Support | Call and Email support | Call and Email support |
Which Platform is Right for You?
edX and Coursera are the two most popular e-learning platforms that offer a wide range of courses from leading universities, organizations, and institutions around the globe. 
Coursera has more than over 7000 courses in diverse categories, while edX has 3500+ options to choose from. These pre-recorded interactive video lessons help you develop a 360-degree understanding of your preferred subject. 
While there are similarities in the course content, certain particularities set the two platforms apart.
Choose EdX If:
You're more interested in learning data science, mathematics, science, and similar subjects.
If you want to explore professional certificate programs and full degree programs in partnership with universities and popular institutions
Want to access open-source learning resources
Looking for self-paced learning programs
Want to pursue life-long learning
Choose Coursera If:
You're a business owner or working professional looking to invest in quality courses
You want to access courses from top universities and institutions globally
Prefer a structured course format with proper modules and lessons
Need an opportunity to connect with a global learning community
You're a student and want to earn certificates and credentials
Enjoy interactive learning experiences
Prefer a flexible learning routine
Want to keep upskilling yourself
Pros & Cons
Each platform have good and the bad sides. Let's go through the advantages and disadvantages of both the platforms below!
EdX
edX Pros
Offers a lot of free courses 
Provides courses in partnership with reputed universities and institutions 
Versatile course selection
Flexible learning schedule  
Interactive course structure 
Offers verified certificates with a lot of courses 
edX Cons
Not all courses offer certificates or accreditations 
Lesser options than Coursera 
Coursera
Coursera Pros
Huge course library of 7000+ courses 
Access to high-quality education 
A single subscription gives access to the entire course library 
Has a lot of free learning programs as well 
Taught by professionals from reputed universities and industry experts 
Coursera Cons
Very limited interaction opportunities with the instructors 
Free courses are not very in-depth 
edX & Coursera Overview 
Let's look deeper at both the platforms, the kind of courses they offer, course categories, etc. 
edX Overview
Founded in 2012 by Harvard University and the Massachusetts Institute of Technology Scientists, edX aims to make higher-quality education accessible to everyone. Over the years, it has released more than 3500 courses in 31+ categories from the world's top educational institutes.
After Stanford joined in 2013, edX became one of the world's largest Massive Open Online Courses (MOOC).
One of the key advantages of edX is its extensive course catalog offering diverse subjects and disciplines ranging from computer science and business to humanities and languages. 
Learners can choose from the diverse course options and learn at their own pace. edX has more than 35 million users, 160 partner institutions, and 15000+ instructors, making it one of the largest e-learning platforms.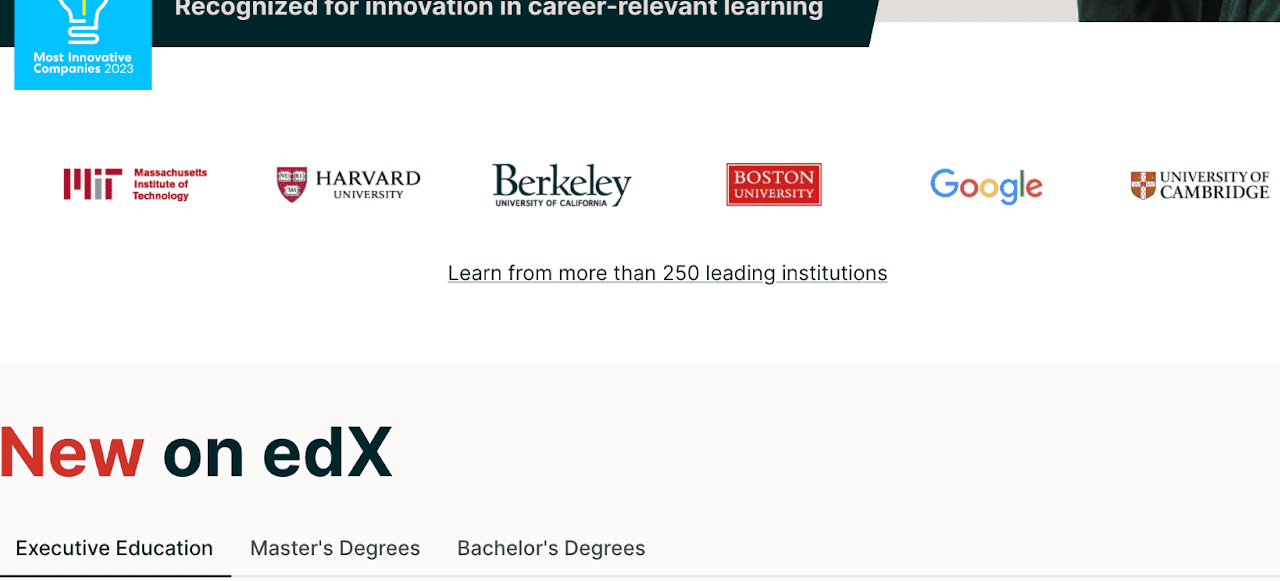 Some of the most reputed universities edX has partnered up with are Harvard, Yale, Princeton, Boston, LSE, Oxford, Cambridge, and many more.
It also has numerous free courses with no time restrictions, so you can continue learning from them comfortably. However, to earn a certificate, you have to get a paid course. 
BONUS: Click here to read our detailed and honest report on edX.
Coursera Overview
It was also founded in a similar year as EdX, which is 2012, and it provides courses in partnership with popular universities like Duke, Johns Hopkins University, University of Michigan, etc., and top institutions like Google. 
Coursera has 7000+ courses in 11 categories, and the best part about their learning programs is that they keep updating their content library as per the latest trends.
This e-learning platform has over 92 million users and partnered with 275-plus universities to bring you the best learning opportunities. 

Besides students and individuals who love to keep upskilling, Coursera is the go-to platform for businesses, Fortune 500 companies, and government institutes. 
PRO TIP: Read our detailed review on Coursera to know more.
Key Difference Between edX & Coursera: Based On Various Parameters  
edX and Coursera have a lot of differences. Let's take a detailed look at the differences between the two to understand which platform is right for you. 
Core Idea of the Course Content 
Let us have a close look at the course content of both the platforms.
EdX: Core Idea
It primarily focuses on offering academic and university-level courses. Its core idea is to provide in-depth knowledge and skill development in subjects like art, biology, business, literature, math, law, etc. 
The courses are often designed to deliver rigorous academic content and promote critical thinking and analytical skill. These are especially helpful for people who either cannot attend regular classes due to other commitments or financial restrictions.
EdX courses are affordable options to advance in your academic career with flexible learning routines. It has institution-level courses, degree, and post-graduation level courses as well.
Coursera: Core Idea
Similar to EdX, Coursera has collaborated with top global institutes to bring you the best learning experience. It adopts a highly engaging and interactive teaching approach by combining video lectures, quizzes, assignments, etc. 
The core idea of Coursera courses is to cater to diverse interests and professional developmental needs, allowing learners to acquire skills and knowledge in various domains.
edX vs Coursera: Courses
Below I have listed the categories of courses offered by both the platforms.
Courses Offered By edX
As mentioned already, edX has 3500 plus courses, and course categories are predominantly surrounded around categories like: 
Architecture
Art
Biology
Business Administration
Chemistry
Computer Programming
Business Communication
Design
Data Analysis
Economics
Education
Electronics
Engineering
Environmental Science
Nutrition
Healthcare
History
Humanities
Language
Law
Literature
Math
Medicine
Physics
Science
Social Science, etc.
Each of the course categories is further divided into sub-categories with numerous options to choose from.
But if you're not sure where to begin, here are some of the most popular EdX courses you can consider taking: Hollywood, History, Industry, Art by the University of Pennsylvania, HavardX's Introduction to Computer Science by Havard, Introduction to Digital Humanities by Havard, Introduction to Music Theory by Berklee, etc.
Courses Offered By Coursera 
In terms of course choices, Coursera has even more options. You get to choose from over 5000 courses in 11 categories:
Data Science
Business
Computer Science
Social Sciences
Health
Personal Development
Arts & Humanities
Language Learning
Physical Science & Engineering
Information Technology
Math and Logic
Each category has numerous courses, so you'll be spoiled with choices.
I can understand that scrolling and shortlisting courses from such a broad library could be overwhelming for you, which is why I selected some of the most popular courses to make the selection easier: Google Ads for Beginners by Paid Media, Machine Learning by Stanford University, IMB Cyber Security Analyst by IBM, Bachelor of Science in Computer Science by the University of London.
It also has learning paths. If you're interested in mastering a particular subject or program, you can proceed with them. 
Please note that what you want to learn depends on your individual interest and goal. These are only a few recommendations; you can go ahead and choose any subject you want.
edX vs Coursera: Course Format 
Course format is a significant parameter when it comes to e-learning platform. One must carefully analyze it before choosing before choosing online learning platform. Now, let us have a close look at the course format of edX and Coursera.
Course Format: edX 
There isn't a huge difference between the course formats of EdX and Coursera. Edx delivers its programs digitally with a combination of video and audio lectures, written downloadable materials, exercises, and assignments, and it has various discussion forums where you can talk with other learners and exchange ideas.
Additionally, the courses are further divided into modules to make them easily digestible.
Course Format: Coursera 
Coursera also delivers its courses through pre-recorded videos with a combination of exercises, assignments, quizzes, etc. Each course contains several lessons of around 60 to 90 minutes.
Since most of the courses allow self-paced learning, you're free to take breaks and resume learning at your convenience.
edX vs Coursera: User-Interface 
Every learner wants a simple interface so that they don't have to spend hours learning to use the platform. Do edX and Coursera have a straightforward, user-friendly interface? Let's find out: 
User-Interface: edX 
EdX has a straightforward interface to provide learners with easy access to course materials and resources without distraction. It has a well-structured course delivery system so that learners can navigate through the platform easily and start learning as soon as they sign up.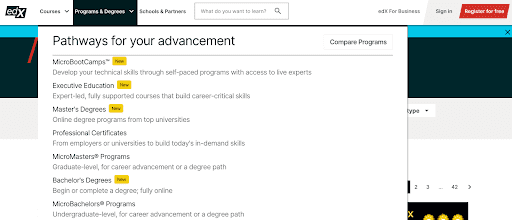 User-Interface: Coursera 
Coursera, too, has a simple and straightforward interface making it easier for learners to use the platform and access course materials. It includes features like progress tracking, personalized recommendations, etc., to improve the overall learning experience.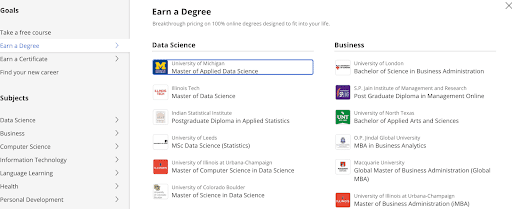 edX vs Coursera: Key Features 
The following are the core features of edX and Coursera: 
edX – Key Highlights
Chance to earn course certificates and accreditations
Courses provided by top universities and institutions
Collaboration with 160-plus institutions
Collaborative learning opportunities
Degree and Master's level courses
Access to numerous free courses
Accessibility and convenience
Diverse teaching method
Vast course library
Self-paced learning
Coursera – Key Highlights
Collaboration with 250-plus learning institutions
Learning opportunities from Industry experts
Verified certificates with paid courses
Global community and networking
University degrees and programs
Flexible learning opportunities
Mobile Accessibility
edX vs Coursera: Instructors 
Course instructors are the backbone of a learning institute. Apart from experience, the instructors should be able to induce curiosity, keep learners engaged, and must explain even the toughest topics in an easily digestible manner.
Instructors: edX
EdX instructors are subject matter experts and academics who bring their expertise and research to their course content. You'll find a small intro about the instructor's career, experience, and expertise in the instructor bio section.
Instructors: Coursera 
Since Coursera too has partnered with reputed universities and organizations, their instructors are leading professionals with expertise in their subject matter. Apart from topic knowledge, these instructors bring personal tips and practical experience so that learners get the most out of the learning programs.
Pricing & Membership
Let's compare the pricing plans of Coursera and EdX and find out which one is more cost-effective:
EdX Price Plan
EdX does not have a subscription option, so you have to buy individual courses. The course prices range from $50 to $500, and most of the learning programs have free trials of 14 days. 
Coursera Price Plan 
| | | |
| --- | --- | --- |
| Single Learning Program | Coursera Plus Monthly | Coursera Plus Annual |
| $49 to $79 per month | $59 per month | $399 per year |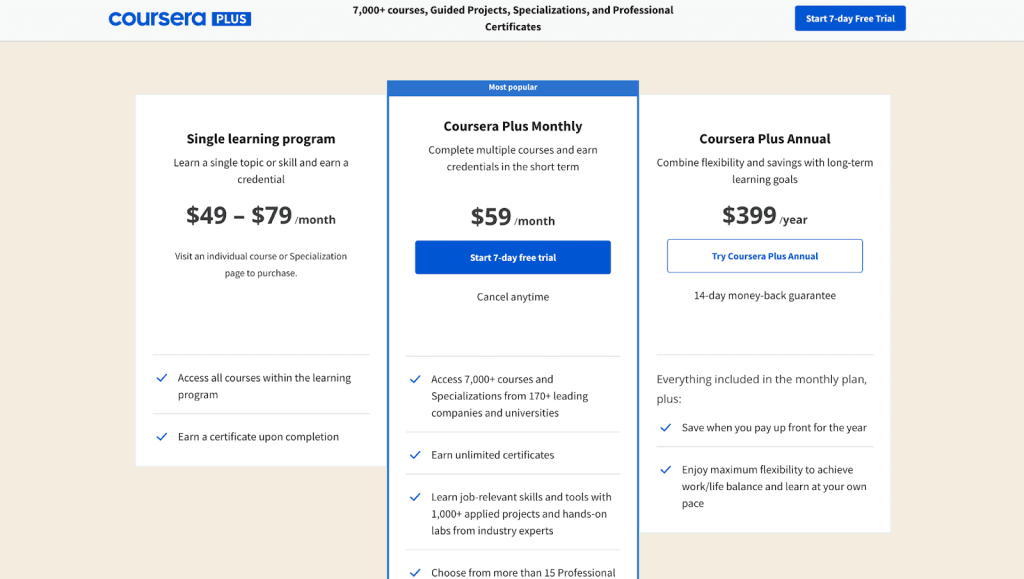 This platform has free courses as well and offers you a free trial of 14 days with an annual subscription. Of the two options, in my opinion, Coursera has a better pricing option and is more cost-effective. 
edX vs Coursera: Customer support 
Customer support is an integral part of any institute. A supportive customer assistance team ensures a seamless experience for users and is always ready to answer their queries.
Let's see how edX and Coursera customer support team works: 
edX Customer Support 
It provides learners support through FAQs and email assistance 24/7. You can find the Contact Us and Help Center pages towards the bottom of the home page. You can seek support and assistance with your queries by visiting the pages.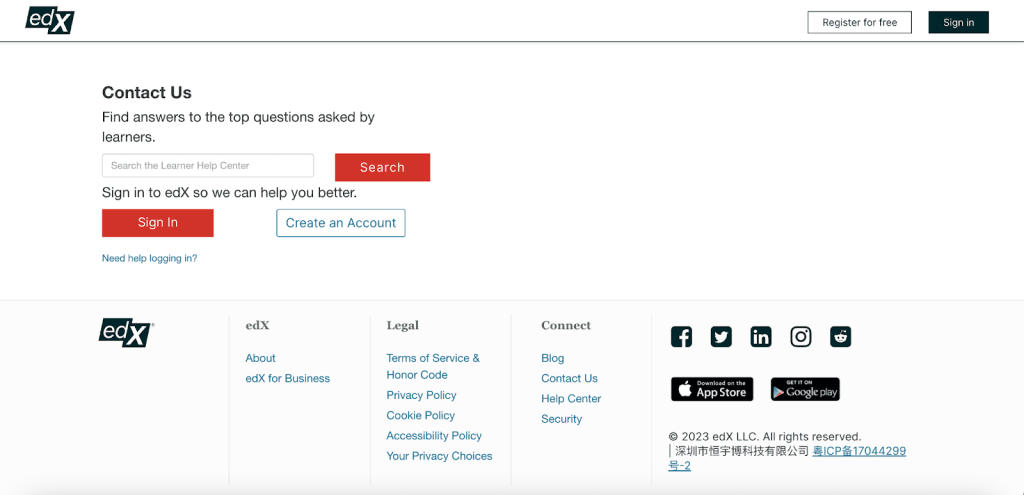 Coursera Customer Support 
Coursera, too, has a solid customer support system that provides answers to common queries and technical issues. You can also become a part of the Coursera community and clear your doubts there. 
Related Reads:
Final Thoughts on Coursera vs edX
That's everything you need to know about edX and Coursera. In my opinion, both platforms are equally good in terms of course format and quality and have some of the best instructors. 
But Coursera has a slightly upper edge when it comes to course and pricing options. Hence, the choice ultimately depends on your individual learning goal!
We would recommend go through both platforms thoroughly once and pick the one that fits your needs the best!