Coursera Plus is one of the few online learning platforms that's shaping the present and future of online education. It provides endless courses along with tempting benefits to give your cognitive skills the right direction.
Are you also planning to become a Coursera Plus member to take up some board-certified courses? The answer is probably yes, and that's why you're here. But all potential Coursera users like you want to know about the platform's free trial feature. Is there a Coursera Plus free trial? If yes, how to access it? 
Read our Coursera Plus Review to know more about Coursera Plus.
Read on as I discuss the Coursera Plus free trial and how to access it to take maximum benefit out of it.
Does Coursera Plus Offer A Free Trial?
Yes, Coursera Plus offers a free trial of 7 days on their paid plans. The free trial lets you explore all their 7000 plus courses and additional materials without restrictions. You can only access the free trial when you purchase a Coursera Plus membership.
Coursera Plus has a monthly and yearly subscription plan. The free trial starts as soon as you make the payment and your Coursera account gets activated.
The trial period is best to test and try different courses you want to take. You can start a course and see how you like the course content and decide whether to continue with your membership.
In case you don't like the courses and want to cancel your subscription, you can do so within 7 days. Once canceled, you'll get a full refund without any additional charges.
But if you finish a certification course during the trial period and earn the certificate, Coursera has the right to charge you for one month's subscription.
In my opinion, the free trial period is excellent for testing a platform's credibility, and Coursera Plus understands it. However, I feel 7-days aren't long enough to experiment and try such a huge content library like Coursera.
Users need a couple of days to navigate through useful courses, shortlist their top picks, and then start the courses. Therefore, a 15-day trial period would have been a much better option.
How To Get Coursera Plus Free Trial?
Following the steps mentioned below, you can access the Coursera Plus trial:
Step #1: Visit the Coursera Plus website by clicking here.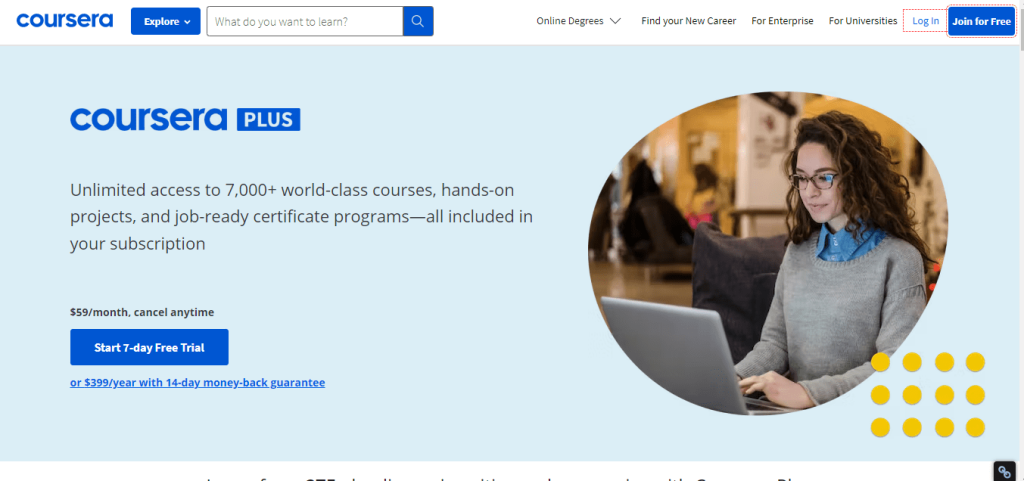 Step #2: Create an account by signing up if you don't have one. You have to provide your name, email id, and other necessary details. You can also sign up with your Google or Facebook account.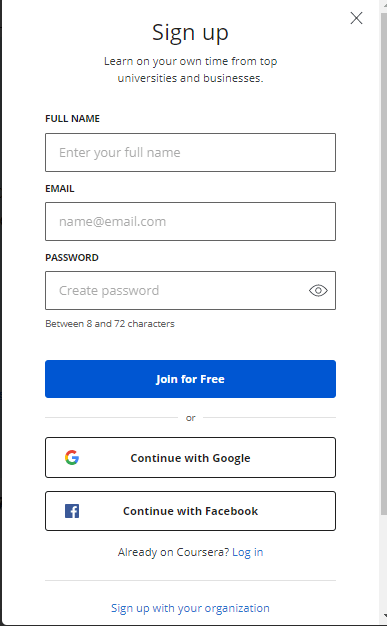 Step #3: After creating the account, go to the Coursera Plus subscription page and click on Start 7-day free trial tab.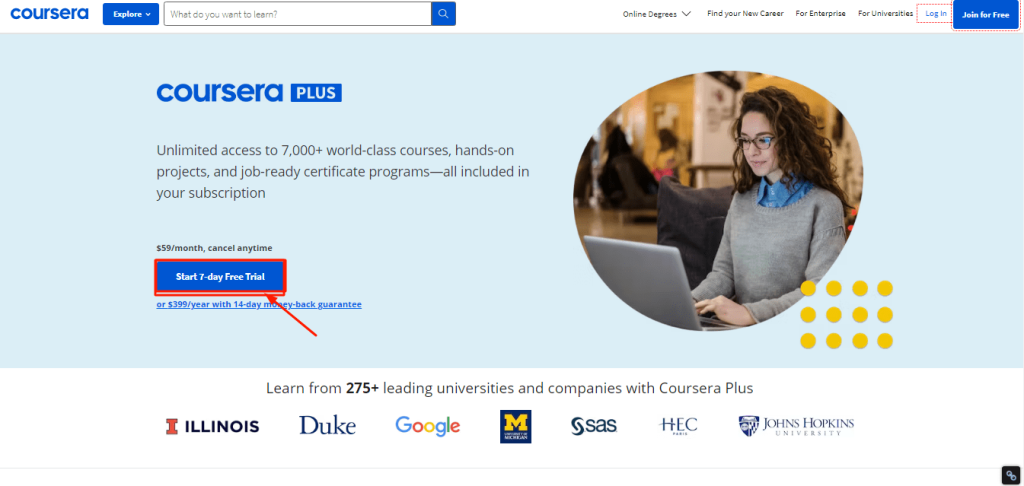 Step #4: Enter your payment details, like your name on the card, card number, expiry date, and country name. (Coursera accepts credit card or Paypal payments)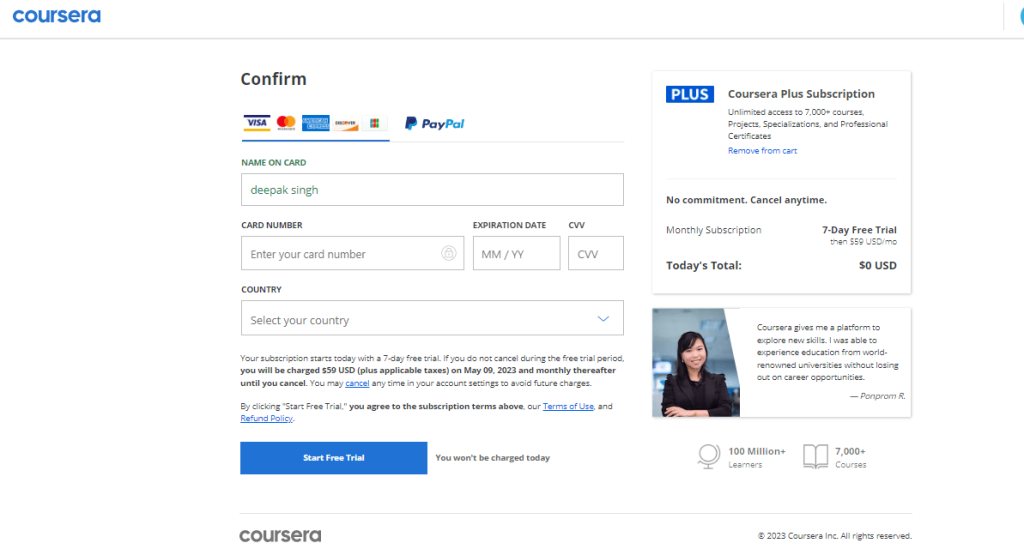 Step #5: Once done, your free trial period starts.
What Is The Original Coursera Plus Price Structure?
Coursera Plus's subscription plan has a monthly and annual payment structure. And as per that, the original Coursera Plus price structure looks like this:
| | |
| --- | --- |
| Subscription Type | Price |
| Single Learning Program | $49 to $70 per month |
| Monthly paid plan | $59/ month |
| Annual paid plan | $399/ year |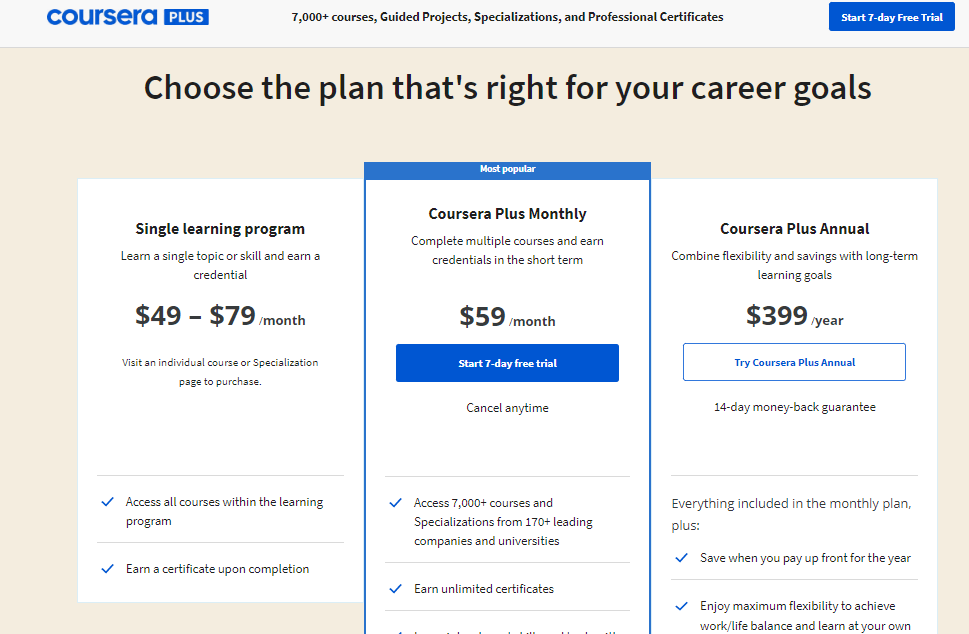 Related Reads:
Final Thoughts!
Coursera Plus free trial is a great initiative by the team to let users glimpse the course content before committing to them. Even though I feel the 7-day trial period isn't long enough to judge a platform fully, it's better than a no-trial period. Check out the steps to access the trial period and get access to the amazing Coursera Plus library.
Still, having doubts about the Coursera Plus free trial? Ask them away in the comment section!
FAQs
Are There Any 100% Free Coursera Plus Courses? 
Yes, there are some 100% free Coursera Plus courses, but those don't earn you a certificate. If you want to do a certification course, you have to pay for it. 
Can I Cancel My Coursera Plus Subscription Before The Free Trial Period Ends? 
Yes, you can cancel the Coursera Plus subscription whenever you want. 
Does Coursera Plus Offer Complete Refunds If I Cancel My Subscription Within The Trial Period? 
Coursera Plus offers a complete refund when you cancel your subscription within the trial period. But there are some exceptions; hence, read the terms and conditions well before canceling the subscription to avoid unnecessary deductions. 
How Do I Decide If Coursera Plus Is Right For Me? 
This is a common dilemma, and trying the free trial period is the best way to find out if Coursera Plus is right for you. Check out courses from your preferred field, and if you like the content, you can continue as a Coursera Plus member.