Coursera is one of the best e-learning institutes that offers thousands of courses in a wide range of subjects taught by top instructors from global universities. Are you hearing similar things and wondering if Coursera Plus is worth your consideration? 
This is a common dilemma for every learner, and I can totally relate to you. And to end this, I have compiled a detailed Coursera Plus review where I'll explore the quality, features, and benefits of Coursera plus courses.
I'll also answer the most asked question: Does a Coursera Plus certificate give you a job? Want to know the answer? Keep reading for more.
A Quick Verdict On Coursera Plus
Coursera Plus is a kind of online learning platform providing skill-based courses. Coursera Plus has brought some of the best mentors, professors, and instructors from different corners of the globe under one roof and has been providing quality education for a while now. It provides courses catering to all fields like programming, humanities, and social sciences and takes online education to a different level. Here is a quick round-up of what to expect when you join Coursera Plus.
Available Courses
7000+
Certified programs
30+
Specializations
790+
Flexibility of learning
Yes
Payment flexibility
Yes
Trial period
Yes
Price range
$49 to $79 for individual courses.
$399 for a yearly subscription.
Coursera Plus: What Is It & Who Is It For?
The vast array of Coursera Plus courses ranges from humanities, programming, engineering, and social sciences. Hence, the platform is suitable for anyone who has a knack for upskilling themselves with crude knowledge.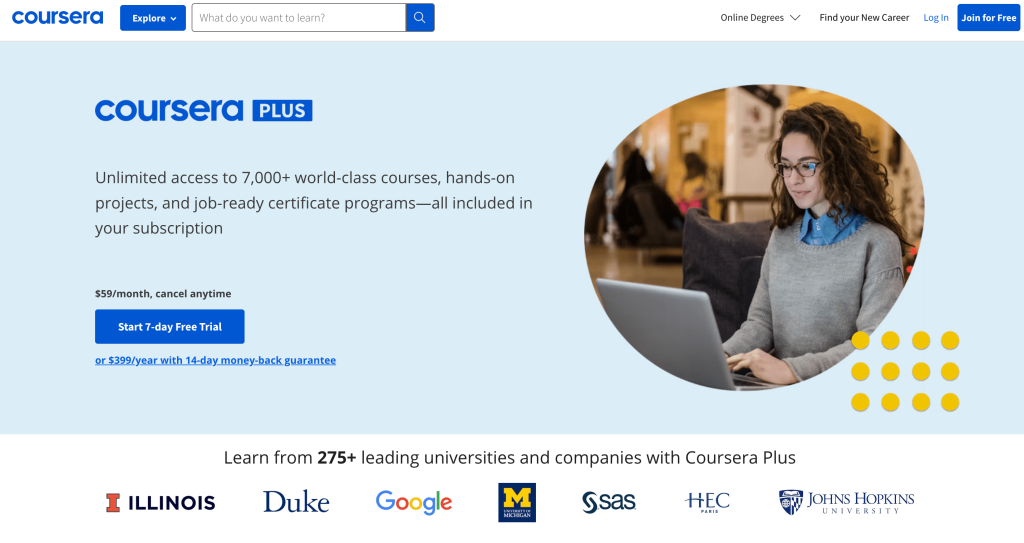 Individuals who can't afford to attend physical institutes for any reason can also opt for Coursera Plus. It offers a great opportunity to undertake courses affiliated with renowned universities at a moderate price.
Besides, people who are committed to lifelong learning and want to continue developing their knowledge in various fields would benefit a lot from Coursera Plus. There is no age or social barrier; hence, students, working professionals, homemakers, and anyone can enroll in the Coursera courses.
A Brief Look Into Famous Coursera Plus Courses: Analysis Of Course Quality
Coursera Plus offers more than 6,300+ online courses, 21+ professional certificate courses, 760+ specializations, and 700+ guided projects. Well, that's a huge library, but all of these make no sense if the quality isn't up to the mark.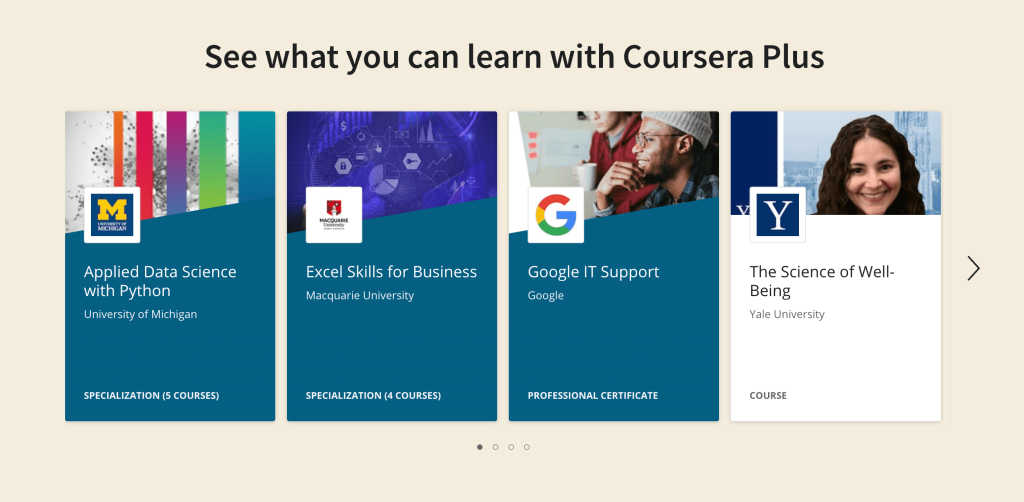 Does Coursera Plus live to the quality? Yes, it does. The majority of the courses offered by Coursera Plus are of high quality and designed to provide a complete learning experience. There are very few places where you get to learn from platforms like Google, and Coursera is one of them.
The courses maintain their highest standard to help learners gain complete knowledge. Learners can access various tools and resources such as quizzes, assignments, and projects to assess their learning progress. Students also get exposure to discussion forums, peer reviews, and expert guidance for the guided courses.
And the best part is all Coursera Plus courses undergo a rigorous review process to ensure they maintain the platform's standard, course quality, and reliability. Overall, the Coursera Plus courses shouldn't disappoint you with their content and should support you in your learning goal.
My thoughts on Coursera Plus
I come from a humanities background, and I completed the course called "Introduction To Sustainability" taught by Dr. Jonathan Tomkin, and the University Of Illinois offers it. I thoroughly enjoyed the course, as it's a well-blended curriculum, including theory and practice.
The course covers all major areas like global change, population rise, energy, environmental economics, and cultural history. This four-week course focuses on four different modules each week. The course delivery is up to the mark and covers all necessary areas.
I have also tried a couple more courses and am satisfied with the curriculum as well as course delivery. Even though there are some areas that I thought weren't really relevant, that varies based on individual interests.
How Is Coursera Plus Different From Coursera?
Key factors that differentiate Coursera Plus from Coursera are-
Course Access: Coursera Plus lets you access the entire library with a single subscription, but you have to pay for individual courses on Coursera.
Certificates: You get a course completion certificate after completing all courses in Coursera Plus. But Coursera charges separately for certificates, and it's not included in the course fee.
Price: Coursera Plus follows a subscription-based system. Users can either pay on a monthly or yearly basis. But Coursera charges separately for every course.
Limited Options: The options to select courses are limited in the basic Coursera platform, but that's not the case with Coursera Plus.

Basically, the learning opportunities in Coursera Plus are unlimited compared to Coursera. And the subscription-based system is more cost-effective if you want to take multiple courses.
Accreditation & Recognition Of Coursera Courses: Can You Get A Job With Coursera Plus Course Certificate?
You can get a job with a Coursera Plus course certificate, provided you have other qualifications. Coursera Certificates are valuable assets for anyone looking to get a promotion, upgrade their CV, or seek a job change.
Coursera Plus courses are recognized and affiliated with famous institutes and universities. Hence, many people consider these certificates as evidence of a learner's knowledge and skill. Some companies have even partnered with Coursera to offer their employees access to their courses.
Please note: Coursera Plus courses and certificates are not accredited in the traditional sense meaning these certificates may not be accepted as a credit towards a degree program. Whether or not the certificate will be accepted for a degree program depends on particular institutions and the specific courses.
How Much Does Coursera Plus Cost In 2023?
As stated previously, Coursera Plus is a flat subscription-based platform where you can choose to pay monthly or annually. Once you get the subscription, you won't have to pay anything extra irrespective of the number of courses you decide to take.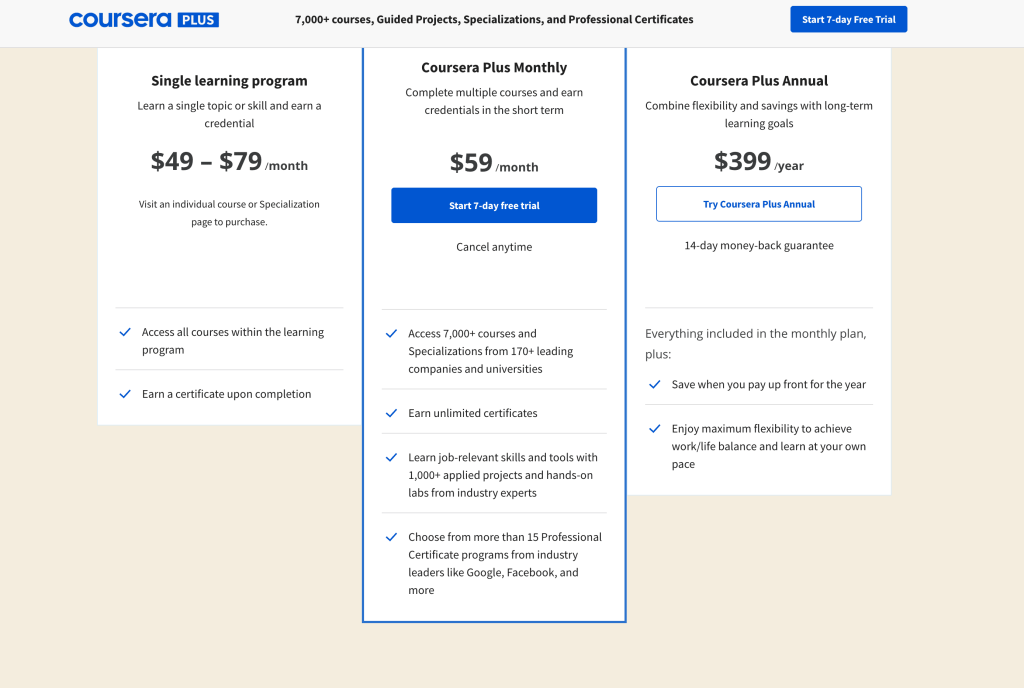 The pricing for the two Coursera plans are as follows:
| | |
| --- | --- |
| Subscription Type | Price |
| Monthly paid plan | $59/ month |
| Annual paid plan | $399/ year |
Coursera Plus offers a 7 day free trial on its monthly subscription and 14-day money back guarantee on its annual plan. This platform does not provide deals and discounts but you can save a lot in its annual plan.
Pros & Cons Of Coursera Plus Courses 
Here are the advantages and disadvantages of Coursera Plus after considering all its aspects:
Pros of Coursera Plus
Cost-effective: Coursera Plus is definitely a cost-effective platform. You can learn multiple skills with just one subscription. 
Accreditation from famous universities and institutes: You get to learn affiliate courses offered by renowned universities like Stanford University and Yale University and institutes like Google and IBM from anywhere. 
Course quality & variety: There are numerous course options from all fields, and each course is designed with a top-notch quality curriculum. 
Enables offline learning: You can download the course material in the Coursera app and learn anywhere, anytime. 
Completion certificate: Coursera certificate is a valuable asset and is a demonstration of your knowledge and skill. 
Cons of Coursera Plus
Requires prior knowledge: Even some entry-level courses require prior knowledge. 
Not a replacement for traditional education: These courses are not accredited in a traditional sense, meaning they are not equivalent to a degree you get from a physical institute. 
Coursera Plus Learning Outcomes: Is It Worth Your Time & Money?
Yes, Coursera Plus is definitely worth your time and money. The courses offered are of high quality and taught by experts in the field. A couple of the courses are taught by one of Coursera's founders itself.
The content quality, tools, and study materials are top-notch, making it easier for learners to grasp. The best part is Coursera Plus provides courses for every field. It's not limited to only programming or high-tech subjects making the platform accessible for anyone seeking a good online platform to learn a new skill.
Coursera Plus provides a user-friendly interface. It's easy to navigate the site and find necessary tabs and information. They also have a good customer support system which is available 24/7. In case of any queries or complications, you can reach out to them.
Overall my experience with Coursera Plus learning went smoothly. Yes, I didn't like some bits and pieces of the courses I took, but I guess that's the case with every platform. I would suggest taking a cheaper course first and seeing whether you like the learning experience or not and then opting for subscription-based learning.
Top Coursera Plus Courses
With such a huge library of courses, it's a little too tricky to scrap out a few options. But after doing extensive research, taking Coursera users' opinions, and based on my personal preference, here are the top five Coursera Plus courses you can check out.
1. The Science Of Well Being 
Instructed by Lauri Santos, a Yale University professor, the Science Of Well-Being course is a must-try for anyone wanting to develop a positive mindset toward life. The course focuses on- misconceptions about happiness, how our expectations are the cause of our sadness, things that really make us happy, how to overcome bias, and implementing strategies.
The modules are backed up by video lectures, assignments, and optional readings, which makes you ponder unexplored areas of life. People who have tried the course say that there is a huge difference between how they used to view life in the past and how they view it now.
2. Google IT Support 
If you're a beginner who wants to start your career in IT support, this course offered by Google is a real gem. It's a six-month long course and consists of five subcourses to get you battle ready.
The course helps you- gain skills needed for entry-level IT jobs, learn to perform day-to-day IT support tasks like- wireless networking, computer assembly, customer service, installing programs, learn to provide end-to-end customer support, learn to use systems like- Linux, Command Line Interface, Domain name systems, Binary Code, etc.
3. Understanding The Brain: The Neurobiology Of Everyday Life 
Understanding The Brain: The Neurobiology Of Everyday Life is offered by Yale University and taught by Peggy Mason, Professor Of Neurobiology. The course covers how our nervous system works and its effect on our everyday behaviours. It also talks about the neuroscience behind our common problems.
The course structure of this four-week course looks like this-
Week 1: The Nervous System
Week 2: Neural Communication + Embodied Emotion
Week 3: Neuroanatomy
Week 4: Perception & Vision
4. Programming For Everybody (Getting Started With Python) 
This is a great course for beginners and experienced programmers who want to enhance their python learning. The course covers the basics of programming computers using python. The cover covers chapters 1 to 5 of the book Python For Everybody and explains everything in a very lucid manner.
The course prepares beginners for more advanced programming courses once they finish this. Things covered in this course are- installing python and writing your first program, explaining the basics of the python programming language, using variables to store, retrieve, and calculate information, and how to use core programming tools like functions and loops.
5. AI For Everyone From DeepLearning.AI 
Everybody is aware of AI's role in today's tech-savvy world, and its demand is ever-increasing. AI For Everyone is created by Andrew Ng, Coursera founder and one of the top Coursera instructors. The course is for both technical and non-technical people who want to learn how to use AI and drive maximum benefit out of it.
Related reads –
Concluding Thoughts On Coursera Plus Review
Coursera Plus is a great platform to learn and upskill yourself. Even though it has a large course library, Coursera does not compromise with the content quality. The courses cover crucial areas that one needs to know to apply them in specific fields.
Overall it's a great platform to learn new, exciting skills from the comfort of your home. Yes, there are some disadvantages which I discussed, but the advantageous features outnumber the cons. I hope this extensive review was informative and useful and helped you decide if you want to opt for Coursera Plus courses or not.
FAQ- Coursera Plus Review
How many certificates can one earn with Coursera plus?
You can earn unlimited certificates until your subscription expires.
Is Coursera plus courses accredited?
Yes, Coursera plus courses are accredited.
What does Coursera plus offers?
Coursera plus offers unlimited access to more than 7000+ courses, hands-on projects, and job-ready certificate programs.