LinkedIn Learning, an e-learning platform (formerly Lynda.com), is a subsidiary of LinkedIn. It was initially created to help LinkedIn users learn useful and essential skills to improve their chances in the job market. LinkedIn Learning boasts 27 million learners across 200 countries and a wide selection of 17000+ courses (9000 in English) on various topics, from business and technology to creative and artistic classes. The LinkedIn learning review on any platform gives mixed feedback, which is why in this article, we will be providing you with a clearer picture.
If you are professionally planning to upskill in highly sought-after fields or are a beginner wanting to develop new skills, LinkedIn Learning courses are the right choice for you. In this article, we will be covering an in-depth review of such courses for you.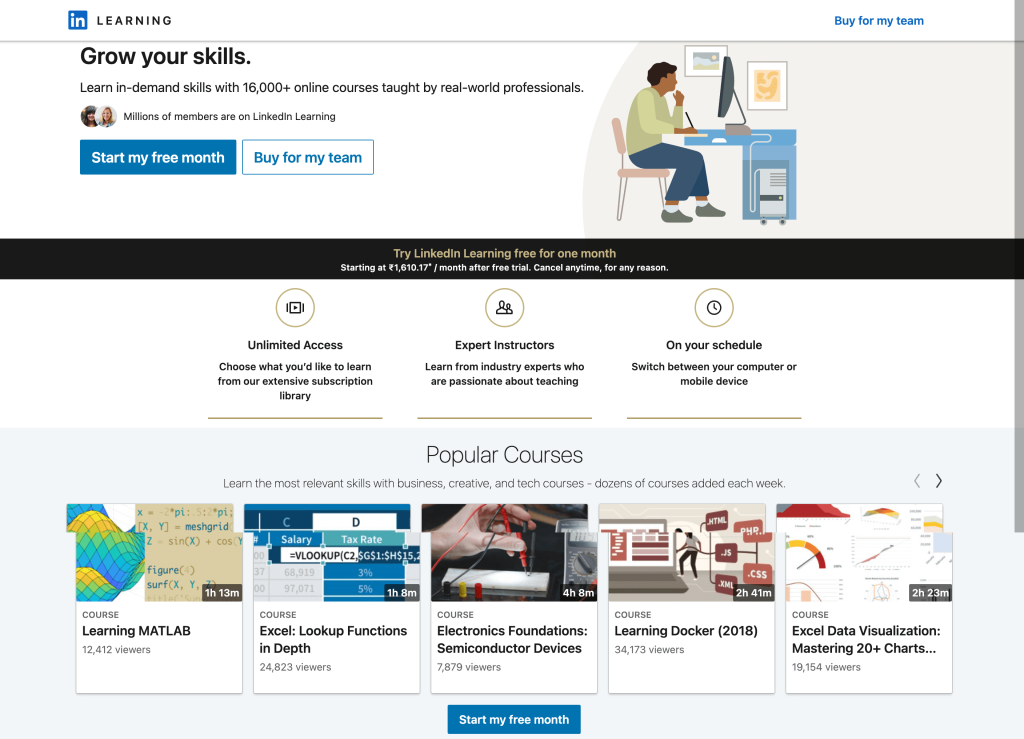 Features of LinkedIn Learning
Before availing of any course, it is essential to know all the major pointers that are associated with it. Hence, here is a list of features of LinkedIn Learning that have resulted in such positive LinkedIn learning hub reviews on the internet.

1. Free Trial
A 1-month free trial is provided, giving you access to the huge library of 18000+ courses.
2. Certificate Completion
Earn certificates for completing courses and share them on your LinkedIn profile.
3. Offline Viewing
The option to download courses to the mobile app for offline viewing makes it super convenient when on the go.
4. Learn At Your Own Pace
All courses are self-paced, so you can learn according to your convenience, with the option to go back and relearn something if you need a refresher.
5. Multiple Languages
Courses are offered in numerous languages, including the language selector for the entire website.
6. Affordable
LinkedIn Learning can be quite affordable if you pay annually.
7. Accessible on All Devices
LinkedIn Learning is available on laptops, desktops, smartphones, and tablets. The app has a 4.8 rating on iOS and a 4.5 rating on Android.
8. Quality Content
LinkedIn Learning content is created by a subject matter expert, so you can rest assured the content is of the highest quality.
9. Payments and Refunds
Payments can be made using all major credit and debit cards on this platform. LinkedIn Learning does not provide refunds for subscriptions. However, a 30-day refund is available for purchasing individual courses.
10. Customer Support
LinkedIn Learning has a Help Center which has recommended topics and suggested articles for support. It also has a chat box through which you can clear any doubts you may have.
LinkedIn Learning Pricing Plans
LinkedIn Learning courses offer three kinds of payment options. You can either pay for an individual course or business plan or sign up for either a Monthly or Annual subscription. Both subscriptions give you unlimited access to 18000+ expert-led courses, personalized course recommendations, practice exercise files, and quizzes, offline viewing on the mobile app, and earn a certificate on course completion.
Annually: Fee is $239.88, working out at $19.99/per month
Monthly: The fee is $39.99/per month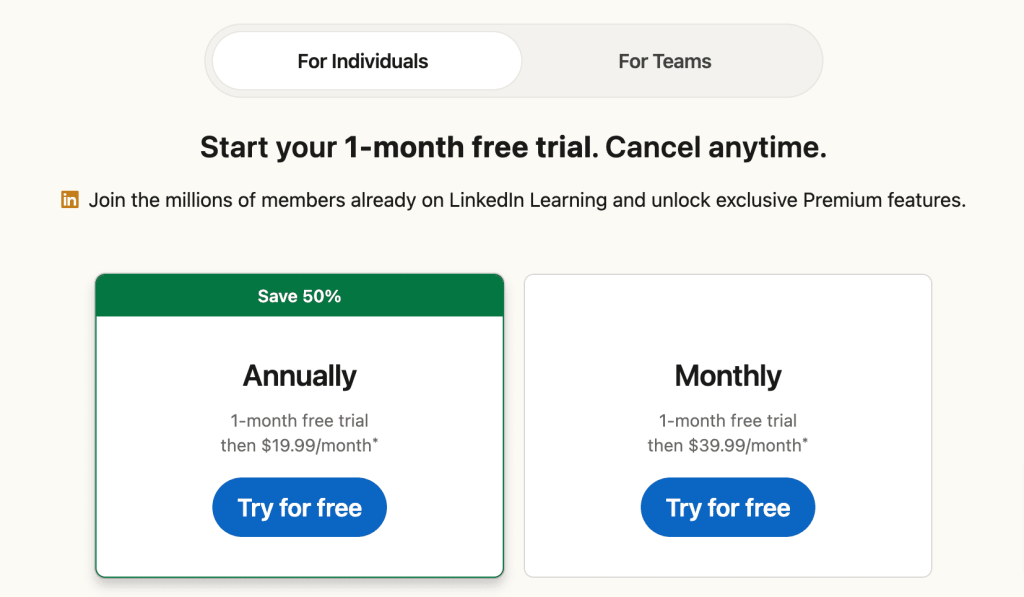 If you decide to pay for your subscription annually, you will save 50% of the full-year fees. If signing up for a monthly or annual subscription isn't for you, then you can purchase an individual course. The cost of individual courses ranges from $20 to $40 (including tax). On purchasing an individual course, you will be able to rewatch and retake the course as many times as you like, as long as you keep your LinkedIn account.
LinkedIn Learning also offers two different subscription plans, depending on the size of your team.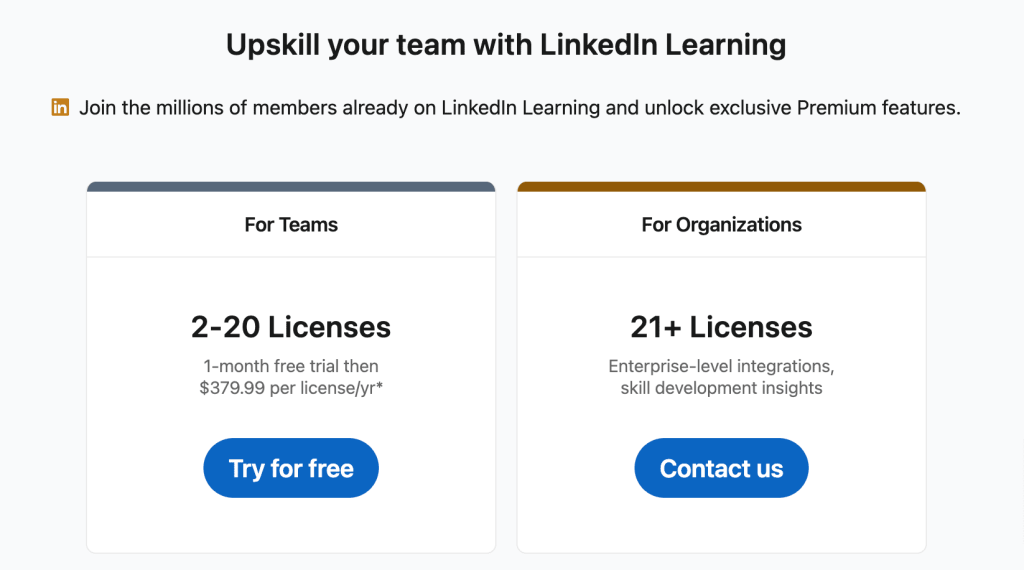 For Teams with 2-20 Users: $379.99 per user per year (a 1-month free trial is included)
For Organizations with 21+ Seats: Contact LinkedIn Learning for Custom Organisations plans.
Most Popular LinkedIn Learning Courses
Many courses on this platform excel in terms of quality, value for money, and great LinkedIn learning reviews. Some of them are listed below: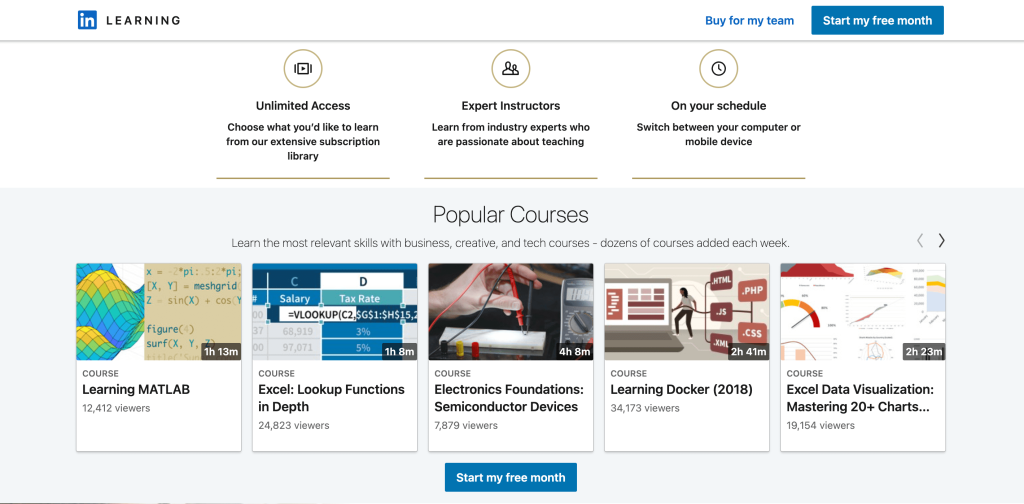 1. Finance and Accounting Tips
This course is brought to you by Jim and Kay Stice, instructors who have been exploring financial information for a combined 60 years. A course for beginners and intermediates, they break down essential accounting and finance concepts into manageable, bite-sized chunks to help you understand the balance sheet, debits and credits, company operating cycles, and more. It is a 3 hr 57 min long course, and 30,000+ people have liked this course.
2. Effective Listening
This course is brought to you by Tatiana Kolovou and Branda Bailey-Hughes, instructors who are communication experts. A general course helps you assess your current listening skills, understand the challenges to effective listening, and develop behaviors that will allow you to become a better listener. It is a 1 hr 4 m long course, and 14000+ people have liked this course.
3. Introduction to Graphic Design
This course is brought to you by Tony Harmer, an instructor who has worked in the creative industry for over 30 years on a range of design, illustration, and web/screen projects. A beginner-level course, it covers concepts and software that every designer needs to know and explains how they fit into a typical graphic design workflow. By the end of the course, you'll have a better grasp of what graphic designers do. It is a 4 hr 12 min long course and close to 5000 people who have liked this course.
4. Time Management Fundamentals
This course is brought to you by Dave Crenshaw, a best-selling author and business coach who lays out theoretical and practical foundations for managing your time and becoming more productive. A general course is there to help effectively manage time with indispensable skills by learning how to get more done in the shortest time possible and avoid obstacles and distractions. It is a 1 hr 47 min long course, and over 13000 people have liked this course.
5. Goal Setting
Objectives and Key Results (OKRs) – This course is brought to you by Jessie Withers, an instructor who will walk you through the concepts behind OKRs. A course for beginners and intermediates, it is 34 min long, and over 5000+ people have liked this course.
6. Excel Essential Training (Office 365/Microsoft 365)
This course is brought to you by Dennis Taylor, who will demonstrate how to manage and analyze data with this powerful program efficiently. In a course for beginners and intermediates, you will learn how to enter and organize data, perform calculations with simple functions, and format the appearance of rows, columns, cells, and data. Other lessons will cover how to work with multiple worksheets, build charts and PivotTables, sort and filter data, use the printing capabilities of Excel, and more. It is a 2 hr 17 min long course, and over 80000 people have liked this course.
Some trending courses on LinkedIn Learning

Is LinkedIn Learning Worth It In 2023?
While LinkedIn Learning courses can be good for anyone, they are most practical if you want to develop your skills in either Business, Technology, Creative related topics. The learning paths option focuses on gaining the skills related to a particular career track. Successful completion of a Learning Path will earn you a certificate of completion, which can then be shared on your LinkedIn profile and will document to clients, colleagues, and potential future employers of your skill set.
It has a wide range of courses that focus on subjects, software, or learning paths. Even though LinkedIn Learning does not offer validated certificates for completing a course, you will earn a completion certificate which you can share on your LinkedIn profile.

Hence, if you are a beginner or someone committed to learning new skills and are wondering – if LinkedIn learning is worth it- it is a fantastic opportunity to develop and hone your skills in a particular area.
Related Read – Coursera vs LinkedIn Learning
Conclusion– LinkedIn Learning Review
Apart from a couple of minor user interface issues and some slightly outdated material, you get so much out of your LinkedIn Learning subscription. The number of quality videos, courses, and learning paths available makes the monthly payment of $39.99 a valuable investment.
If you are preparing for a specific certification exam, plan on advancing in a certain skill, or want to kickstart a whole new career, LinkedIn Learning has the content to make this a reality. Hopefully, our LinkedIn learning review will help you make a smart decision.
Frequently Asked Questions– LinkedIn Learning Review
Are LinkedIn learning certificates worth it?
Having a LinkedIn Learning certificate will enhance your CV and make it more valuable.
How much is LinkedIn learning per month?
The monthly subscription fee is $39.99 per month, while the annual fee will work out at $19.99/per month.
Is LinkedIn Learning worth it?
On purchasing LinkedIn Learning courses, you receive certificates on completion which will reflect greatly on your CV.
Is the LinkedIn Learning certificate valid?
LinkedIn Learning certificates are valid and are acknowledged by top institutions and employers around the world.
Is LinkedIn Learning better than Udemy?
Choose Udemy if you are looking for a wide range of courses at a reasonable price. Choose LinkedIn Learning if you are interested in courses related to Business, Creative, or Technology subjects.
Which is better, Coursera or LinkedIn Learning?
Coursera is slightly better than LinkedIn Learning in terms of the quality of courses.
What is better than LinkedIn Learning?
Apart from LinkedIn Learning, Coursera, EdX, Udacity, Udemy, and Skillshare are some other massive open online course (MOOC) providers.