Here is a detailed Codecademy review that would help you decide if this is the right platform to get started with programming and coding courses.
In this review, I have discussed different Codecademy course categories, the most popular courses, price structure, and whether this is the right platform for you or not. 
Read till the end to make an informed decision before opting for a Codecademy course.
Codecademy Verdict at a Glance
Here is our quick review of Codeacademy to help you get a quick glance.
| Aspect  | Description |
| --- | --- |
| Number of courses | 300+ |
| Types of courses | Computer science Data Science Web development Developer tools Web design Code foundation Machine learning Cybersecurity etc. |
| Price | Free & Paid courses ($17.49 to $ 29.99) |
| Features | Completion certificate Learning flexibility Access to a supportive community |
| User-interface | User-friendly interface |
| Course quality | Well-curated and interactive course structure |
Course Categories Offered by Codecademy
The tech industry is ever-evolving, and so do the courses Codecademy. Therefore, the platform widened its curriculum to help learners keep up with the changing dimensions.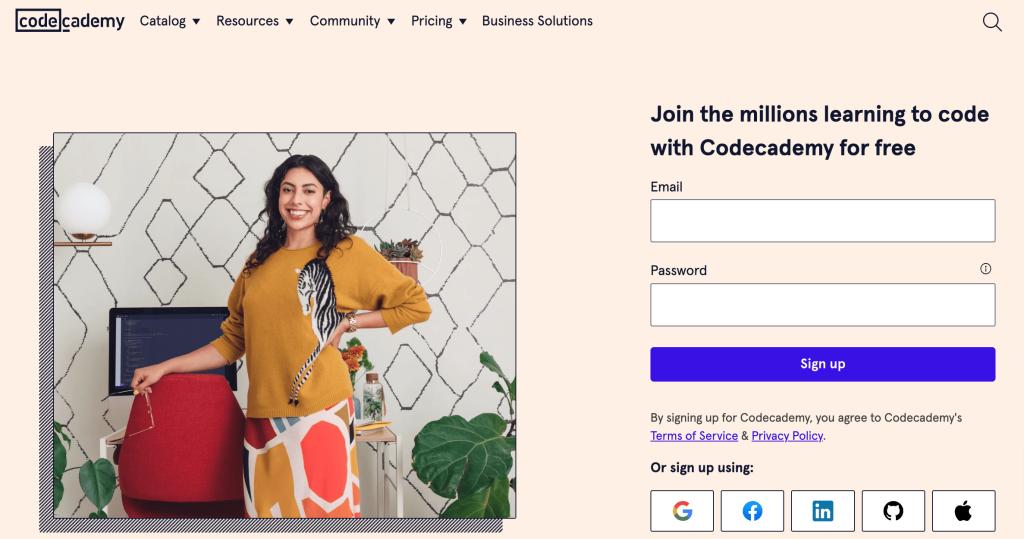 Since listing all the Codecademy course areas isn't possible, I have shortlisted some of the most popular courses from the academy. Let's have a look:
1. JavaScript
JavaScript is one of the core technologies of web development, which can be used for both front and back end. There are over 89 JavaScript courses for beginner, intermediate, and advanced learners offered by Codecademy. 
2. Python
The next popular category of courses is Python, the most in-demand and versatile programming language in the tech field. This category includes 106 courses. The lessons are segregated into bite-sized modules, making them easily digestible.
3. HTML & CSS
HTML & CSS are the foundation of the structure and design of web pages. Therefore, in-depth knowledge about them is necessary before making your first web page. There are almost 31 courses in this category designed for students in different stages of their learning careers.
4. Computer Science
With more than 113 courses in the category, Codecademy covers every sub-discipline of computer science courses, including both hardware and software. Regardless of whether you're a beginner or an advanced learner, there is an option for everyone.
5. SQL
SQL stands for Structured Query Language and is a standard rational data management language. It is an essential course for anyone who deals with systems that store large amounts of information in their databases. 
This course makes you data literate, and it's a great skill for engineers and data scientists.  
6. C++
C++ programs are used in multiple languages, including software, VR, game development, robotics, scientific computing, etc. The wide acknowledgment of C++ language makes it an on-demand skill at the current moment.
Codecademy has over eight courses in this field which cover A to Z about C++ programming.
7. Machine Learning
Machine learning is one of the most trending topics at the present time. This field of data science works towards enabling computers to learn from data. The most common example would be Chat GPT which has created a big stir in the world of AI.
Codecademy provides 33 courses in the Machine Learning category for beginner, intermediate, and advanced learners.
8. Cybersecurity
Cybersecurity takes care of the security risks of today's digitally connected world to recover from cyber threats and attacks. There are 17 courses in this category, and each course covers a specific area of the subject.
Apart from the mentioned categories, Codecademy has more fields to choose from. So make sure to skim through their course catalog to pick a subject that interests you the most.
Who is Best Suited For Codecademy Courses?
Codecademy is the perfect platform to learn coding and programming. If you're someone who is interested in learning coding and programming skills, Codecademy would be the best platform for you.
The platform has 14 programming languages and 10 subject areas, and the course structure, interactive platform as well as an intuitive learning approach make it the right learning institute for beginners, students, career changers, professionals, and even hobbyists who want to brush up their programming skills.
Codecademy supports self-paced learning allowing you to learn at your convenience, making it the best online learning institute for programming enthusiasts.
List of Most Popular Codecademy Courses
I mentioned the in-demand course categories of Codecademy. Let's now have a look at some of the most popular courses you can try: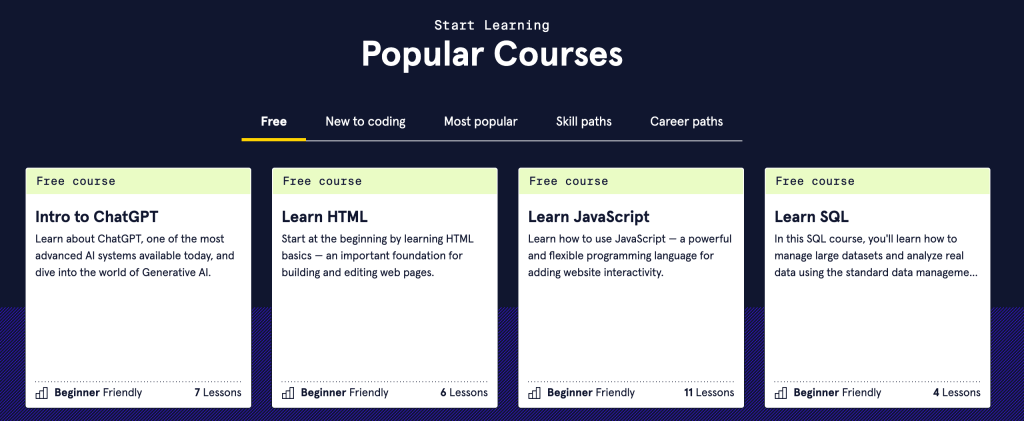 1. Learn Javascript
This is a beginner-friendly course on Javascript, which has 11 lessons, 12 projects, and eight quizzes. The course will make you familiar with concepts like Javascript data types, built-in methods, variables, function syntax, passing data to functions, etc.
2. Building a Machine Learning Model With Python
Building a Machine Learning Model with Python is another popular course on Codecademy, which is suitable for intermediate learners. It is information heavy, so it may take you more than 2 months to complete it.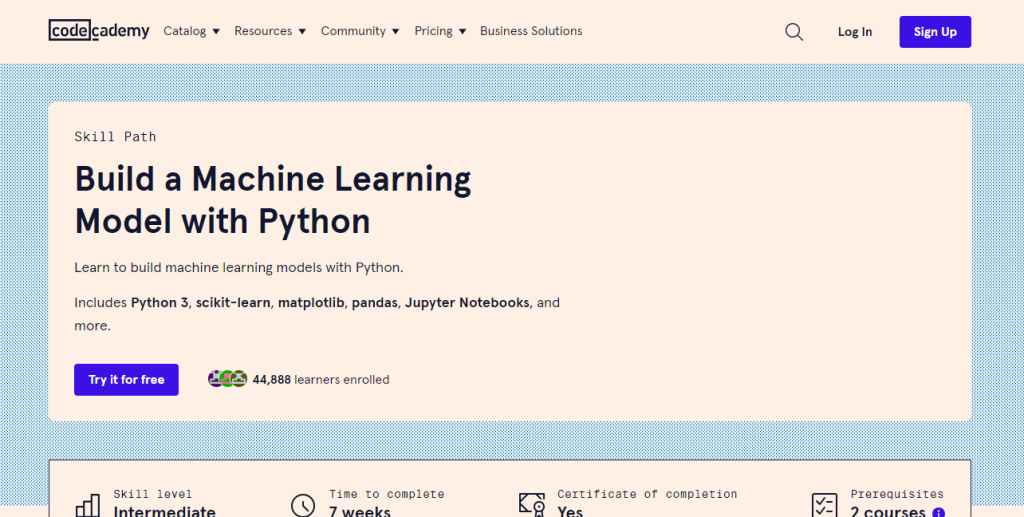 The course has 10 units and covers everything from an introduction to machine learning to machine learning capstone projects. The course includes lots of projects and quizzes to encourage better learning practices.
3. Build a Website with HTML, CSS & GitHub Pages
This course is ideal for beginners who are interested in learning HTML and CSS. This course will teach you:
Reading and writing basic HTML.
Building a static website
How to implement web design principles
And launching a website with GitHub pages.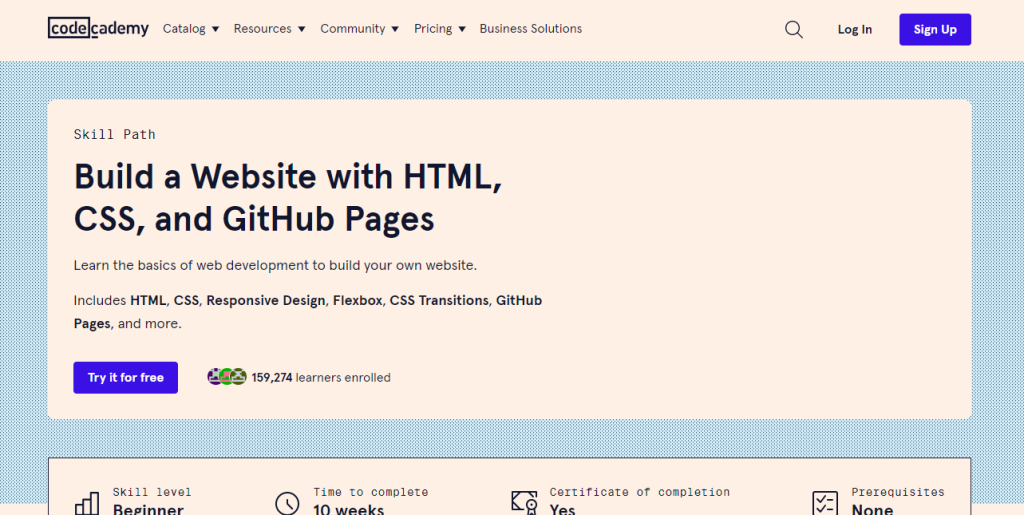 The overall time required to complete this course is 10 weeks, and there are a total of 9 modules.
4. Intro to Chat GPT
If AI and machine learning interest you, you shouldn't miss the course on Chat GPT. It will make you familiar with everything related to Chat GPT, and you'll learn how to write effective prompts, about generative AI, how to summarize large texts and much more.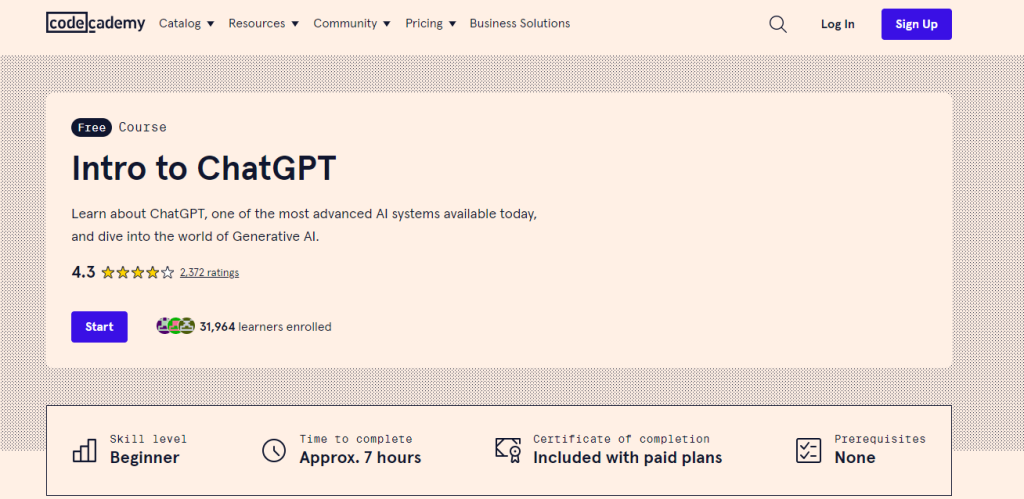 It has 8 modules and won't require more than 7 to 10 hours to finish the whole course. The best part is it's a free course.
5. Learn C++
By completing the C++ course, you'll be able to build core programming concepts, build C++ projects, and understand pointers and memory. This course can be a great starting point for beginners who want to learn C++ programming.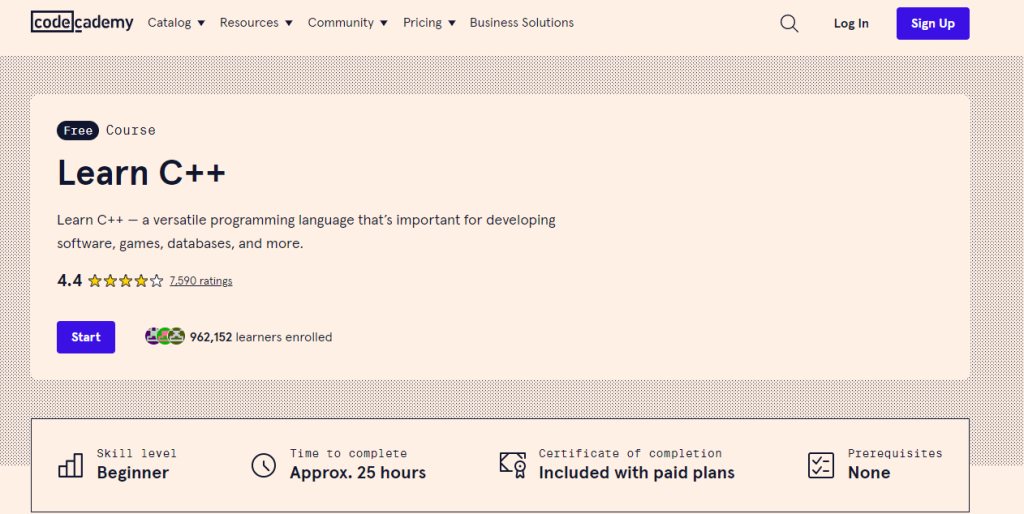 The course has 10 modules in total which includes 13 lessons, 14 projects, and 8 quizzes.
These are the most common options in each category, but as stated before, Codecademy's library is huge, so you can pick any course that you think interests you and would meet your learning requirement.
How Much Do Codecademy Courses Cost?
Codecademy has a well-laid-out price plan. There are two subscription options: Plus & Pro. Besides that, there is a basic subscription that costs you nothing, and you can learn the courses under it for free.
The individual price plan for the Plus and Pro subscriptions is as follows:
| | |
| --- | --- |
| Subscription Plan | Price |
| Plus | $34.49 per month Or $209.88 per year |
| Pro | $59.99 per month Or $359.99 per year |

The basic plan gives you access to a lot of courses, but it has certain limitations like it allows only limited practice on the mobile app, you won't get completion certificates, and you can't access quizzes, skill paths, real-world projects, assessments, career services, etc.
Codecademy Pricing Plan for Students
Codecademy has a special pro-student membership for eligible students. This membership is similar to the Codecademy Pro membership, but students have to pay 35% less, ultimately costing them $149.99 annually.
Note: Only students from higher education institutes can apply for the Codecademy Pro student plan.
Codecademy Pricing Plan for Business
There is also a separate pricing plan for teams or businesses. Here is what the pricing for team membership looks like: 
| | |
| --- | --- |
| Subscription Plan | Price |
| Teams (5 to 25 members) | $299 per user per year |
| Pro | Contact the Codecademy team for a custom price |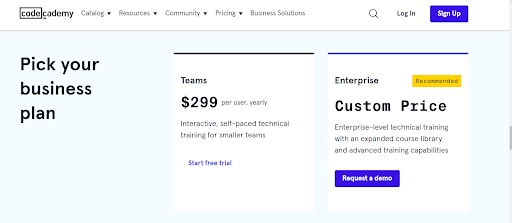 Pros and Cons of Codecademy
Following are a few pros and cons associated with the Codecademy.
| | |
| --- | --- |
| Pros | Cons |
| Free courses | Courses are not accredited by any renowned university |
| Self-paced learning | You can't access all features and some advanced course material with the free subscription. |
| Courses available for learners of every stage | |
| Interactive teaching | |
| Wide variety of courses available | |
My Experience With Codecademy
Codecademy is a reliable and reputed learning platform to get you started with programming and coding. I have completed more than ten courses from platforms in Javascript, Python, and Machine Learning categories.
The course material is explained in simple terms, which is great for slow learners like me. The quizzes and projects further helped me brush up on my skills, which is why taking the pro or plus membership is crucial.
If you're new to programming or coding and still unsure of which course to opt for, I would suggest taking the quiz to identify your interest areas and which course will be perfect for you. Codecademy provides a free trial as well, so you can try out their courses for free if you're unsure about the paid plan.
Related read:
Final Thoughts On Codecademy Review
That's everything you need to know about Codecademy. In my opinion, it's a great platform for both beginners and advanced learners. Plus, it has a wide variety of courses to choose from.
Each category has multiple courses, so there is an option for everyone. The course prices are also pretty affordable compared to platforms offering similar courses.
Some courses could have been more detailed, but overall, I had a great learning experience with Codecademy and would recommend it to anyone looking for an intuitive coding and programming platform.
FAQs: Codecademy Review
Are Codecademy Certificates Worth It? 
Yes, Codecademy courses are worth taking. A Codecademy certificate can add more value to your resume and help you get discovered for job opportunities on LinkedIn. 
Which is Better, Codecademy Vs. Udemy? 
Both are good for learning new skills, but Codecademy follows an interactive learning approach, and Udemy follows a video-based learning pattern. So it depends on learners which learning approach they prefer the most. 
Do Companies Recognize Codecademy? 
Yes, some companies do consider Codecademy certificates as proof of knowledge in coding and programming language. 
Is Codecademy Completely Free? 
Codecademy offers free courses, but to access courses from the pro plan, you have to upgrade to a paid plan.