If you're wondering if Masterclass courses are worth the hype, this Masterclass review will help you make an informed decision.
The impressive array of instructors, like Chris Jenner, Serena Williams, Martin Scorsese, etc., giving lessons on Masterclass influence us all to try their courses at least once in our lifetime.
However, are the Masterclass courses worth investing our time and money in?
In this detailed review of Masterclass, we will take you inside this online learning platform, helping you decide if you want to sign up for it or not. 
Let's get started.
MasterClass Verdict At a Glance
| | |
| --- | --- |
| Number of courses | 180+ |
| Types of courses | Business & leadership, Cooking, Photography, Music, Acting, Sports, Writing, Mindfulness, etc. |
| Price | Starts from $240 |
| User-interface | Intuitive and user-friendly |
| Course quality | Optimum course quality created with a learner-oriented approach |
| Overall Rating | ⅘ |
MasterClass: A Quick Overview
MasterClass is a premium online learning platform featuring courses by world-class professionals in various fields. Unlike many other e-institutes, Masterclass focuses on learning from real-life experiences.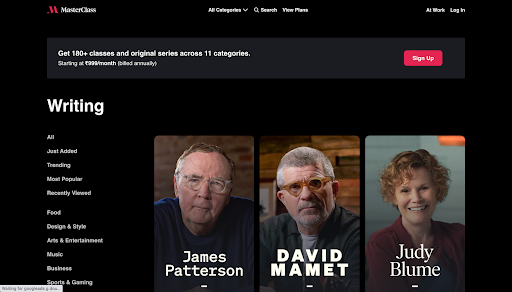 Popular instructors of MasterClass like Gordon Ramsay or Chirs Jenner reveal their secret hacks and talk about their unique skills, which helped them make it big in their lives. Courses are cinematic and high-quality and include interactive assignments and workbooks.
MasterClass does not offer free courses. One has to opt for a paid subscription; however, it lets you access all the 180+ courses with a single subscription.
MasterClass Pros & Cons
From my experience and conversations with other Masterclass subscribers, I have put together the following list of the pros and cons: 
| Pros  | Cons  |
| --- | --- |
| Courses available in various categories | You can't buy single classes on Masterclass |
| Courses are taught by world-renowned experts | No completion certificate |
| High-quality course production provides an optimum learning experience. | The membership prices may be a little too expensive for some, especially if you're interested in only a course or two. |
| Bite-sized lessons keep you engaged. | |
| 30-day money-back guarantee | |
| Masterclass All-access pass gives lifetime access to the course material. | |
Popular course categories by MasterClass
MasterClass has 11 diverse range of course categories, which are mentioned below: 
Food: Here, you'll find all culinary courses like Italian cooking basic, wine appreciation, cooking like a Restaurant, science of Cooking, etc.
Design & Style: If subjects like fashion, beauty, makeup, designing, photography, personal development, and other creative stuff excite you, the course under design and style would be best for you.
Art & Entertainment: This category features courses like filmmaking, acting, screenwriting, directing, choreography, and everything related to the art industry.
Music: You can learn singing, music production, songwriting, and producing hip-hop storytelling and related courses.
Business: For those interested in entrepreneurship, leadership, leadership strategy, or economics, you have some great courses to choose from.
Sports & Gaming: Sports enthusiasts will find options like tennis, chess, shooting, poker strategy, gymnastics fundamentals, etc.
Writing: This category includes courses like creative writing, dramatic writing, writing in general, fiction & storytelling, reading & writing poetry, the art of short stories, and more.
Science & Tech: It covers courses in technical subjects like space exploration, scientific thinking & communication, conservation, mathematical thinking, etc.
Home & Lifestyle: If you're interested in creative and lifestyle-related subjects, you can check out courses like gardening, dog training, cooking, the art of magic, etc. This category combines culinary, design, and art & entertainment courses.
Community & Government: You can enrich your knowledge of the U.S. presidential election, feminism, diplomacy, social change, relational intelligence, etc., from the courses in this category.
Wellness: Do you love all thing wellness and mindfulness? If so, courses here like self-expression & authenticity, the science of better sleep, mindfulness & meditation, will keep you hooked.
How Does MasterClass Work?
To get the courses, you have to complete your payment, and once done; you can start accessing the entire platform. MasterClass courses consist of video lessons, and each course typically has 10 to 20 modules of 10 to 15 minutes.
The instructors have thoughtfully structured the courses around specific topics or skills, and each course is accompanied by a comprehensive workbook that summarizes the course material and provides additional assignments.
For example, Judd Appatow's Masterclass on Comedy has 32 video lessons of 6 hours and 33 minutes, followed by a 55-page PDF accompaniment. The PDF is divided into three tracks: stand-up, writer, and director track. And you have to work on each of the tracks and complete the assigned tasks.
Each course also has a community area, serving as a platform for students to discuss topics, clear doubts, share work, and engage with others in general. But the teachers don't hang out there, so you can't expect additional help.
The best part is you can consume the courses at your own pace without strict deadlines.
Who Are The Instructors?
As I have stated quite a few times, MasterClass instructors are experts, celebrities, and industry leaders in their respective fields. These are Oscar, Grammay, Pulitzer winners, and Olympic athletes.
Here are some examples across various categories:
Arts & Entertainment: Famous instructors include filmmakers like Martin Scorsese, Spike Lee, and actors like: Samuel L. Jackson, Natalie Portman, etc.
Culinary Arts: You can learn cooking from world-class chefs like Gordon Ramsay, Thomas Keller, Massimo Bottura, etc.
Writing: Notable authors Margaret Atwood, Neil Gaiman, and Dan Brown offer courses on various aspects of writing.
Music: Musicians like Christina Aguilera, Carlos Santana, Herbie Hancock, and other famous personalities teach singing, guitar, and jazz, respectively.
Business Leadership: Industry leaders like Bob Iger, Anna Wintour, and Bob Woodward share their insights and experience in the mentioned field.
Sports & Games: Learn tennis from Serena Williams, basketball from Stephen Curry, or skateboarding from Tony Hawk. Other popular sportspersons are ready to share their amazing experiences with you.
List Of Top MasterClass Courses
Following are some of the most popular Masterclass courses enjoyed by a lot of Masterclass members:
1. Creativity & Leadership by Anna Wintour
The iconic editor-in-chief of Vogue and Artistic Director of Conde Nest, Wintour, provides a unique perspective on the worlds of fashion and media. In her 2-hour 36 minutes courses, Anna talks about her early experience in the fashion industry and takes you through different facades of her career.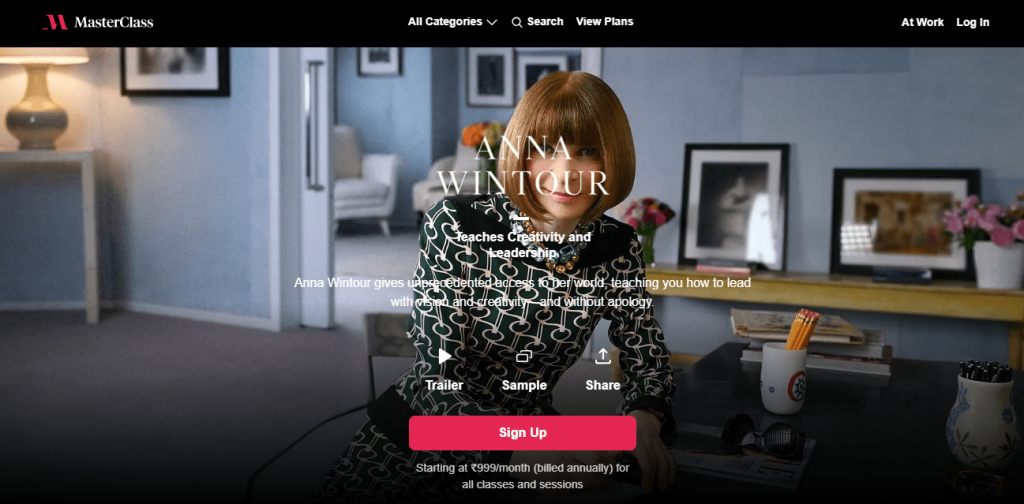 Bonus point? You get a peek of the Vogue office.
2. Restaurant Recipes at Home by Gordon Ramsay
With this course, you can learn to cook restaurant-like recipes at home. He covers things like prepping for food and how to cook fast and shares personal tips and tricks to take you a step ahead toward becoming the next chef. This Masterclass has 15 lessons, totaling 4 hours and 13 minutes.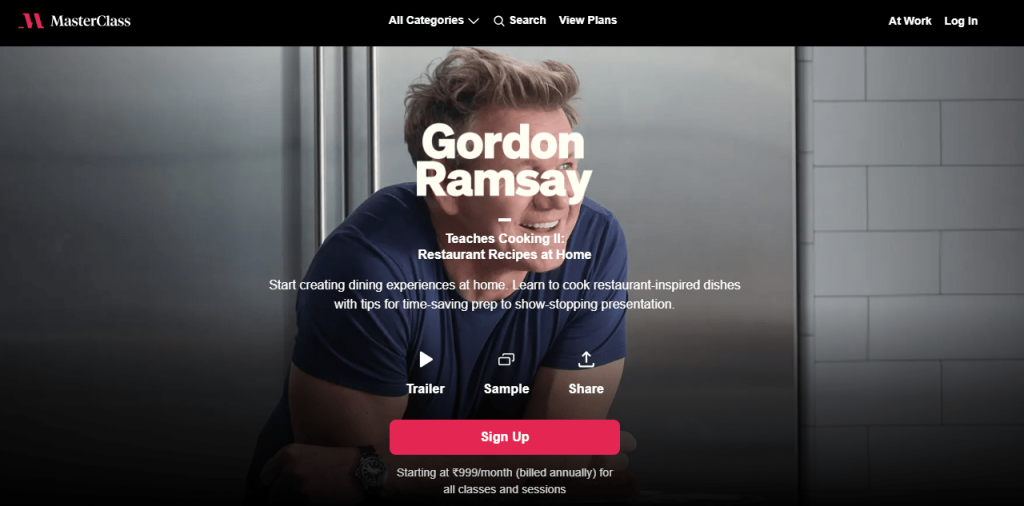 3. Photography by Annie Leibovitz
The renowned photographer shares her philosophy and approach to creating impactful imagery through this course. She brings you to her studio and shoots to give you a live example of how she approaches photography.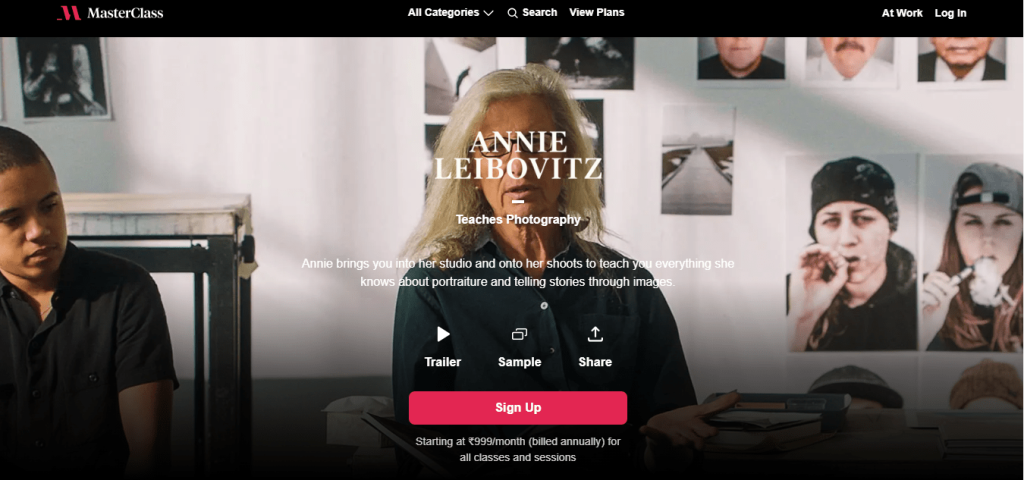 She further discusses different photography concepts like studio vs. location, portrait photography, concept photography, etc.
MasterClass Price Plans
Masterclass offers three different pricing options: individual, duo & family. These subscriptions give you full access to the entire Masterclass library, and you can take as many courses as you want.
The price plan for each course is as follows:
| | |
| --- | --- |
| Subscription Type | Price |
| Individual | $120 per year |
| Duo | $180 per year |
| Family | $240 per year |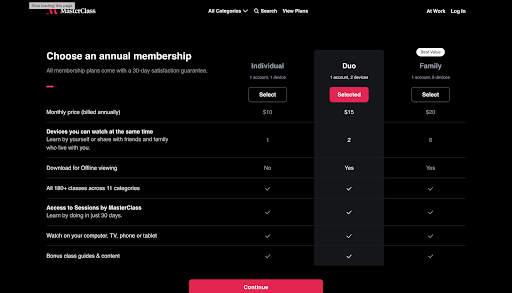 You might wonder if MasterClass offers a free trial or what the refund policy looks like.
Unfortunately, MasterClass does not provide free trials. So whichever plan you choose, you must pay the whole amount in advance.
But MasterClass has a 30-day money-back guarantee. If you want to discontinue your subscription for any reason, you can cancel your subscription within the first 30 days of making the payment. 
Who is MasterClass Right For?
MasterClass is an ideal platform for creative enthusiasts who enjoy new subjects in art & creativity, cooking, entrepreneurship, etc., and fans of the expert instructors featured on the platform.
Hobbyists will also find MasterClass beneficial as it offers quality courses in various fields like cooking, interior design, writing, or photography. The classes are designed for complete beginners or individuals who have some knowledge in the interested fields.
But please note that MasterClass isn't a replacement for formal education. Any university doesn't accredit the platform, neither it gives you any course completion certificates. Hence, don't expect to get a job or a promotion based on it.
But the courses will help you if you're preparing for an acting audition, a freelance writer or designer, or want to produce films or learn cooking for your enjoyment.
If you lack interest after completing a few classes, MasterClass may not be the right platform for you. You have to keep yourself motivated, as no instructor will check in and push you to complete the course. You're entirely on your one once you sign-up for the platform.
Masterclass Alternatives to Check Out
In case you're curious to know if there are similar platforms to Masterclass or if you're looking for a cheaper Masterclass alternative, I've got you covered.
I've listed three online learning institutes that provide similar courses to Masterclass; let's have a look at them:
1. Skillshare
Skillshare is one of the most popular e-learning platforms. The platform offers courses in categories like creative, lifestyle, marketing, freelance, entrepreneurship, graphic design, productivity, etc.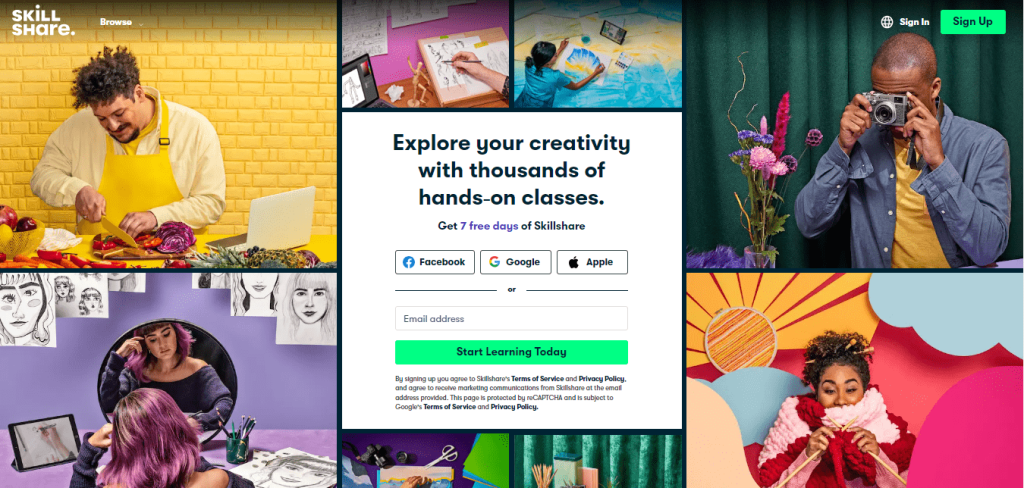 Skillshare courses are also created by industry leaders from different fields and are part of MasterClass course quality.
Skillshare courses are comparatively cheaper than MasterClass, but you won't get to learn from personalities like Salman Rushdie or James Cameron in Skillshare.
2. Udemy
In case MasterClass courses seem too expensive, you can check out Udemy. Udemy boasts an extensive catalog of over 32000 courses covering various topics from programming, digital marketing, interior designing, music, mindfulness, cooking, etc.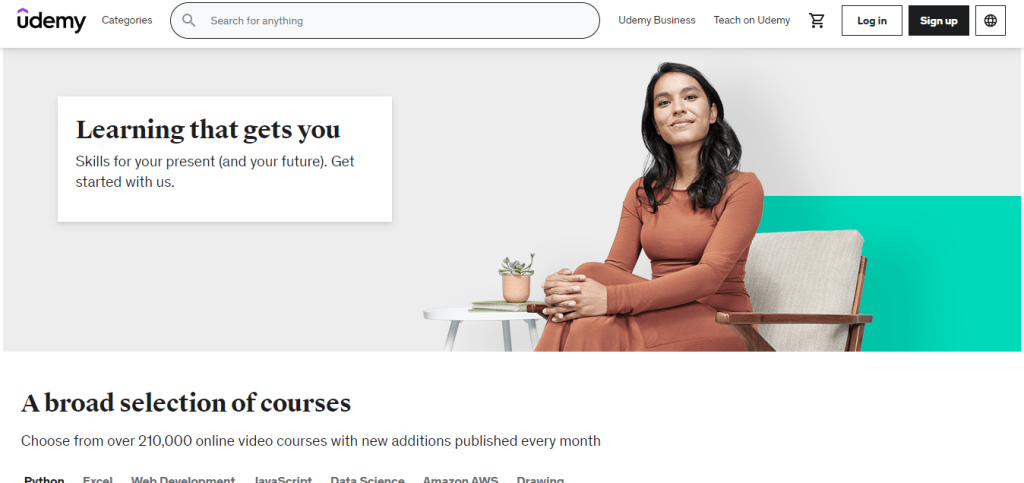 Udemy also offers a course completion certification, unlike MasterClass, which is another great thing about the platform. Besides, Udemy has more than 18000 instructors who are industry leaders, making it another great Masterclass alternative.
3. Mindvalley
If mindfulness and meditation are your things, you would love Mindvalley courses. It's the most popular and powerful life transformation platform that helps you unveil the extraordinary powers we humans have. 
Mindvalley doesn't have cooking, acting, or writing courses. The institute is solely devoted to mindfulness, self-development, and entrepreneurial courses. If these subjects interest you, Mindvalley is worth trying.
Related read:
Final Thoughts: MasterClass Review?
Masterclass is worth paying for if you're a creative person or a hobbyist who wants to have a first-hand experience of learning from celebrities who aced their careers. 
Masterclass takes you on a cinematic journey into the minds of industry leaders while keeping the lessons short and engaging.
It's true that not all classes provide the same quality and information, but overall the platform is worth paying for.
FAQs: MasterClass Review 
Can I Try MasterClass for Free? 
No, you can't try MasterClass for free, as it only has paid subscriptions. But MasterClass provides a 30-day money-back guarantee. 
What is the Difference Between MasterClass & Udemy? 
Even though there are similar courses on both platforms, MasterClass focuses more on creative and artistic courses, while Udemy covers everything from creative to technical subjects. 
Is MasterClass Recognized?
Any university does not accredit MasterClass, and it does not provide any course completion certificates as well. 
Which are the Most Popular MasterClass Courses? 
Some of the most popular MasterClass courses are The Art of Negotiation by Chris Voss, The Art of Home Cooking by Alice Waters, Adventure of Photography by Jimmy Chin, and Scientific Thinking & Communication by Neil deGrasse Tyson.