As different underrated fields are coming mainstream this year, photography has been no exception to it at all. Many photographers who used to click pictures for fun now wish to work in this field professionally as well, which is why the courses that help people attain this expertise are becoming more popular.
However, it is a little difficult to find a good online course for photography for several reasons. One such reason can be that it is not a very popular course, and hence it is not found on every mainstream and trusted education platform. In such cases, how will you choose the perfect site to learn from? 
In this article, we will be covering the best online courses for photography that you should consider going for in the year 2023. They are assessed on various factors and shortlisted here. 
Top Online Courses for Photography
Here are some Best Online Photography Courses in a nutshell.
| Sr. no. | Name | Platform | Duration | Taught by |
| --- | --- | --- | --- | --- |
| 1. | Master Photography | Udemy | 28 hours | Chris Parker |
| 2. | Photography Masterclass | Udemy | 25.5 hours | Phil Ebiner, William Carnahan, and Sam Shimu Jones |
| 3. | Photography Essentials | SkillShare | 20 hours | Sean Dalton |
| 4. | Professional Photography for Instagram | Domestika | 2.5 hours | Mina Barrio |
| 5. | Exploring Photography | Adorama | 50 hours | Mark Wallace |
| 6. | Photography Basics and Beyond | Coursera | 3-6 months | Peter Glendinning and Mark Valentine Sullivan |
| 7. | Adventure Photography | MasterClass | 4.1 hours | Jimmy Chin |
Now let us have a deep look at the above courses:
1. Master Photography | 26Hr Complete Guide Includes Workbook
This Master Photography course is offered by Udemy and created by Chris Parker. The course provides 28 hours of recorded lectures with 18 articles. 17 downloadable resources and lifetime access are also available. You will learn to master exposure, tonal range and adjust camera settings. It will give you assignments for practice and a certificate of completion. 

This course is great for beginners as it gives complete guidance to master the art of photography. No fancy devices are required for this course. Hence you can learn from your phone while traveling too. 
2. Photography Masterclass: A Complete Guide to Photography
This is a paid course available on Udemy brought by reputed photographers Phil Ebiner, William Carnahan, and Sam Shimu Jones. The course has 65 articles with 25.5 hours of on-demand recorded lectures. There are 44 downloadable resources available.
The entire course has lifetime access, so there is no deadline to finish. Assignments will be provided for you to practice. Above all, it will give you a certificate of completion. 

The course starts from the basics to the advanced level. No fancy camera is required, and you can start with your smartphone camera. The price is affordable, and no prior experience is required.
3. Photography Essentials: Understanding the Basics
This course covers the essentials of photography for both beginners and intermediate photographers. Available on both SkillShare and Udemy, brought by Sean Dalton.

The course offers 1.5 hours of on-demand video lectures. Great for those who do not have 20 hours to spend on the lectures. You will learn about the perfect composition, lighting environments, and photo editing tips. It will give you lifetime access and a certificate of completion. Any camera or smartphone user can opt for this course. It is short, detailed, and great for beginners.
4. Professional Photography for Instagram
This course is available on Domestika and presented by Mina Barrio. There are 16 lessons with almost 2 hours of recorded lectures. This course has unlimited lifetime access and is great for beginners.
This course provides the best ways to take pictures and present them for Instagram using only your smartphone. You will learn to create your style and communicate through it. Different aspects and techniques of photography will be provided. It will also give you insight into editing on your smartphone according to any Instagram profile.
5. Exploring Photography with Mark Wallace
This course is offered by Adorama and presented by professional photographer Mark Wallace. It is a free online course available on the YouTube channel Adorama.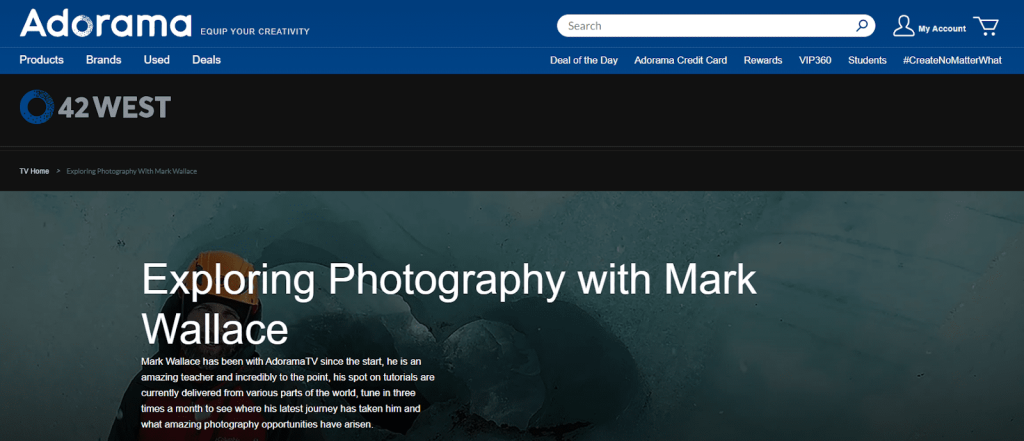 This course provides practical knowledge of lighting, lens, and many other useful techniques. It will also provide tutorials for using Adobe Lightroom and Photoshop in editing. There are more than 250 videos available with 50 hours of workload.
This course is great for beginners who want to explore the scene. This free course gives an extensive idea of photography without any investment. 
6. Photography Basics and Beyond: From Smartphone to DSLR Specialization
This is a Coursera specialization that will help you to master photography. It will teach you everything, whether you own a DSLR or a mobile phone, from controlling the device to implementing creativity. Hence, it is most suitable for beginners as it does not require prior knowledge before enrolling for the course. Two instructors, Peter Glendinning, and Mark Valentine Sullivan, teach this course. There are five modules in this course. The duration of the course is approximately six months.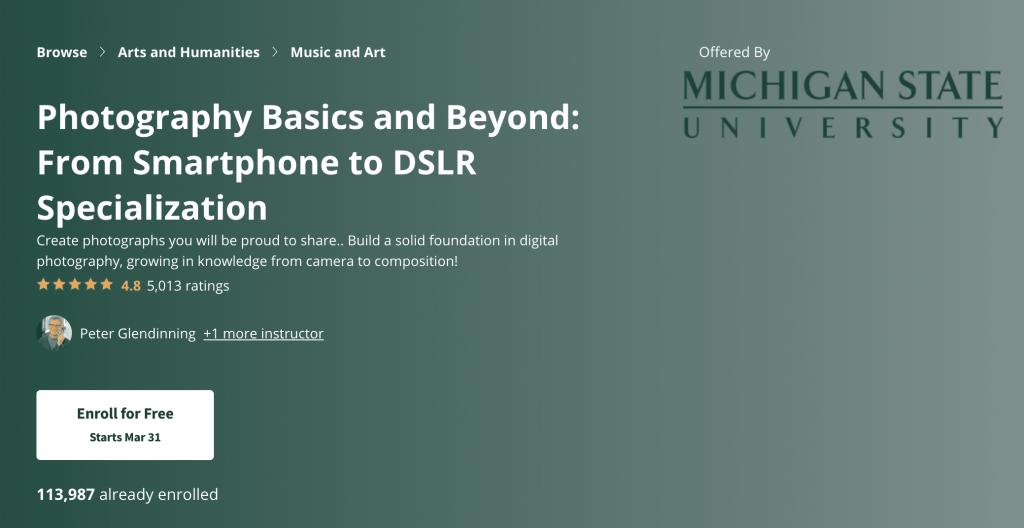 Photography Basics and Beyond also includes hands-on practical training, as one needs to complete the project(s) before completing the specialization course and earning a certificate.
After completing each module and finishing hands-on projects, you will earn a certificate. Michigan State University offers this course. The considerable skills you will gain are Computer Graphic Techniques and Graphic Software.
7. Adventure Photography
The famous National Geographic Photographer Jimmy Chin teaches the Adventure Photography course. Chin teaches his personal techniques that he uses for planning, clicking, and editing mesmerizing photographs. The course has 20 video lessons that cover various techniques and creative approaches for commercial shoots, passion photography, and final editing. The duration of this course is 4 hours and 10 minutes. This course is available on MasterClass.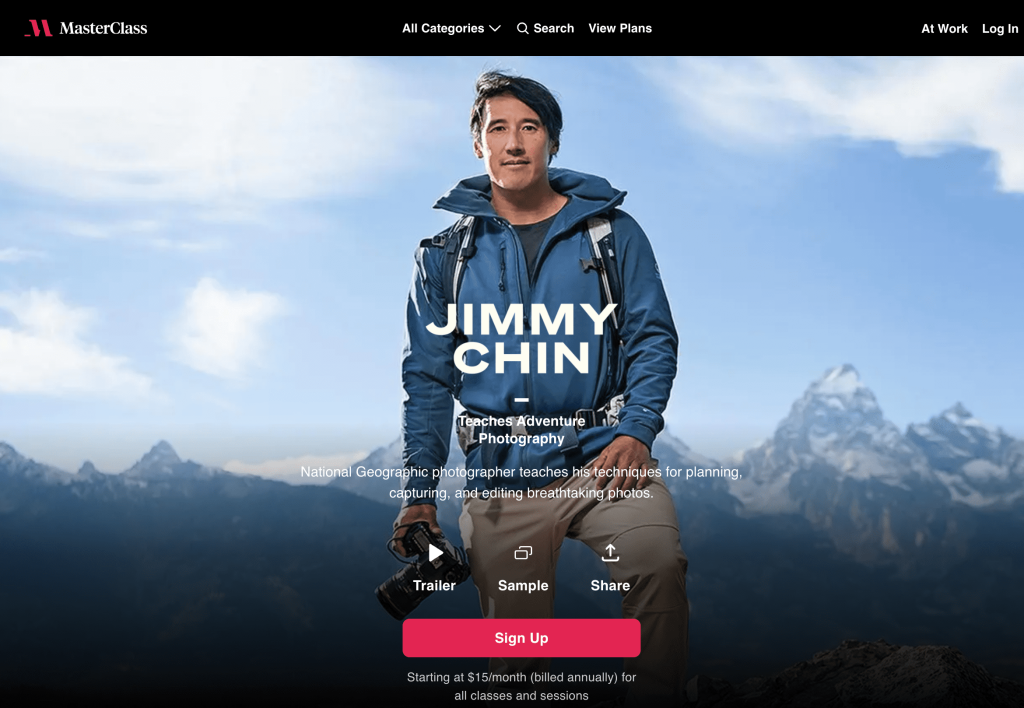 Related Reads –
Conclusion
While many people are today opting for online platforms to learn and polish various skills. Photography is the art of capturing live images. One can develop their photography skill by doing courses and practicing the same.
As we have discussed the best online courses for photography in this article – hopefully, now you will be able to make a calculated decision as to which one to buy and brush up your photography skills efficiently.
Frequently Asked Questions– Best Online Courses for Photography
Which is the best photography course?
Harvard's Digital Photography course is considered to be one of the best photography courses in the world today. 
Can photography learn online?
Yes, it is possible to learn photography online if you practice your theory regularly. 
Is Udemy good for photography?
Yes, Udemy is considered good for photography since it has great ratings and reviews online. 
What is the best photography course in the UK?
Robert Gordon University provides the best commercial photography course in the UK.