Are you looking for a reliable online learning platform to sharpen your skills further? Then look no further than this comprehensive Udemy review.
Udemy is a popular name in the world of virtual education. Almost everyone with a knack for learning something new opts for Udemy courses.
But the availability of so many Udemy competitors makes us question: is Udemy better than others?
I can resonate with your dilemma, and here is a detailed Udemy review where I will shed light on every aspect of the platform.
So stick with me till the end and make an informed decision.
Verdict At A Glance
| | |
| --- | --- |
| Aspect | Description |
| Number of courses | More than 2,00,000 |
| Types of courses | Business, Finance & accounting IT & software, design, Marketing, Teaching & academics, and more. |
| Price | Free & Paid courses ($9.99 to $199.99) |
| Features | Lifetime access Learning flexibility Downloadable resources |
| User-interface | User-friendly interface |
| Course quality | Well-curated and provide crude knowledge. |
What Kind Of Courses Does Udemy Offer?
Udemy's vast library of courses would never let you run out of options. There are more than two hundred thousand courses and over 70,000 instructors at Udemy.
Of course, skimming through the entire library of courses isn't possible, and to make it easier, Udemy divides them into different categories.
Following are the primary Udemy course categories:
Development: This category of courses covers areas like web development, programming languages, data science, etc.
Design: You'll find options like Photoshop, adobe illustrator, graphic design, user experience design, after effects, mobile app design, blender, etc.
Marketing: Explore trending topics like digital marketing, copywriting, Google ads, marketing research, and more in this segment and become a marketing expert.
Business: Some of the best courses in this category are: Powerful Business Writing, How to Budget and Forecast Your Business, Master Your Mindset & Brain, Customer Service Training, etc.
Finance & Accounting: This branch of learning covers varied topics like Stock Trading, Stock, Forex Trading, Financial Modeling, Day Trading, Investing, Financial Analysis, etc.
IT & Software: Get to learn about It Troubleshooting Skill Training, CCNP All-in-One Video Boot Camp with Chris Bryant, and more in this category.
Personal Development: This branch will help you become the best version of yourself with courses like Pitch to Yourself, Cut The Time Email Steals from You by Half, Learning How To Learn From Video Courses, and more.
Office Productivity: Time Management Training With Outlook, Excel Deep Dive: Pivot Tables Workshop, and MS Office: Advanced Efficiency Training are some of the top courses in this category.
Lifestyle: You'll find various exciting courses like how to become a professional tarot reader, hypnotherapy, essential stress buster tips, energy healing, spiritual healing, and more.
Health & Fitness: Explore courses like 14-Day Yoga Detox And Empowerment Course, Prenatal Yoga, Fitness for Beginners, etc.
Photography & Video: There is a multitude of courses in this category regarding food photography, how to become a better photographer, social media photography, etc.
Music: Music lovers would be spoiled by options like learning various Guitar playing lessons, singing, music production, music composition, keyboard instrument, and music mixing, and there is a never-ending list of options.
Teaching & Academics: People interested in teaching and academics would find options like English language, math, German language, English grammar, IELTS, Statistics, and other branches of academics.
Check Out These Udemy Features
As you can see, Udemy has a number of course options, but what about the features? Is the platform suitable for learners of all stages? Let's find out: 
1. Self-Paced Learning 
It's a key feature and also a great benefit of Udemy. You can learn at your own pace and access the learning materials whenever and wherever you want. There is no time boundation on finishing the course, making it a great choice for busy individuals.
2. Lifetime Access 
Once you enroll in Udemy courses, you get lifetime access to the content. Therefore, you can review the lectures, and recheck the course materials to stay updated with the course content.
3. Diverse Learning Platform 
Udemy combines a variety of learning formats, including video lectures, downloadable resources, quizzes, assignments, and more. Such a diverse approach is adopted to initiate an engaging learning experience.
4. Mobile App Accessibility 
With the mobile app accessibility, you can learn on the go by accessing the course materials through your smartphone or tab. I made the best use of this feature and learned from the app whenever I was commuting to and fro work and during my off time.
5. Course Certification
Udemy provides a certificate of completion for all paid courses that you can showcase on your professional profile, like LinkedIn. Additionally, these certificates make your resume stronger.
Udemy Course Structure: Explained
Udemy has a clean and structured system. The courses are divided into different modules or sections, each covering a specific part of the topic.
Udemy courses primarily consist of video lessons. The classes are delivered through pre-recorded videos by instructors. These lessons are broken down into bite-size pieces to ensure learners don't get bored.
This is beneficial for learners like me. I easily get distracted and lack the patience to sit for more than half an hour for a single lesson. Most Udemy lessons are usually not more than 15 minutes making them digestible and interesting.
You can also download and learn from supplementary learning materials at your own pace. Udemy also includes quizzes, assessments, and Q&A to support overall learning progress.
Upon finishing each program, you get a course completion certificate. You can upload Udemy certificates in your resume or social media handles like LinkedIn to build credibility.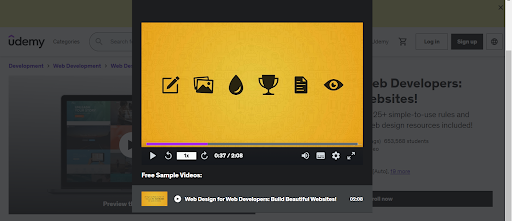 Who Are Udemy Instructors?
I strongly believe that instructors can make or break a learning platform or institution. Their way of delivering knowledge, dedication, and expertise are things that help students learn better.
Udemy has done an excellent job in terms of its instructors. There are world-famous personalities who are thought leaders in their industries and have gained wide acclaim for their profound job.
But not all Udemy instructors are famous. But they have proved their credibility to be considered for Udemy instructors. 
I want to mention some of my favorite and popular instructors on Udemy, known for their unique and interesting way of teaching:
1. Allan Murray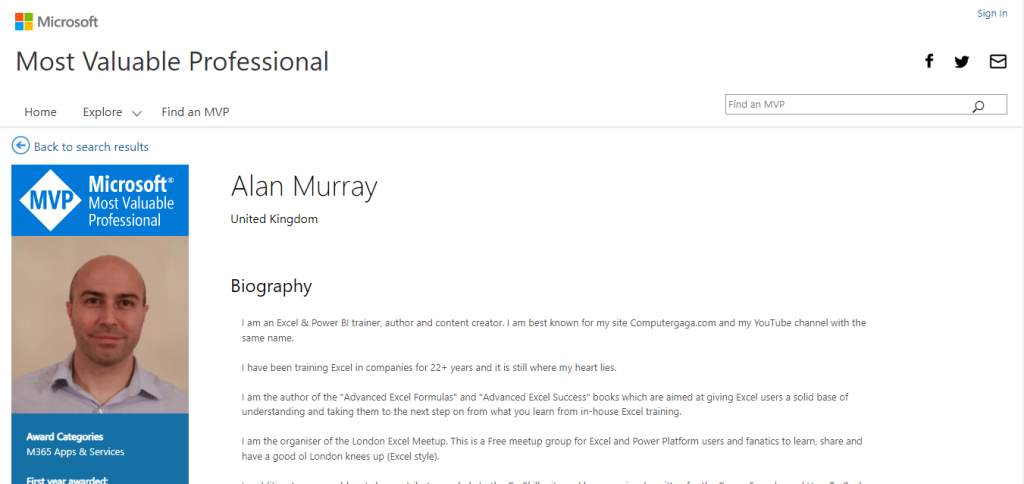 Allan Murray is Microsoft AVP, an Excel expert, and the author of the famous book "Advanced Excel Success."
He is a famous business coach who has trained a global audience in the same sector for over 20 years. His courses are one of the most popular on the platform due to their fun teaching approach. Moreover, Allan Murray shares tips from his real life, making his lessons more relatable.
2. Andrei Dumitrescu
Andrei Dumitrescu is a famous personality in the field of network and software engineering. He has been training people for more than 15 years. If your interest lies in the same field, you can check out his courses in Linux administration, network administration, ethical hacking, Python programming, etc.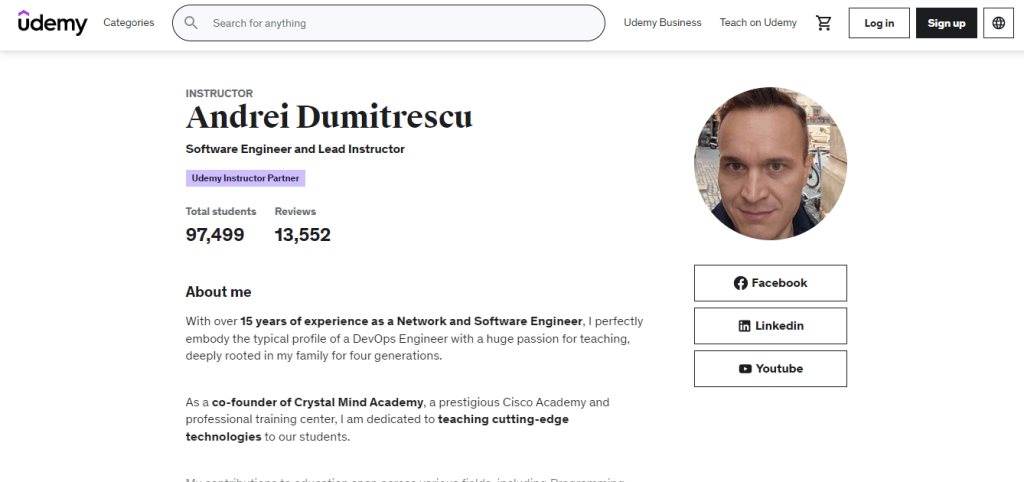 3. Chandra Lingham
He specializes in Amazon Web Services and machine learning. He provides courses in AWS-certified machine learning, Python Regular, AWS Certified Solutions, Javascript, and more. His courses have more than 89000 students so far who claim to have benefitted a lot from his teachings.
4. Daragh Walsh
For the ones looking for amazing courses on digital marketing, you can check the ones created by Daragh Walsh. He is quite popular in this niche and has trained over 1000,000 students. His courses on Udemy have more than 200,000 reviews with 4.5-star ratings.
Some of his top courses are SEO training, Digital marketing fundamentals, Google Analytics certification, Squarespace, etc.
Numerous other instructors on Udemy are known for their commendable teaching capacities. The easiest way to find these courses is to search for your preferred niche and select the top-rated, most viewed, and reviewed courses.
Don't forget to check the publishing date of the courses. Always opt for recent courses because they cover the latest innovations and trending topics in the industry. You can also quickly skim through the modules to get an idea of the course content.
Can I Get A Job With Udemy Courses?
This is a common question that most Udemy learners ask if they would land a job with its course certificates.
No, an Udemy certificate alone can't give you a job. To be eligible for the job category, you need to have the defined qualifications. But an Udemy certificate makes you stand out among the crowd.
It shows your learning enthusiasm while demonstrating your skill in particular fields. Therefore, having certificates that showcase your skills, like the ones from Udemy, may take you closer to your dream job.
Best Courses From Udemy: Check Out The Most Popular Udemy Courses
Here is a list of Udemy courses that have hundred thousand to million enrollments, making them some of the top picks among Udemy learners:
Java Tutorial For Complete Beginners By John Purcell
Microsoft Excel: Excel For Beginners to Advanced By Kyle Pew and Office Newb LLC
Machine Learning A to Z: Python And R In Data Science 2023 By Kirill Eremenko, Hadelin de Ponteves, SuperDataScience Team, and SuperDataScience Support
The Complete 2023 Web Development Bootcamp By Dr. Angela Yu
Adobe Photoshop: Photo Editing Ultimate Guide by Learn Tech Plus
Digital Marketing Masterclass: 23 Marketing In 1 Class By Phil Ebiner, Diego Davila, and Video School
How To Speak To Anyone & Be Fearless- In Less Than 55 Minutes By Richardo Mendoza
Make Money From Home: How To Build An Online Business By Mike Omer
Introduction To Python Programming By Avinash Jain & Codex
How Much Does Udemy Cost? Price Plans
The best thing about Udemy is that it has a range of free courses. While they are not as good as the paid ones, they can be a great starting point for people who want to test the platform.
Coming to the paid courses, Udemy has a varied price plan. They have options to buy individual courses or take subscriptions.
The price flexibility of Udemy is also commendable. The courses start from $9.99, which could be a great deal for students or budget-restricted people.
But there are courses that can be as expensive as $200. These are complex courses that require more time and resources to curate them.
Additionally, students can get lifetime access to paid courses so that they can learn with ease.
For businesses who want to get subscriptions for their team, there are a few options for them, and they are as follows:
| | |
| --- | --- |
| Subscription type | Price |
| Enterprise for 21 or more users | Contact the Udemy sales team for the customized price plan |
| Team plan for 5 to 20 users | $360 per user/ per year + applicable taxes |
| Cohort learning for leadership teams | Contact sales for a customized price |
Are Udemy Courses Worth Trying?
Yes, Udemy courses are definitely worth trying. These courses are easy to digest, affordable, and curated by some of the best educators out there. 

I have tried multiple Udemy courses in digital marketing, social media marketing, and content writing. Some of the courses are only suitable for beginners where they cover basic lessons. So make sure to quickly go through the overview of courses to decide if they fit your learning goal.
There is scope to make the courses even more engaging by introducing live masterclasses or with more assignments. But overall, they serve the purpose.  Moreover, Udemy also provides a 7 day free trial.
Udemy Pros & Cons
| | |
| --- | --- |
| Pros | Cons |
| Unlimited course selection options | Certificates are not accredited by educational institutes |
| Affordable compared to other learning platforms | Does not have scope for interaction with the instructors |
| Availability of free courses | |
| Flexible learning | |
| Courses are designed in bite-sized and digestible lessons. | |
Related read;
Final Thoughts on Udemy Review
Udemy is worth trying if you're looking for some easily digestible courses at affordable rates. Moreover, the wide course selection option makes Udemy a great platform for learners from different backgrounds.
Even though Udemy has to put some more effort into matching the levels of other learning platforms like Coursera or Skillshare, they are highly beneficial for learners seeking to develop a new skill. 
Hopefully, you got a clear idea of whether Udemy is the right platform for you or not. If you have further doubts, share them in the comments!
FAQs: Udemy Review
Are Udemy Certificates Worth It? 
Yes, Udemy certificates are worth it. They give an additional dimension to your resume and may help you stand out among the rest. 
Is Udemy Better Than Coursera? 
Well, both platforms are great in terms of course quality and delivery. But Coursera courses have an upper edge here. Their quality and resources are slightly better than Udemy. 
What Are The Most High-Demand Courses In Udemy? 
At current times, some of the most high-demand and trending topics in Udemy are Python, Chat GPT, web development, JavaScript, SQL, Excel, digital marketing, ethical hacking, etc. 
Do Udemy Certificates Expire? 
No, Udemy certificates don't expire. Once you earn them, you can access them for life.