The debate on 'Mindvalley vs Masterclass: Which Platform is the Best in 2023' is on, and I hope this article will help you come up with a valid opinion.
Online education has become very popular, considering platforms like Mindvalley and Masterclass. In the comfort of your home, you can join a course conducted by a well-known teacher or a mentor with expertise in a particular field.
But with so many options available, how do you know which platform is right for you? Mindvalley and Masterclass are two of the biggest names in online learning right now. Both platforms offer star-studded instructors and compelling topics but have different approaches when it comes to content delivery and pricing.
This article will compare Mindvalley vs Masterclass in-depth, analyzing their key features, course offerings, instructors, pricing models, and more. By the end, you'll have a clear sense of their major differences and which platform aligns best with your learning preferences and budget.
Mindvalley vs Masterclass: In a Nutshell
| Category | Mindvalley | Masterclass |
| --- | --- | --- |
| Focus | Personal growth, wellness, productivity | Variety of topics from cooking to sports to arts |
| Course Format | Structured curriculum, chapters | Unstructured videos focused on a topic |
| Course Length | 6-12 hours on average | 2-5 hours usually |
| Instructors | Health gurus, authors, researchers | Celebrities and seasoned professionals |
| Pricing | Subscription-based | Multiple subscription options |
Mindvalley vs Masterclass: An Overview
Here is a brief overview of both learning platforms:
What is Mindvalley?
Founded in 2003 by Vishen Lakhiani, Mindvalley is a learning platform focused on personal growth and well-being. It hosts online courses taught by transformational teachers on topics like mindfulness, productivity, relationships, and more.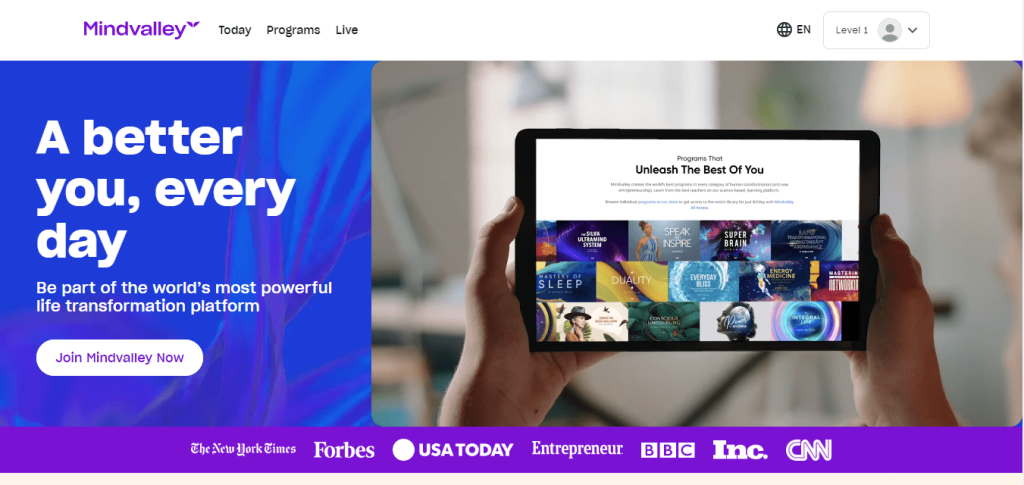 The curriculum is structured to help people lead more fulfilling lives by upgrading their health, habits, relationships, and belief systems. Instructors include authors, researchers, coaches, and personal growth experts.
Mindvalley offers a subscription membership model so you can take unlimited courses for a monthly or annual fee. Their learning programs combine video lessons, audio content, workbooks, and community features. If you want to know more about Mindvalley, you can have a look on our article on Mindvalley Review.
What is Masterclass?
Masterclass, launched in 2015, takes a different approach. Instead of personal development, it focuses on a series of topics—from sports to cooking to business—taught by celebrity instructors and industry leaders.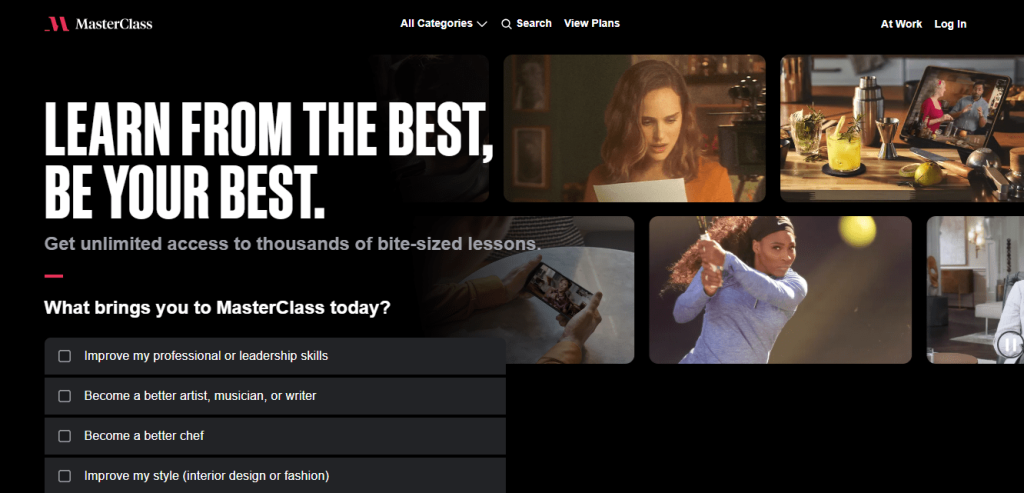 Courses consist of pre-recorded video lessons where the instructors share their experience and insider knowledge from their field of expertise. Masterclass does not offer structured curriculums, workbooks, or community features.
Some of their most popular instructors include Gordon Ramsay (cooking), Serena Williams (tennis), Neil deGrasse Tyson (scientific thinking), and more big names.
Major Differences between Mindvalley and Masterclass
Mindvalley and Masterclass have very distinct approaches when it comes to their course formats, instructors, and pricing models. Let's analyze them in more depth across six key categories:
1. Key Features
Mindvalley
Offers structured multi-week curriculum-based courses with chapters and clear learning objectives
Combines video lessons, downloadable workbooks, audio content, meditations, and more for immersive learning
Focuses on personal transformation topics like mindfulness, productivity, relationships, health, and career
Provides community features like forums, Facebook groups, and meetups to connect with other students
Access to all courses and content with monthly or annual membership
Masterclass
Unstructured video-only lessons focused on a specific topic or skill
Taught by big-name celebrities, athletes, and industry leaders
No structured curriculum, workbooks, community, or other materials
A broad range of topics, from cooking, sports, writing, photography, business, and more
Pay per course model, no membership option
For some learners, Mindvalley's structured approach, workbooks, and community will provide more engaging learning. Masterclass's simplicity and dive-deep topics taught by big names have their appeal.
Verdict: Mindvalley wins for its comprehensive curriculum-based courses. But Masterclass is better for short-burst learning.
2. User Interface
Mindvalley
Mindvalley has a beautifully designed interface optimized for an immersive learning experience. Courses are organized neatly into categories and levels. Intuitive navigation and profiles make it easy to track progress and resume where you left off.
Useful features include bookmarking key lessons, highlighting transcripts, and downloading content. The clean aesthetics and minimalist yet modern design make learning a pleasure.
Masterclass
Masterclass has a simple, straightforward interface. The home page highlights their newest and most popular courses. Each course has the instructor videos neatly organized into sections.
But there are limited options for tracking progress or taking notes. Navigation is more basic with just home, categories, and search functions. The no-frills design focuses exclusively on delivering video content.
Verdict: Mindvalley wins for its modern interface optimized for immersive learning.
3. Courses
Mindvalley
Mindvalley zeroes in on personal growth, with course categories including mindfulness, productivity, relationships, health, and career. Their programs teach science-backed systems and frameworks to upgrade your life.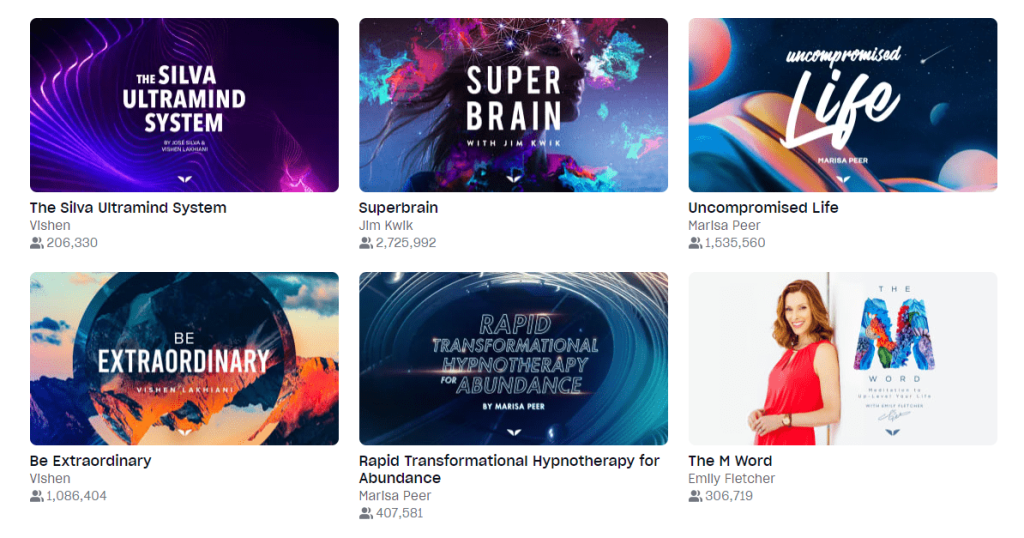 Some popular courses are WildFit by Eric Edmeades, Lifebook by Jon Butcher, and Redesign Your Life by Jon & Missy. On average, courses include 6-12 hours of content.
Masterclass
Masterclass explores a diverse range of topics—cooking, sports, photography, writing, leadership, and much more. The emphasis is on learning from masters sharing their real-world experiences.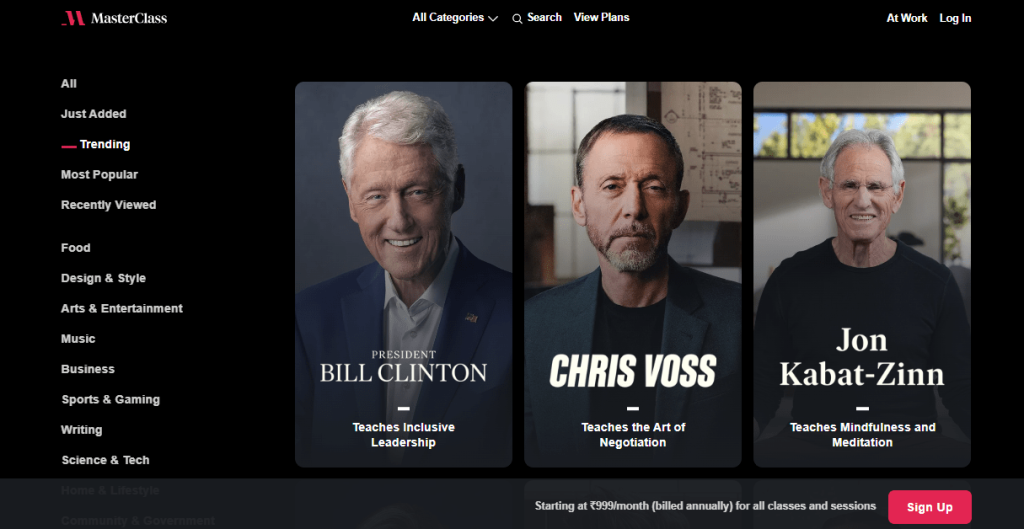 Courses include titles like Art of Negotiation by Chris Voss, all about negotiations. Their sessions tend to be shorter at 2-5 hours per course.
Verdict: For personal development, Mindvalley offers more comprehensive training. Masterclass wins for a variety of topics and rapid learning. In terms of the number of courses, Masterclass beats Mindvalley by a huge margin.
4. Instructors
Mindvalley
Mindvalley courses are led by authors, researchers, coaches, and personal growth experts. These are credible teachers focused on transforming your life.
Some of their most popular trainers are Vishen Lakhiani (founder), Lisa Nichols (motivational speaker), and Dr. Shefali Tsabary (clinical psychologist).
Masterclass
Masterclass takes a completely different approach with celebrity and professional instructors. From athletes like Steph Curry teaching basketball to celebrity chefs like Gordon Ramsay teaching cooking, you learn directly from big names and masters.
Other instructors include Pulitzer Prize winners, renowned photographers, star actors, and more.
Verdict: For credibility in personal growth, Mindvalley has the edge. But Masterclass can't be beaten for learning directly from icons.
5. Value for Money
Mindvalley
Mindvalley offers a subscription model with these options:
Monthly membership: $99/month
Annual membership: $499/year
This gives you unlimited access to all 200+ courses, new releases, events, apps, and more. Their sliding scale pricing also offers lower rates for students or lower incomes.
Masterclass
Masterclass sells each course individually at this pricing point:
Monthly Pass: $15/month
Annual Pass: $180/year for unlimited courses
Purchasing courses individually can get expensive. But their unlimited annual pass provides great value at just $15 per month. Their pricing model offers flexibility if you just want a course or two. But Mindvalley's all-access buffet model is unmatched for voracious learners.
Verdict: For unlimited learning, Mindvalley offers better value. But Masterclass has lower cost entry if you just want a course for a month or more.
6. Customer Support
Mindvalley
Mindvalley aims to provide responsive customer support through email and in-app messaging. As a paid platform, they also offer phone and chat support options.
Students praise their friendly customer service agents and quick resolution times. Mindvalley also provides program coaches to guide your learning journey.
Masterclass
Masterclass relies primarily on email-based customer service. Some users complain about slow response times of 2-3 days. They don't offer live phone or chat support.
But once you get through, their agents are generally helpful in resolving issues. Support options are slimmer compared to Mindvalley.
Verdict: For customer support access and quality, Mindvalley is the winner.
Mindvalley vs Masterclass: Pricing Comparison
Mindvalley and Masterclass take very different approaches when it comes to their pricing models.
It uses a subscription-based model where you pay a recurring monthly or annual fee to get unlimited access to all 100+ courses and programs. A regular monthly subscription costs $99, while an annual subscription is $499 per year. That means you get 60% discount on the annual subscription. This all-you-can-eat buffet model is excellent for devoted personal growth learners who will take multiple programs.
| Plan | Mindvalley | Masterclass |
| --- | --- | --- |
| Monthly Membership | $99/month | $15/month |
| Annual Membership | $499/year | $180/year |
| Course Purchase Options | None | None |
| Offline Access | Yes | No |
| Customer Support | Email, chat, phone | Email-only |
| Free Trial | Yes | No |
By contrast, Masterclass sells each course individually. You can purchase just a single course if you want to dip into a topic here and there. The Individual Masterclass plan costs around $15/month. Of course, this model can be handy if you want to take multiple courses within a limited time.
To address this, Masterclass offers an unlimited annual pass for $180 per year, which brings the cost down to $15 per month for everything. You can also read our detailed guide on Masterclass cost.
The value you get out of each platform depends on your learning preferences. Mindvalley is superior if you'll be taking many structured courses. But Masterclass may make more sense if you only want to dabble in a few topics taught by celebrities. Mindvalley also offers more student support features and the ability to download programs for offline access.
Take your specific needs into account when deciding if an all-access model fits your budget. But for unlimited learning, Mindvalley delivers exceptional value compared to expensive live workshops.
Mindvalley vs Masterclass: Pros and Cons
Here are some pros and cons of Mindvalley:
Mindvalley Pros
Comprehensive courses with a structured curriculum
Beautiful and engaging user interface
Focus on personal growth and wellness
Sliding scale pricing increases accessibility
Excellent customer support
7 day free trial to check the platform
Mindvalley Cons
Limited one-on-one instructor interaction
Mostly lesser-known teachers
Subscriptions may be expensive for casual learners
Now let us have look at Masterclass Pros and Cons:
Masterclass Pros
Learn directly from celebrities and icons
Tons of variety across topics and industries
Pay per course model offers flexibility
A shorter course length requires a smaller time commitment
Masterclass Cons
No structured curriculum or workbooks
Slim support and community features
It can get pricey to buy multiple courses
Limited offline access
Related read:
Conclusion: Mindvalley Vs Masterclass
So which learning platform comes out on top in this Mindvalley vs Masterclass showdown?
For structured personal growth programs with accountability, Mindvalley wins hands down. The comprehensive courses, polished platform, and excellent customer care make it the better choice for self-improvement.
But Masterclass can't be beaten if you want rapid learning and insider access from world-famous experts. The pay-per-course model also offers more flexibility.
End of the day, it all depends on your specific learning preferences and budget. Mindvalley is ideal for dedicated self-help junkies who want an immersive experience. Masterclass suits dabblers with cursory interests across different fields.
Hopefully, this detailed comparison gives you the clarity to choose the best platform to fulfill your learning goals. Both Mindvalley and Masterclass let you learn from world-class experts in the comfort of your home. The rest is up to you—so start expanding your knowledge.
FAQs: Mindvalley Vs Masterclass
How long are Mindvalley courses compared to Masterclass?
On average, Mindvalley courses include 6-12 hours of lessons, workbooks, and other materials. Masterclass courses tend to be shorter at 2-5 hours focused exclusively on video content.
Can I download Mindvalley or Masterclass courses for offline access?
Yes, Mindvalley lets you download content to access when offline. Masterclass currently does not offer offline downloads.
Which platform has more courses?
Mindvalley has over 100 personal growth courses, while Masterclass has over 180+ courses covering many topics. Mindvalley wins for quantity focused in one niche, while Masterclass has more variety across disciplines.
Are Mindvalley or Masterclass courses free?
Neither platform offers free access to courses. You must purchase a subscription or individual courses to get full access. Mindvalley does offer some free masterclasses and samples.
How do the instructors differ?
Mindvalley instructors are authors, researchers, and personal development experts. Masterclass features celebrities and seasoned professionals teaching their craft.