Udacity Vs. Coursera: which e-learning platform offers better course quality and options and has better instructors?
The above questions are the most common query among aspiring learners who want to opt for either of the institutes.
If you, too, are confused about which option to opt for, read this detailed Udacity Vs. Coursera guide, where I have discussed everything about the two institutes.
Let's get started.
Udacity vs Coursera: Verdict at a Glance 
| Parameters  | Udacity | Coursera |
| --- | --- | --- |
| Core Idea | Data engineering, programming analysis, business analytics, AI programming with Python, etc. | Offering courses on programming, business, art & design, data science, humanities, health & medicine, data science, etc. |
| Number Of Courses | 200 free courses & 78 Nanodegree courses | 7000+ courses in Coursera Plus |
| Course Format | Pre-recorded video lectures | Pre-recorded video lectures |
| Ease Of Use | Easy to navigate & user-friendly | User-friendly interface |
| Instructors | Instructors come from a variety of professional backgrounds (they don't necessarily have a teaching background) | Professors from renowned universities and industry experts |
| Certificates | Available with the nano-degree courses | Comes with paid courses |
| Price | Starts from $399 | Starts from $29 |
| Return Policy | 7-day return policy | 14-day return policy available only with the annual subscription |
| Additional Support | Call & email support | Call & email support |
Which Platform is Right for You?
Coursera & Udacity are the two top online learning institutions that offer courses in diverse learning fields, including- data science, computer science, programming, business & art, humanities, etc.
The best part about Udacity is its wide availability of free courses. You can choose from more than 200 free options.
In contrast, Coursera has an even vast library of 7000+ courses, 1600 plus specializations, and 600+ guided projects curated and taught by university professors and industry experts.
But which platform would meet your learning needs? You should:
Choose Udacity if
You're interested in subjects like robotics, AI, programming, data science, etc.
You're interested in specific career tracks and nano degree programs
You want to learn from top institutes like AT&T, Google, etc.
You prefer hands-on, project-based learning experiences.
Need a platform with quality courses free of cost
Looking for self-paced learning options
Choose Coursera if
You're interested in academics and professional courses
You want an e-learning platform with a wide variety of courses
Want to access courses from top universities and institutions worldwide
You want to earn certificates and credentials from top global universities
Want an e-learning institute with flexible course timelines
Udacity Pros & Cons
Pros
Hands-on, project-based learning experience 
Hands-on programs are created in collaboration with institutions like Google 
200+ free courses 
Special career service courses with interview preparation, resume review, and job search support 
Updated curriculum covering the latest industry insights 
Cons
Udacity courses are quite expensive 
The certificates are not accredited by any university
Coursera 
Pros
Courses curated by top universities & institutions like Yale, Stanford University, Google, etc. 
Have a wide range of free courses 
Paid courses start from just $29 
Active community and discussion forums for support and interactions 
Opportunity to earn certificates from reputable institutes 
Cons
No certificates with the free courses 
Limited hands-on or project-based learning options 
Udacity & Coursera Overview
You got a quick sneak peek of what Udacity and Coursera offer. Here is a better overview that will give you a clearer idea of which option would suit your learning needs the best.
Udacity Overview
Udacity is popular for offering various courses and Nanodegree programs in digital technology. It was founded in 2011 to provide accessible and industry-relevant education to learners worldwide.
One of the critical features of Udacity is its practical project-based learning. The courses and learning paths are designed to equip students with in-demand skills and help them climb the ladder of success.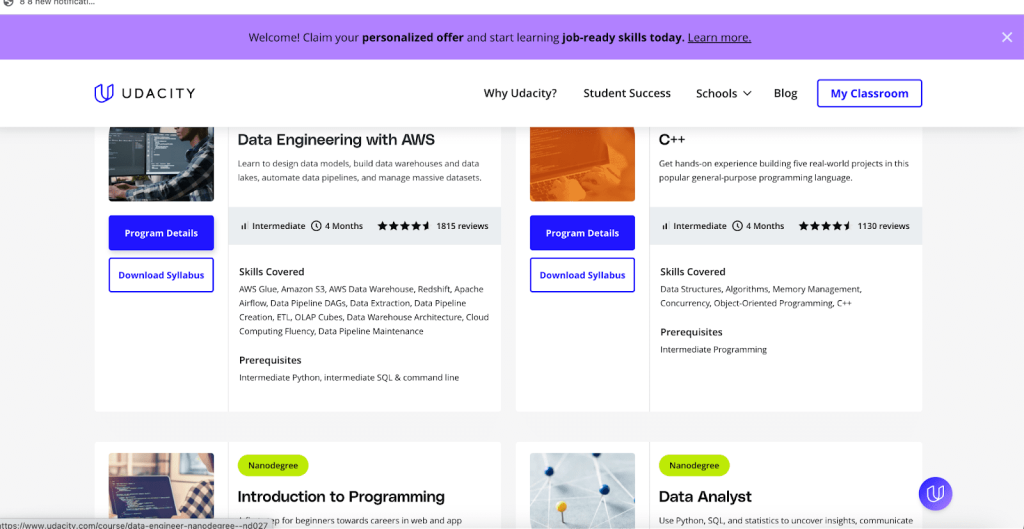 The Nanodegree programs are paid courses that come with certificates. These programs are more detailed and prepare you for the professional field.
Udacity courses, especially the Nanodegree programs, are created by industry experts and in partnership with top global institutes or organizations like Google, Facebook, etc.
Coursera Overview
The extensive catalog of Coursera covers various disciplines, including programming, humanities, data sciences, art and design, business, etc.
The platform has been offering quality education since 2012, and currently, Coursera Plus has more than 7000 courses to choose from.
One of the key reasons for Coursera's wide popularity is because of its programs created by top universities like Yale, Stanford, University of London, etc.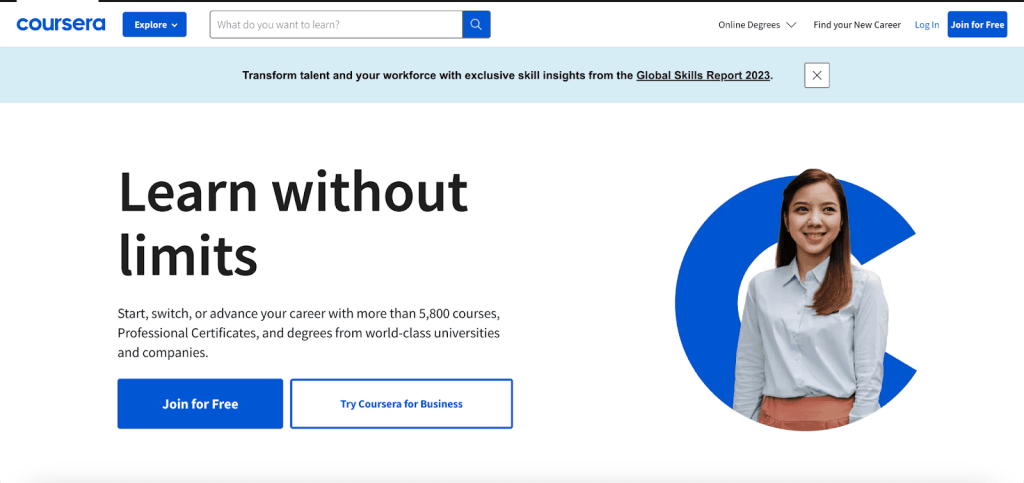 These programs offer learners the opportunity to earn an informal certificate who did not have the opportunity to attend these prestigious institutions.
Coursera also has several free courses. You can try a couple of the free options first and get a first-hand experience of how the learning structure works.
Key Difference Between Udacity & Coursera: Based On Various Parameters  
Here I have review both the platforms based on various parameter. Without further ado, let have a detailed look:
The core idea of the course content
Udacity 
The core idea of Udacity courses is to provide practical, skills-based education that prepares learners for real-world careers in the technology industry. It aims to bridge the gap between traditional education and industry needs by offering courses focusing on teaching relevant and in-demand skills.
Udacity courses are in-depth and created in collaboration with industry experts and leading companies.
Udacity also regularly updates its course content to ensure you don't miss out on the latest industry insights.
Coursera
Coursera aims to make learning opportunities available to a global audience and empower individuals to acquire knowledge, develop skills, and advance their careers.
You get a diverse selection of courses covering various disciplines, including academic subjects, professional skills, and emerging fields. Besides, you can explore topics ranging from computer science and business to humanities, health sciences, and more.
Number of Courses Offered By Coursera and Udacity
Udacity
Udacity offers courses in various categories, covering a wide range of topics and disciplines.
Here are some of the course categories available on Udacity:
AI and Machine Learning
Data Science & Data Analysts
Programming & Development
Web Development & Front End Development
Back-End Development and Full-Stack Development
Cloud Computing and DevOps
Autonomous Systems and Robotics
Digital Marketing and Growth
Business and Entrepreneurship
Product Management
Cybersecurity
Virtual Reality (VR) and Augmented Reality (AR)
Computer Vision
Natural Language Processing (NLP)
Blockchain and Cryptocurrency
Game Development
UX Design and User Research
Mobile App Development
Software Testing and Quality Assurance
Project Management
Coursera
Coursera Plus has 7000 plus courses in 11 categories, including:
Data Science
Business
Computer Science
Social Sciences
Health
Personal Development
Arts & Humanities
Language Learning
Physical Science & Engineering
Information Technology
Math and Logic
Apart from the single courses, Coursera has learning paths which are a selection of courses from the same program to help you master a particular subject.
If you're just getting started and unsure of where to begin, here is a rounded-up selection of some of the best options:
Machine Learning by Standford University
Google's UX Design
Excel Skills for Business by Macquarie University
Google Ads for Beginners- Paid Media
IBM Data Analysts
IBM Cyber Security Analysts
Social Work: Practice, Policy, and Research by Michigan University
Bachelor of Science in Computer Science by the University of London
Meta Marketing Analysts
Google IT Support
Course Format of Udacity
Udacity Nanodegree courses include video lectures presented by instructors or industry professionals and are designed to explain key concepts, demonstrate examples, and provide guidance on the subject matter.
Some quizzes or assessments help reinforce the understanding of the lectures. These assessments may be in the form of multiple-choice questions, coding exercises, or other interactive elements to assess knowledge and provide immediate feedback.
Discussion forums and communities are also available where you can ask questions, seek clarifications, and participate in discussions related to the course content. Instructors, mentors, and fellow learners may contribute to these forums, providing additional support and insights.
Coursera Course Structure
Coursera programs are also based on video lectures presented by instructors or experts in the field. These lectures cover the course content and are designed to provide in-depth explanations, demonstrations, and examples to help you understand the subject matter.
The programs usually include assigned readings, articles, or other supplementary materials that provide additional context and resources to support the course content.
You can also get access to discussion forums to engage with fellow learners, instructors and get your doubts cleared.
Key Features of Udacity and Coursera
Udacity Key Features:
200+ free courses & around 100 Nanodegree programs
Has monthly subscription and individual course purchase options
Courses are accompanied by graded quizzes and assignments
Hands-on and project-based learning experience
Industry partnerships and collaborations
Self-paced learning opportunity
Coursera Key Features:
Self-paced learning
2000+ free courses
7000+ course options
Institution-level learning programs
Regularly updated content to meet the changing industry needs
Wide variety of courses from top global universities and institutions
Access to an activity community of learners to ask queries, share works, and collaborate with other students.
Instructors: Coursera vs Udacity
Teachers and instructors are the core pillars of any learning institute. Fortunately, Udacity and Coursera have some exceptional instructors with years of experience in their respective fields.
Here is a better look at the Udacity and Coursera instructors:
Udacity
Udacity has set criteria for selecting instructors. They must have records of professional experience, undergo an interview and submit some form of assignment.
Besides them, there are instructors from reputed institutes such as Melissa Hui, founder of Context Leap, Gabe Ruttner, founder of FeatherDocs, etc.
Udacity also has guest instructors who are recognized professionals in their fields in Nanodgeree programs and courses.
Coursera
Coursera instructors come from diverse backgrounds, including academia, industry professionals, and subject matter experts. There are professors and instructors from universities like Yale, Princeton, Standford, etc., who provide the classes on Coursera.
Besides that, there are industry professionals who have extensive knowledge and experience in their respective fields who teach in Coursera and share their personal tips and insights.
Additionally, some Coursera instructors are Nobel prize winners, best-selling authors, and C-suite executives.
Pricing & Membership
Coursera has a flexible pricing option with different price plans suitable for learners of different fields. Does Udacity match Coursera's pricing plans? Let's take a look:
Udacity Price Structure
Udacity has a different price structure which is unlike most learning platforms. The prices vary depending on the duration and choice of programs. 
Typically, Udacity degree-level programs start at $399 per month. But if you pay the entire amount in advance, you can get a 4-month course for just $399.

More advanced-level courses can cost you as high as $2000. These are Nanodegree programs with a duration of 6 months or more.
It's true that Udacity prices are slightly expensive and may not be affordable for students. But these are in-depth courses and make you ready for the professional world.
Coursera Price Structure 
Coursera has three different pricing plans:
| Single Learning Program | Coursera Plus Monthly  | Coursera Plus Annual  |
| --- | --- | --- |
| $49 to $79 per month | $59 per month | $399 per year |
You get a 14-day refund policy with the Coursera annual pricing plan. You can explore the entire course library and get a first-hand experience of how you like the courses. 
As I mentioned previously, there are also a lot of free courses in Coursera. While you don't get a certificate with the free courses, they will help you upskill.
Customer support
Coursera vs. Udacity: which customer support is better? Let's find out:
Udacity Customer Support
Udacity has a help center to answer frequently asked questions and any other technical issues. Contacting the customer care team is simple. Simply scroll down on the home page and click on the contact us tab.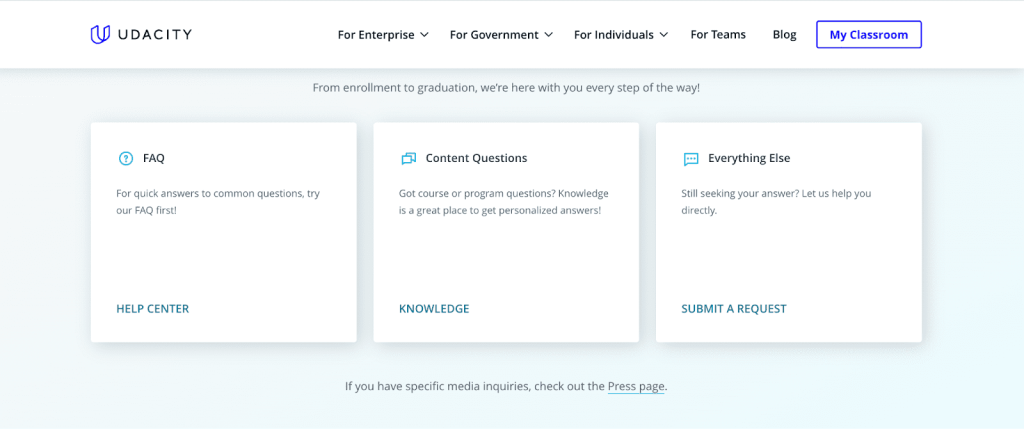 You'll find answers to common queries in the FAQ section. For more assistance, you can submit a query and get in touch with their team.
Coursera Customer Support
Coursera also has a helpful customer support team who are ready to assist you with any problem you face. Like Udacity, you can reach out to the FAQ section to find answers to basic queries. 
If you need further assistance or if your doubt isn't covered in the FAQs, you can talk to the customer representatives via email or on call.
More Coursera Related Comparisons:
Final Thoughts!
There you have a detailed comparison between Udacity vs. Coursera. I hope this guide has answered most of your queries regarding Udacity and Coursera and you can decide which platform is better for you.
In my opinion, both institutions are top-notch in terms of course quality and structure. But Coursera has a wider catalog compared to Udacity.
Udacity course content is more detailed and in-depth than Coursera, but it's also more expensive. So decide based on your requirement, budget, and the ultimate learning goal.