If you have checked out similar platforms like Mindvalley and curious to know how much would be the Mindvalley Membership plan, then go on.
Today, Mindvalley has become one of the world's leading personal growth and development platforms. Since 2003, they've provided transformative education to over 2 million students worldwide. Their mission is to help people lead more fulfilling lives and maximize human potential.
At the core of Mindvalley is its membership program. Membership unlocks unlimited access to all of Mindvalley's courses, programs, and events that can accelerate your learning journey.
In this article, we'll take a closer look at Mindvalley membership. We'll overview the cost, benefits included, how to signup, whether it provides good value, and frequently asked questions.
Read on to learn if a Mindvalley membership aligns with your personal growth goals and budget.
Overview of Mindvalley Membership
Mindvalley membership provides unlimited access to the platform's entire catalog of programs, courses, and events. This includes popular programs like Lifebook, Quest, and Superbrain. Their catalog contains over 100 transformative learning programs across personal growth, mindfulness, productivity, and more.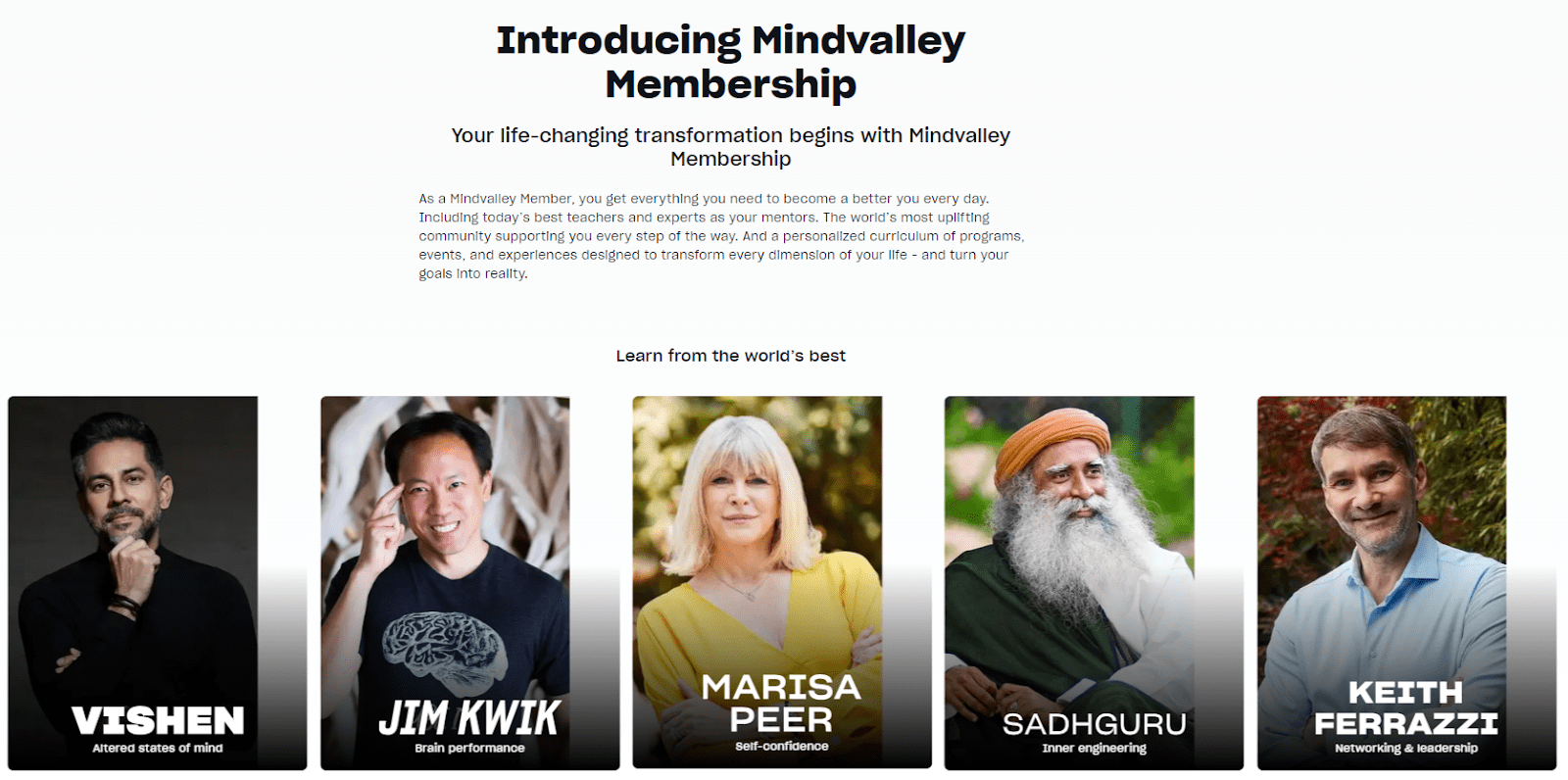 With a membership, you can take any program at your own pace. New programs and content are continually added. Membership also includes free access to live virtual events, meet-ups, and seminars.
Bonus: Curious to know more about Mindvalley read our detailed and honest review about the platform.
How Much is Mindvalley Membership?
Mindvalley offers three membership tiers: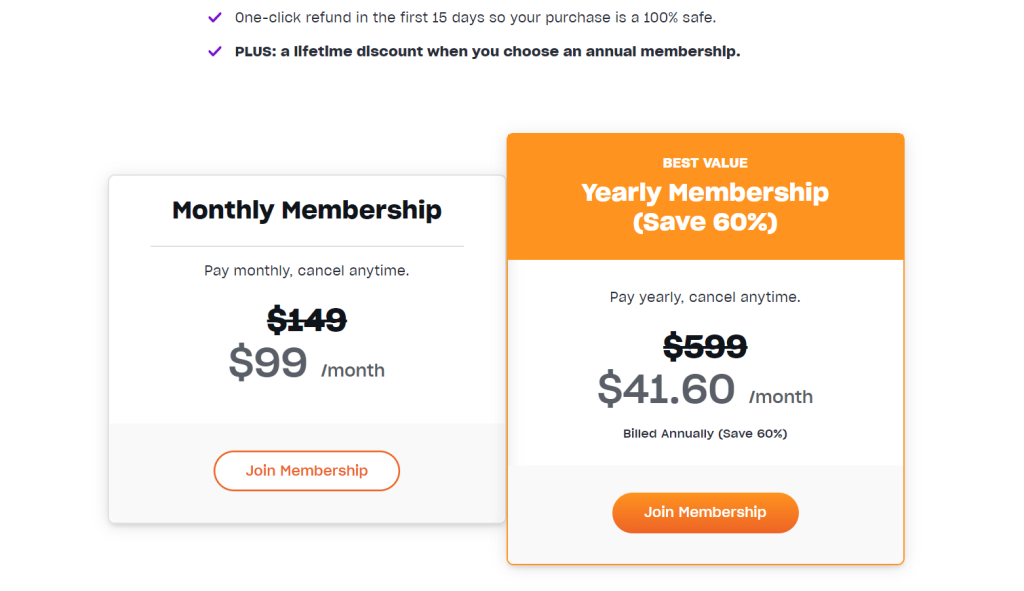 Mindvalley Monthly Membership – $99 per month
Mindvalley Yearly Membership – $499 per year (breaks down to $41.60 per month, a 60% discount compared to monthly pricing)
Mindvalley Pro Membership – $699/year
Mindvalley recently added a Mindvalley Pro membership which costs $699/year. If you are already a member, you can upgrade by paying $199 to your current plan.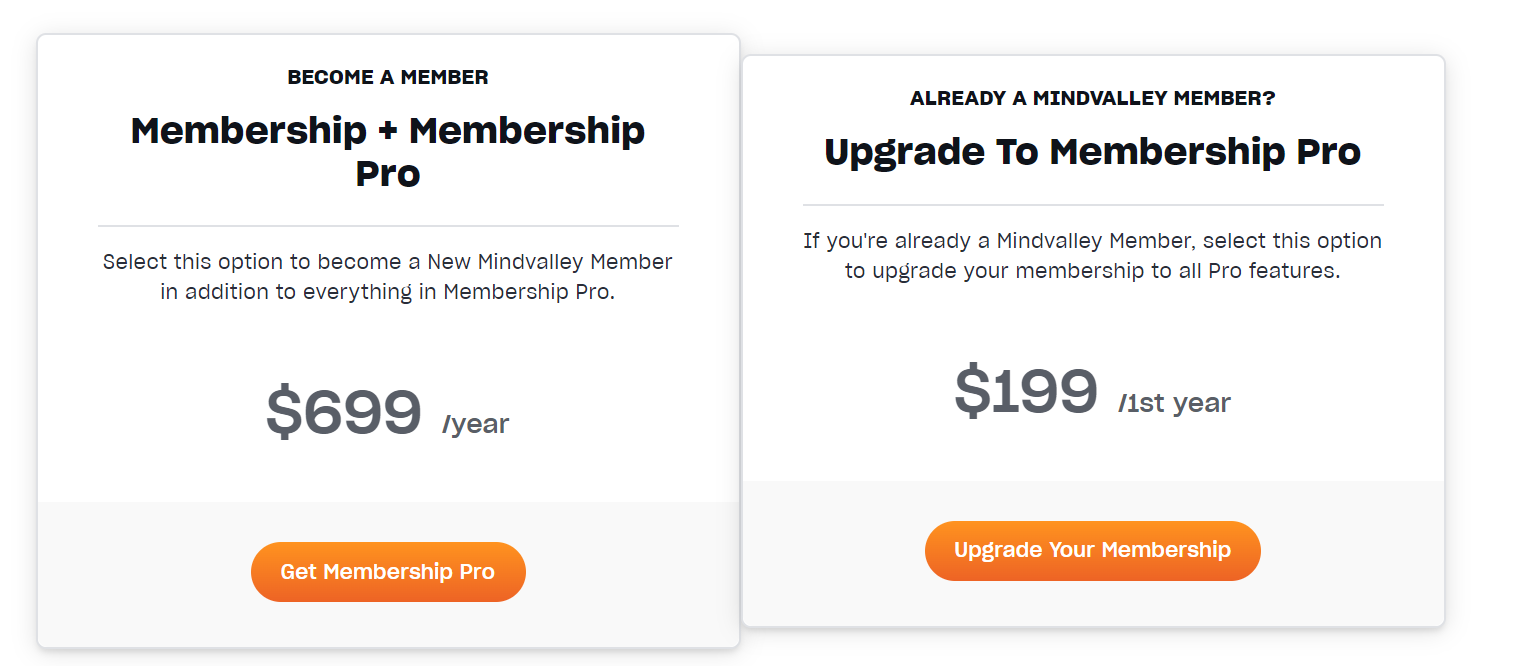 With this ultimate plan, you will get:
Live monthly group coaching sessions with Vishen Lakhiani and special guests
Private embodiment exercises led by Vishen
100+ transformational programs from Mindvalley's vault
Early access to all new program releases
Connect with the global Mindvalley member community
Attend member meetups in your city
Get access to the private online social network
15-day money-back guarantee (one-click)
Access programs on all devices – mobile, desktop, tablet, TV
All plans come with a 15-day money-back guarantee. After signing up, you have 15 days to evaluate the membership. If you're not satisfied, you can cancel for a full refund, no questions asked.
If you are still skeptical about the platform you can try Mindvalley's free trial.
The yearly plan saves you a significant amount over the monthly fee. It's the better option if you plan to use Mindvalley long-term.
What Will You Get with Mindvalley Membership?
A Mindvalley membership unlocks unlimited access to its full catalog of transformative education programs. Below are a few key benefits that you get with the mindvalley membership:
Access to over 100 personal growth programs: You can take any program on topics like mindfulness, productivity, career, relationships, and more. Popular programs include Lifebook, Superbrain, Quest, and 33 Virtues.
New releases and program updates: Mindvalley continually produces new programs and refreshes existing ones. Members get access to all new releases.
Take programs at your own pace: You can go through programs on your own schedule. There won't be an end date or a deadline you would have to go through.
Access live events and meetups: From seminars to meditations, Mindvalley hosts frequent virtual events. Members get free access.
Private Facebook community: Connect with other members in a private online community for support.
Mobile app access: Download programs for iOS or Android to learn on the go.
No ads: Members get an ad-free experience.
The extensive program catalog, steady releases of fresh content, and diverse learning formats provide amazing value. Here I have listed the top Mindvalley courses that you must surely try.
How to Get Mindvalley Membership?
Signing up for a Mindvalley membership only takes a few minutes. Just follow these steps:
Go to Mindvalley.com and click "Become a Member"
Select either monthly or yearly membership.
Create your account or log in if you already have one.
Enter your payment information. (Paypal and all major credit cards)
Review and place your order.
After registering, you can immediately access all membership benefits via the website or mobile app. Download the apps for iOS or Android to take your learning on the go.
Make sure to cancel within 15 days if you wish to request a refund. Yearly memberships renew automatically unless canceled prior to renewal.
You can get additional discount on Mindvalley membership with their offers during their Black Friday Sale.
Is Mindvalley Membership Worth the Cost?
Mindvalley membership provides unmatched value, but is the investment worth it for you? Below points will help you know the worthiness of Mindvalley Membership.
Cost savings – Yearly membership offers a significant 60% discount versus monthly pricing. This reduces the per-month cost to $41.60.
Quality over quantity – Mindvalley focuses on highly curated, high-production-value programs versus dozens of lower-quality courses. The programs are truly transformative.
Ongoing value – With fresh releases and updates, the content library expands over time. The membership retains its value.
Transformation and growth – For serious personal development, access to programs like Superbrain, Lifebook, and others can be life-changing.
Flexible and convenient – You can learn anywhere, anytime, at your own pace. Content is available via websites and mobile apps.
Community and events – Ongoing meetups, seminars, and a private online community provide added value.
For anyone serious about personal growth and transformation, Mindvalley is one of the top platforms available. While the membership fee is an investment, the highly curated programs, flexibility, and regular new releases make it worthwhile for many.
Conclusion
Mindvalley offers three membership tiers – monthly, yearly, and the new Pro plan. The Pro membership provides the best overall value at $58.25 per month when paid annually.
Pro membership unlocks exciting extras like live group coaching with Vishen, private embodiment sessions, meetups, early access to new releases, and more. It's ideal for dedicated self-improvement seekers who want to maximize their Mindvalley experience.
All memberships provide unlimited access to Mindvalley's entire and growing catalog of over 100 transformational programs. If you're considering Mindvalley, take advantage of the 15-day refund policy to experience it risk-free before committing. Investing in personal growth can truly pay dividends if you use the platform to its full potential.
Also Read: The Ultimate Comparison between Mindvalley and MasterClass.
FAQs
How much does a Mindvalley membership cost?
There are monthly ($99/month) and yearly ($499/year) options. Yearly membership offers a 60% discount versus paying monthly. You can also get the Pro membership at $699/year for additional features and perks. 
What is included with Mindvalley membership?
Full access to all programs, events, and a private community is included. You can take any program at your own pace, and access is available via the website and mobile apps.
Can I get a refund for Mindvalley's membership?
Yes, Mindvalley offers a 15-day money-back guarantee. If you cancel within the first 15 days, you can get a full refund, no questions asked.
Is there a free trial for Mindvalley membership?
There is no traditional free trial. However, the 15-day refund policy allows you to effectively "test drive" a membership risk-free.
Do I have unlimited access to all programs with membership?
Yes, a Mindvalley membership provides unlimited, ongoing access to all current and future programs. You can take any program at your own pace.