As a dedicated freelancer, I embarked on a journey to find the perfect platform to showcase my skills and connect with clients who appreciate my expertise.
While Fiverr has been a popular choice for many freelancers, I decided to venture beyond its familiar boundaries and explore alternative platforms. This could offer unique opportunities and a fresh perspective on my freelancing career.
In this article, I will share my experience as a freelancer delving into various Fiverr alternatives.
So, let's uncover the Fiverr alternatives to transform your freelancing career.
TLDR: Before we go into the details, if you want a quick and reliable alternative to Fiverr, here is my suggestion:  If you're looking for a wider range of projects or higher-paying work, you may want to consider Upwork or PeoplePerHour.
Alternatives To Fiverr: In A Nutshell
Here is a quick overview of the top 9 Fiverr alternatives that you should consider.
| Sr No | Fiverr Alternatives | Best For |
| --- | --- | --- |
| 1. | Guru | The high-quality talent pool, reputable clients |
| 2. | PeoplePer Hour | Hourly-based projects, competitive rates |
| 3. | Upwork | Wide range of job categories, large client base, reliable payment system |
| 4. | FlexJobs | Remote and flexible jobs screened freelancers. |
| 5. | 99 Designs | Graphic design, logo design, branding |
| 6. | LinkedIn | Professional networking, access to corporate clients |
| 7. | Toptal | Top-tier talent, challenging projects |
| 8. | Truelancer | Diverse range of projects, contests |
| 9. | SolidGigs | Handpicked, high-paying projects |
Fiverr Alternatives: In Detail
Below, I have mentioned the best Fiverr Alternatives in detail that can surely upscale your freelancing career.
1. Guru
The first one in my list, Guru, offers a marketplace for freelancers to connect with clients and provide their services. It is designed to facilitate the hiring and collaboration process between businesses and independent professionals across various industries.
It provides a wide range of categories for freelancers to showcase their skills and expertise. These include writing, graphic design, programming and development, marketing, administrative support, etc.

What I liked about this platform is it has a workroom feature. It acts as a virtual workspace for freelancers and clients to communicate, share files, and collaborate on projects.
This ensures smooth and efficient communication between both parties, allowing for effective project management.
Compared to Fiverr, Guru provides a similar platform for freelancers and clients to connect, but it may have a different user interface and fee structure.
2. PeoplePer Hour
PeoplePerHour provides an excellent platform for hiring skilled professionals in various fields and obtaining specialized services for projects of different sizes.
Unlike Fiverr, which predominantly operates on fixed-price gigs, PeoplePerHour allows freelancers to charge hourly rates for their work. This is advantageous when projects require ongoing or long-term work, as it offers more transparency and flexibility in billing.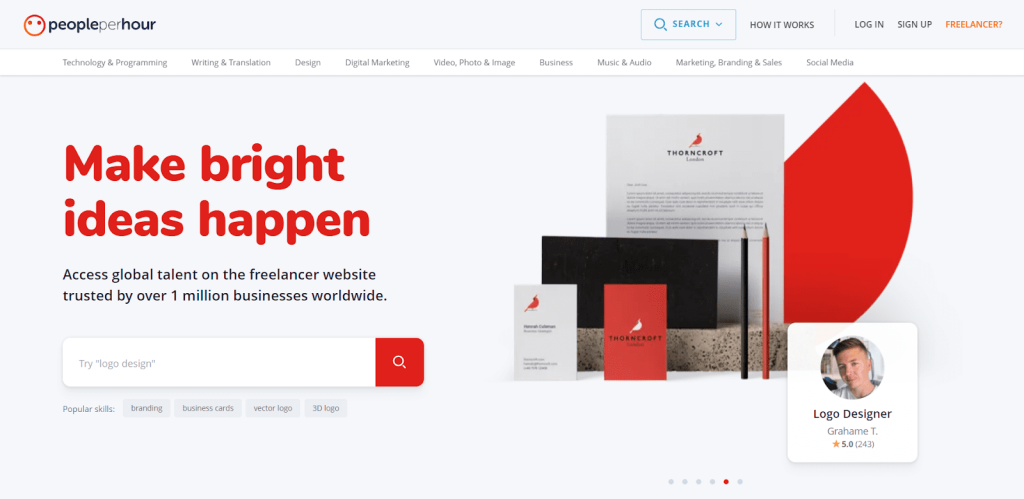 Moreover, it offers robust search and filtering options, allowing clients to refine their search based on specific criteria such as location, skills, ratings, and pricing. This facilitates finding freelancers who are the best fit for their project requirements.
Overall, PeoplePerHour is a good alternative to Fiverr for businesses looking for high-quality freelancers for larger or more complex projects.
3. Upwork
Next, Upwork is a much popular platform among clients seeking freelancers with diverse skill sets.
It focuses on long-term projects and professional relationships. While Fiverr often focuses on one-off gigs, Upwork facilitates ongoing collaborations and extended partnerships between clients and freelancers.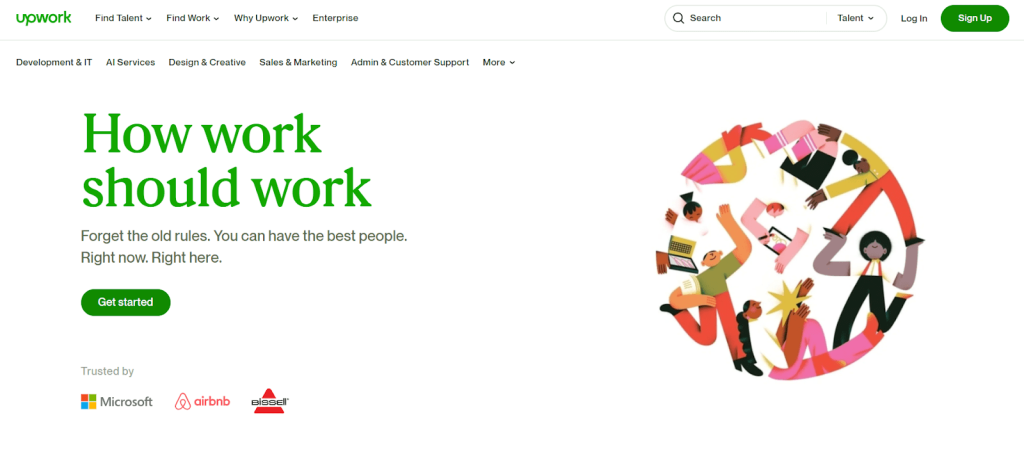 This makes it a suitable platform for large-scale projects, such as software development, marketing campaigns, content creation, and more.
What makes it stand out from other platforms is it incorporates an escrow system to ensure secure and reliable payment transactions. This system provides a level of protection for both clients and freelancers.
4. FlexJobs
Now coming to the FlexJobs, it serves as a job board and a curated marketplace for remote and flexible jobs across various industries and sectors.
It specializes in providing a platform where professionals can find legitimate remote job opportunities with reputable companies.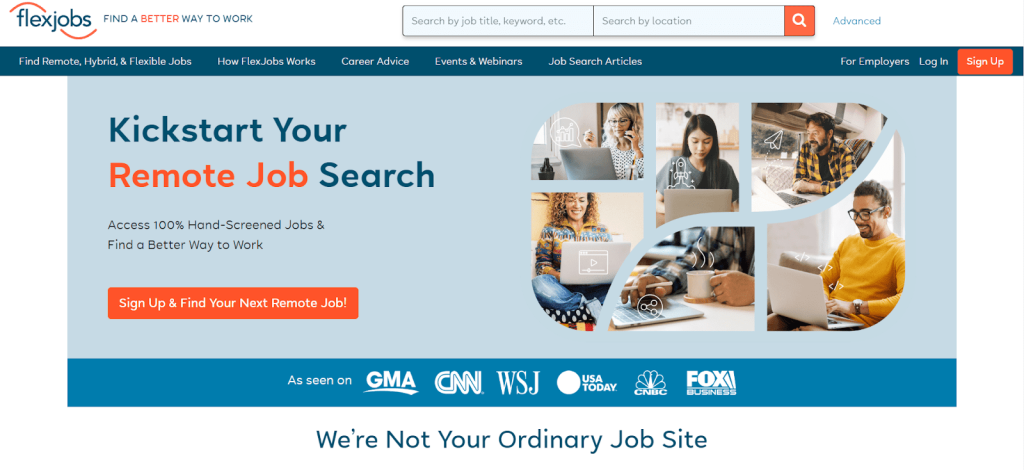 The platform's rigorous screening process ensures that the jobs listed on FlexJobs are vetted and trustworthy. It offers a level of security and reliability for job seekers.
If you are looking for remote employment options with reputable companies, FlexJobs can be a valuable resource to explore.
5. 99 Designs
Unlike Fiverr, where freelancers offer pre-defined services, 99designs follows a contest-based model.
Clients submit a design brief describing their requirements, and multiple designers then submit their design concepts in response.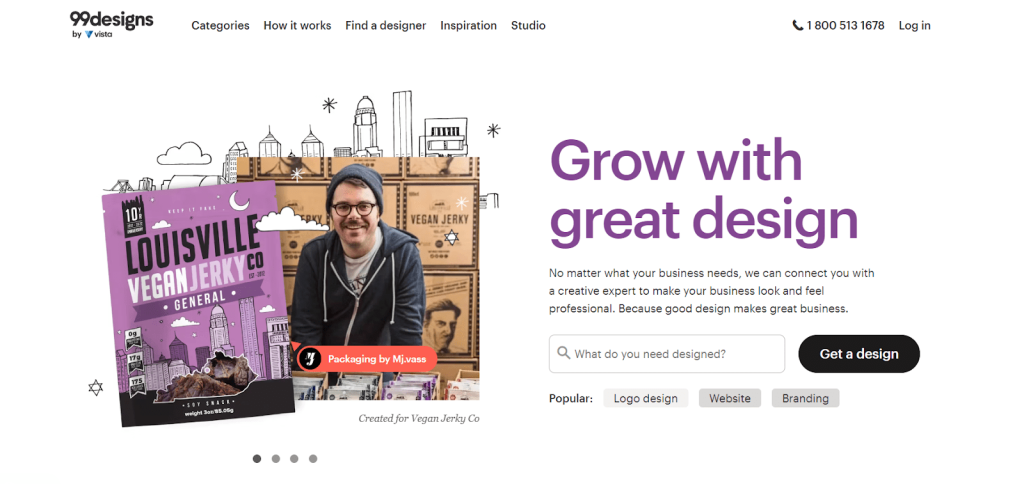 Clients can provide feedback and collaborate with designers to iterate on the designs until they find the perfect fit.
It's important to note that while 99designs excels in the graphic design space, its scope is more limited compared to the wide range of services offered on Fiverr. If you have design-specific needs and are seeking a variety of creative options, 99designs can be a valuable platform to explore your projects.
6. LinkedIn
This is a professional networking platform that offers a different approach to freelancing compared to Fiverr. LinkedIn serves as a platform for professionals to connect, showcase their skills, and find job opportunities, including freelance work.
As a Fiverr alternative, it provides a broader range of professional services beyond what is typically available on Fiverr.

Moreover, LinkedIn allows freelancers to share their work samples, portfolios, and recommendations from past clients or colleagues. It also provides features like LinkedIn ProFinder, a service connecting freelancers with clients seeking specific skills.
LinkedIn is better suited for building a professional network, showcasing expertise, and leveraging connections for freelance work rather than offering pre-defined services like Fiverr.
7. Toptal
Toptal differentiates itself from Fiverr by providing access to a curated network of top-tier freelancers who undergo a rigorous screening process.
Toptal's screening process is renowned for its selectivity, ensuring that only the top 3% of applicants are accepted into their talent network.
This strict vetting process guarantees clients access to experienced and highly qualified professionals with exceptional skills and expertise.

Moreover, Unlike Fiverr's gig-based model, Toptal generally operates on an hourly or project-based pricing structure. Rates for Toptal freelancers tend to be higher due to the platform's focus on top-tier talent and high-value projects.
Toptal distinguishes itself from Fiverr by offering a premium talent network focused on specialized domains. If you are looking for top-tier talent in software development, design, or finance, Toptal can be a compelling alternative to consider.
8. Truelancer
Truelancer allows freelancers to create profiles and showcase their skills, expertise, and portfolios.
They can offer services in areas such as graphic design, writing, programming, marketing, virtual assistance, and more. This enables freelancers to highlight their capabilities and attract potential clients.

Clients can browse through the available freelancers and job postings on Truelancer to find professionals who match their project requirements. They can review freelancer profiles, portfolios, and ratings to make informed hiring decisions.
Other than that, Truelancer offers messaging and file-sharing tools, enabling seamless interaction and effective project management.
9. SolidGigs
SolidGigs hand-picks the best freelance jobs from a variety of sources, including Upwork, Fiverr, and other freelance marketplaces. This means that you can be more confident that the jobs you find on SolidGigs are high-quality and high-paying.
With SolidGigs, you don't have to bid on jobs. Instead, you simply apply for the jobs that you're interested in.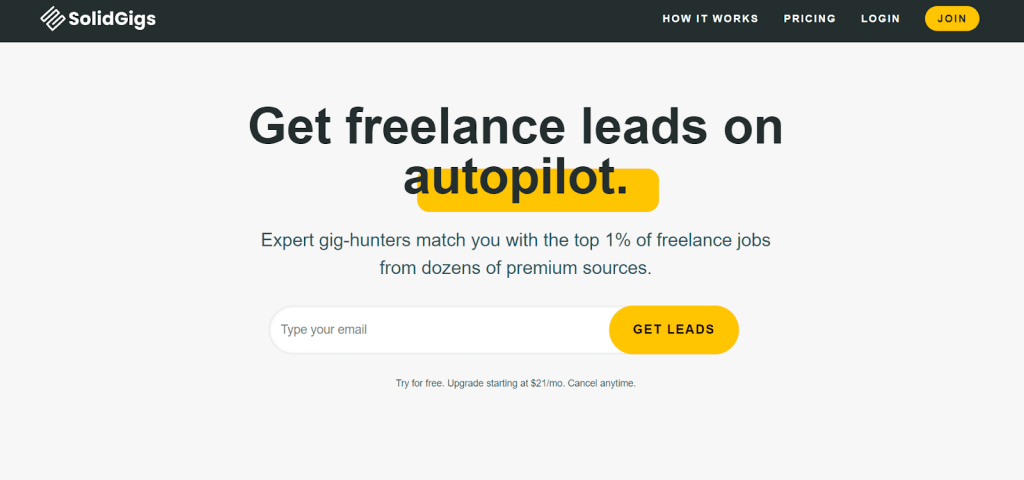 What I liked the most about this platform is its free training program that teaches you how to find high-paying freelance clients. This training program is a great way to learn the ropes of freelancing and improve your chances of success.
If you're looking for a more curated and high-quality freelance experience, then SolidGigs is a good alternative to Fiverr. It's a great platform for freelancers who want to find high-paying clients and who want to keep more of their earnings.
Related Reads:
Conclusion: Fiverr Alternatives
As a freelancer, I've used Fiverr for years to find gigs and clients. But lately, I've been feeling like I've outgrown the platform.
The competition is fierce, and the quality of work can be hit or miss. So I decided to do some research and find some Fiverr alternatives.
PeoplePerHour, Upwork, and TopTal are all top-rated sites that have a strong reputation for quality. They also offer a wider range of services than Fiverr, so you're more likely to find the perfect gig for your skills.
After reviewing all the alternatives, I've decided to make the switch to PeoplePerHour.
I like the fact that they have a strict quality control process, so I can be confident that the work I get will be high-quality. They also have a large pool of clients, so I'm more likely to find the perfect gig for my skills.
If you're a freelancer looking for a better alternative to Fiverr, I highly recommend checking out PeoplePerHour, Upwork, or TopTal. You won't be disappointed.
FAQs: Fiverr Alternatives
Are Fiverr alternatives as reliable as Fiverr?
While Fiverr has established itself as a reputable platform, many Fiverr alternatives have also gained credibility and a strong user base. 
Do Fiverr alternatives offer similar features to Fiverr?
Fiverr alternatives often offer similar features, such as creating profiles, showcasing portfolios, and communicating with clients. 
However, alternative platforms may have distinct features that differentiate them, such as industry-specific focus, different fee structures, or unique project management tools.
How do I choose the right Fiverr alternative for me?
Choosing the right Fiverr alternative requires careful consideration of your niche, your target audience preferred working style, and the platform's specific features. 
Research the platforms, read reviews, and consider joining relevant communities or forums to gather insights from other freelancers.