With over 1.57 billion freelancers across the globe, it doesn't come as a surprise to see more people opting for freelance writing. 
As freelance writer, landing on projects is one of the biggest challenges where you will find yourself into. There are hundreds of platforms for freelancers where they can connect with clients directly. However, when you are opting for any platform or website, it is vital to ensure it's safe and authentic. 
(let's be honest. Scams about payments with freelancers is yet another major issue)
We researched the best freelancing websites for writers by testing their services, authenticity, and understanding reviews of experienced users. After a thorough research, we have come up with the list of 10+ best websites for freelance writers.
With that, let's get into the details!
10+ Best Freelancing Websites for Writers
Here is a list of some underrated freelancing websites for writers.
1. Media Bistro
Media Bistro is one of the oldest websites that offer jobs and careers to individuals, writers, and professionals. Although this is not a complete freelancing website, it has a section, Freelance Connect, that allows freelancers to showcase their skills and projects. This way, employers can contact freelancers for their current projects.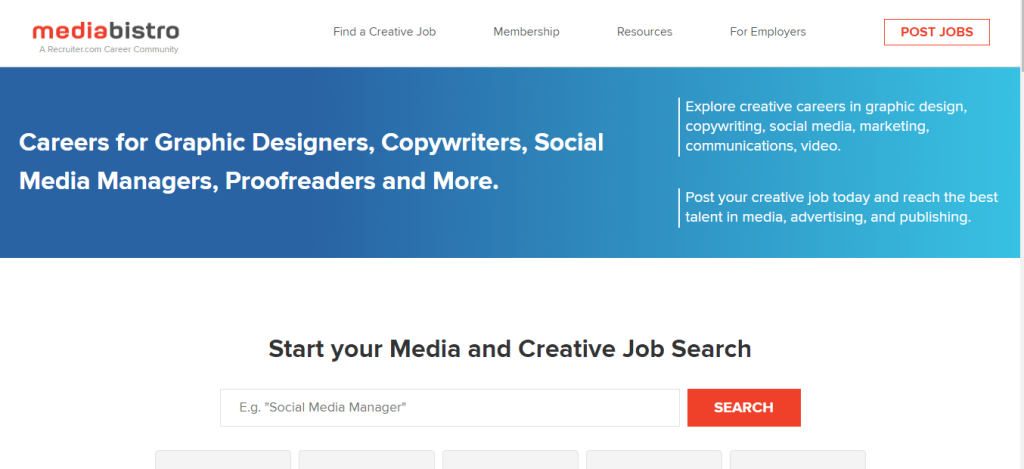 Freelancers can also browse through different categories and connect with clients seeking specific writing expertise.
Key Features:
Focus on media-related projects
Opportunity to work with reputable clients in the industry
Varied payment methods are available
Provides a secure platform for transactions
Drawbacks:
Limited to media-related freelance projects
Possibility of facing competition from industry experts
2. Freelancer.com
Freelancer.com is one of the world's largest crowdsourcing and freelancing websites in terms of the number of projects and users. The website connects over 67 million freelancers and employers from 247 countries.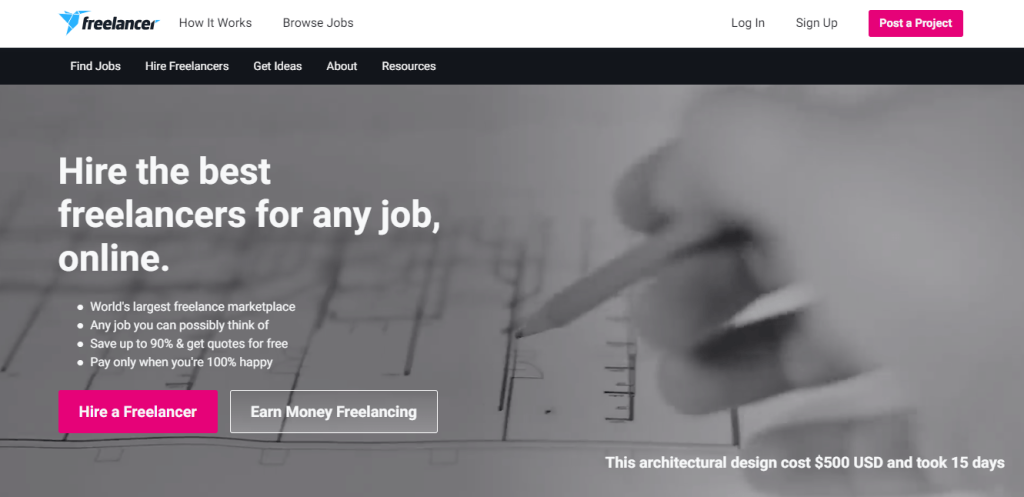 The platform operates on a bidding system, where clients post projects, and freelancers submit proposals along with their desired rates. Freelancers can browse through different categories of projects, such as writing, editing, content creation, and more.
Key Features:
A vast range of freelance projects is available
Opportunity to connect with top-tier clients
Multiple payment methods
Provides a secure platform for transactions
Drawbacks:
High competition among freelancers
Possibility of encountering spam or fake clients
3. Contently
Contently is mainly a CMS platform that allows businesses to create and manage content from a single platform. The platform is quite new among freelancing but still, it has a network of over 160K freelancers and employers across the world.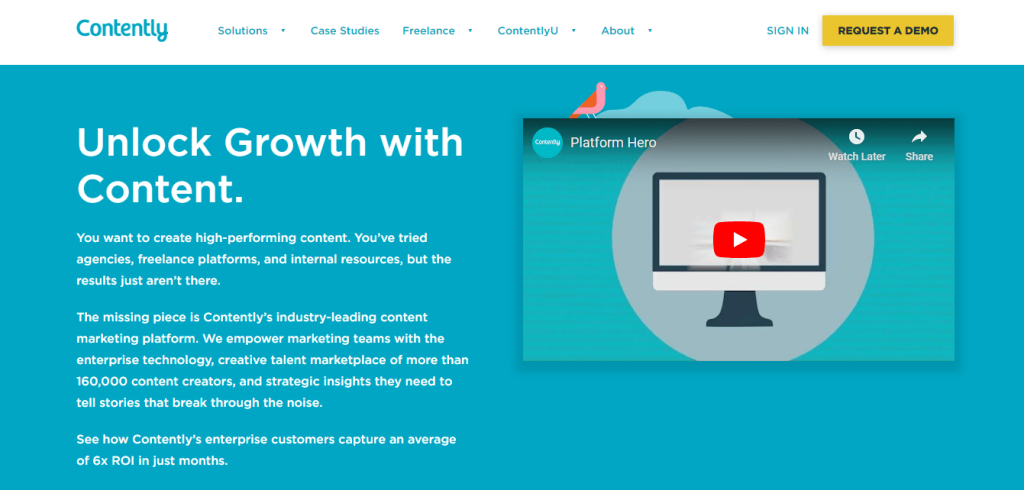 Contently offers a seamless experience for freelancers to find quality projects related to writing and copywriting. Instead of a bidding process, the platform matches freelancers with suitable clients based on their skills and expertise. The platform ensures a high standard of work and connects writers with top-tier clients.
Key Features:
Curated projects from reputable clients
Competitive rates for writers
Simplified process of finding freelance opportunities
Guaranteed payment for completed work
Drawbacks:
Limited categories of freelance projects
Possibility of facing stiff competition for projects
4. People Per Hour
People Per Hour connects businesses with professional freelancers for hourly or project-based work. Freelancers can create a free account and set up their profile, subject to approval by moderators. Once approved, they gain access to a wide range of job categories to explore.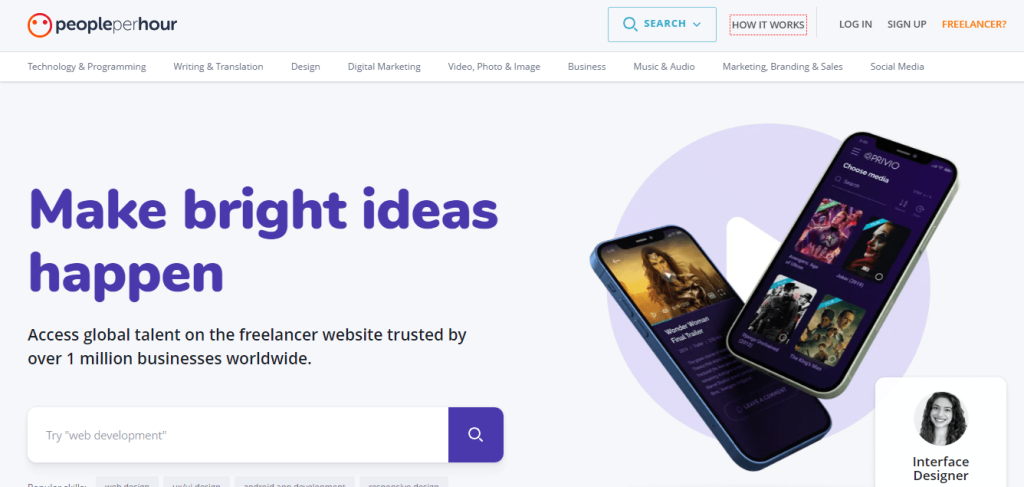 When working on a project, freelancers can send offers and set their prices. Managing finances is made easy with the ability to generate invoices directly from their dashboard. Similar to other freelancing platforms, People Per Hour charges a service fee to freelancers for each client. Initially, the fee is 20% of earnings, but it decreases as freelancers accumulate more work experience.
Key Features:
Diverse categories of freelance projects are available
Flexible working hours and project rates
Secure payment methods
Possibility of working with reputable clients
Drawbacks:
Commission fees deducted from earnings
Competition from a large pool of freelancers
5. Craigslist
Craigslist is an American-based advertising site that has classified sections for gigs, resumes, jobs, housing, services, etc. These sections become available to users based on their locations.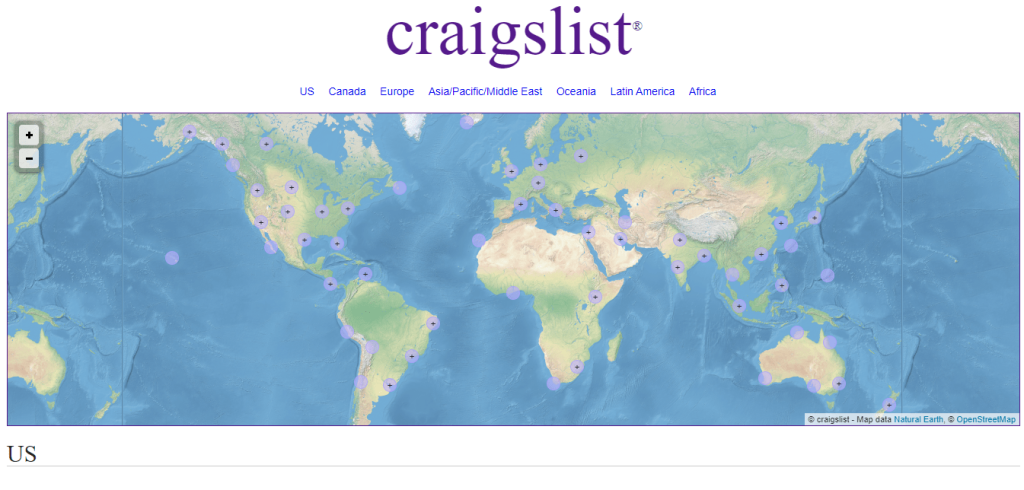 Freelancers can explore the "Writing/Editing" section on their local Craigslist website to find potential clients seeking writing services. However, caution should be exercised when dealing with clients on Craigslist, as there is a higher probability of encountering spam or fake job listings.
Key Features:
Access to local freelance opportunities
Possibility of finding immediate projects
No commission fees or platform charges
Drawbacks:
Higher probability of encountering spam or fake job listings
Limited security measures
Lack of guarantees regarding payment or client reputation
6. Upwork
Upwork is one of the most popular freelancing websites that connects employers and freelancers from across the globe. Clients can post jobs or purchase services from the project catalog, while freelancers can browse the job board and offer their services.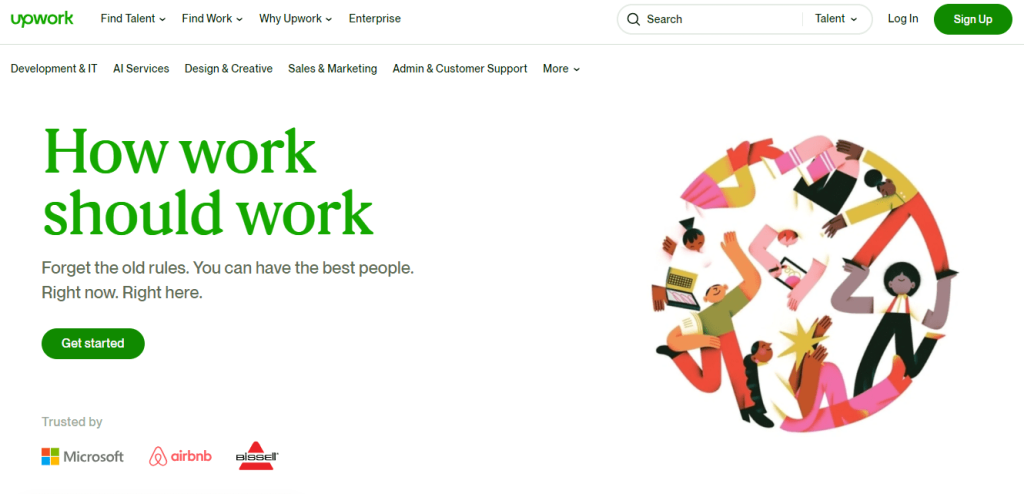 Upwork uses a sliding scale commission structure. The commission fee decreases as you earn more. For example, it starts at 20% for the first $500 bill and gradually reduces.
Key Features:
A vast array of freelance projects is available
Ability to connect with top-tier clients
Secure payment system with built-in escrow service
Offers various membership plans with additional benefits
Drawbacks:
High competition among freelancers
Strict Policies and Penalties for Freelancers
7. FlexJobs
FlexJobs is a platform that focuses on providing legitimate remote and flexible job opportunities, including freelance writing positions. The commission rate on the site is quite low compared to other websites.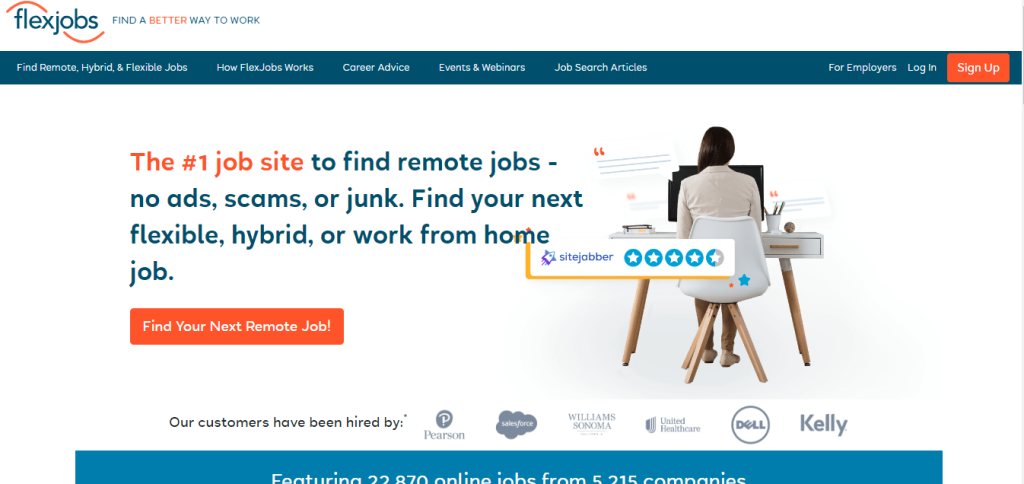 The site ensures a scam-free environment by thoroughly vetting all job listings before they are posted. FlexJobs is reputable for this particular reason.
Key Features:
Legitimate and reliable job listings
Trusted platform with a focus on remote work
Flexible working arrangements
Enhanced job search filters for targeted opportunities
Drawbacks:
Membership fee required for full access to job listings
Limited availability of entry-level projects
8. Fiverr
When it comes to hiring a freelancer for any website-related work, the first option that comes to mind is Fiverr. It is a global online marketplace for freelance services. It has a vast pool of talented professionals from different industries and backgrounds ready to take up projects and deliver them within the stipulated timeline.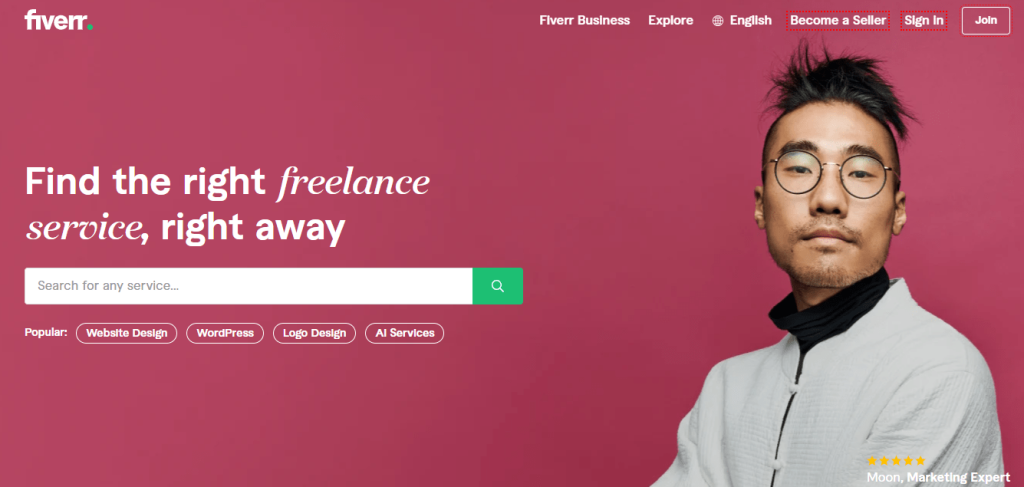 On Fiverr, you can register for free and showcase your skills and previous projects. Employers can hire you and give you ratings according to your work. The website also provides you badges based on your ratings. Like other websites, the platform charges you a 20% commission while it is up to you to list your prices.
Key Features:
Ability to create customized packages
Flexibility in setting rates for services
A wide variety of writing projects is available
Opportunity to build long-term client relationships
Drawbacks:
High competition among freelancers
Commission fees deducted from earnings
Possibility of encountering low-paying gigs
9. Writers Work
Writers Work is a comprehensive platform designed specifically for writers, providing a range of tools and resources to support their freelance careers.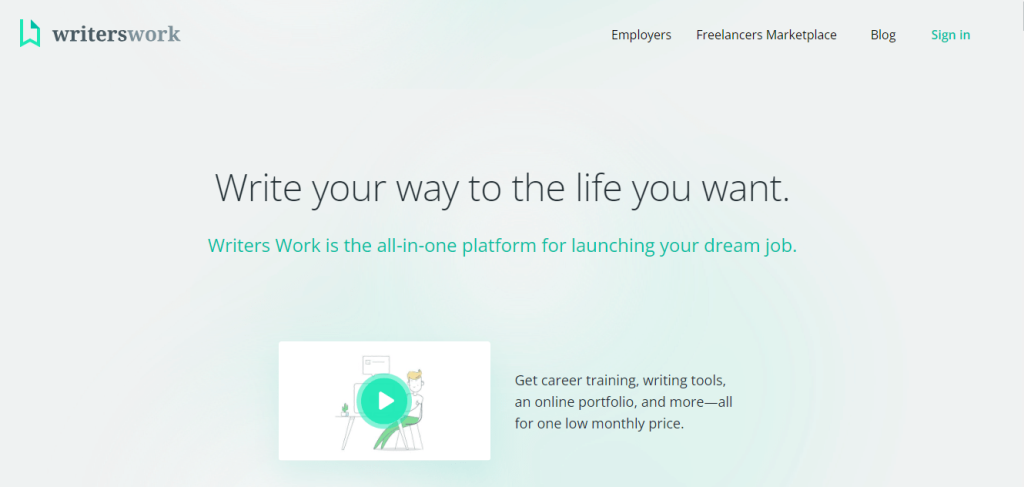 The site offers a job board where writers can find various writing opportunities, including content creation, editing, and proofreading. Writers Work also provides additional features like a grammar checker and project management tools.
Key Features:
Dedicated platform for writers
Access to a job board with diverse projects
Additional tools and resources for writers
Supportive community for networking
Drawbacks:
A monthly subscription fee is required for full access
Commission fees deducted from earnings
Limited availability of high-paying projects
10. Problogger
Problogger is a renowned platform specifically tailored for bloggers and writers. The site features a job board where writers can find blogging and writing opportunities across different industries and niches.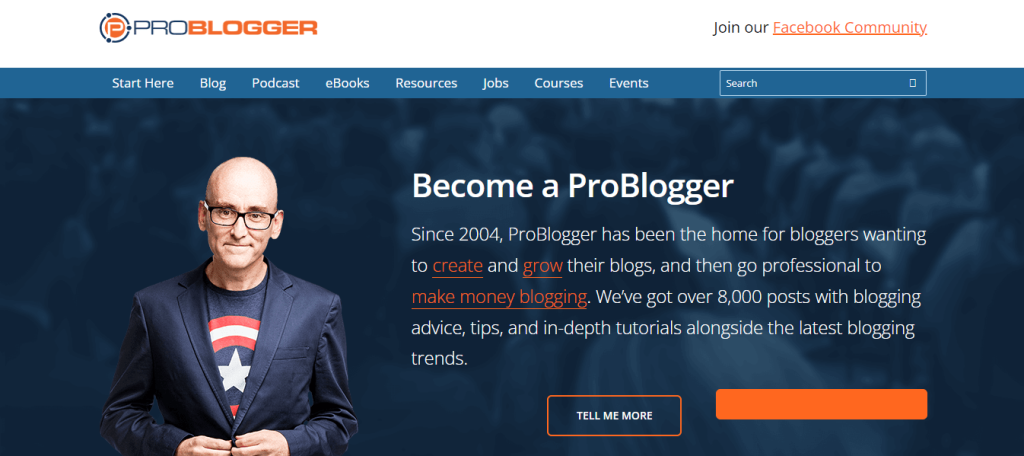 Problogger offers a curated selection of quality projects, ensuring freelancers have access to reputable clients. So freelancers can join the platform and complete projects based on their areas of expertise and interests.
Key Features:
Focused on blogging and writing projects
Trusted platform with quality job listings
Opportunity to work with established bloggers and publications
A dedicated section for remote writing positions
Drawbacks:
Limited to blogging and writing opportunities
Commission fees deducted from earnings
Competition from experienced writers in the field
Related read:
Conclusion: Freelancing Websites for Writers
There are numerous freelancing sites available for writers to find exciting projects and build their careers. Each platform has its features, advantages, and disadvantages. These sites mentioned in the article are just a few of the best freelancing sites that cater to writers.
It's important to consider factors such as project categories, bidding processes, commission fees, security measures, and the probability of encountering spam or fake clients when choosing a freelancing platform.
Remember, freelancing sites can be a valuable resource for writers to find work, showcase their skills, and connect with clients worldwide. Explore different platforms, create compelling profiles, and provide excellent work to establish a successful freelancing career.
FAQs: Freelancing Websites for Writers
Can I work on multiple freelancing sites simultaneously?
Yes! Many freelancers work on multiple platforms to increase their chances of finding projects and diversify their income streams. However, make sure you manage your time effectively and prioritize quality work.
How can I stand out among other freelancers on freelancing websites?
To stand out, focus on building a strong profile that showcases your skills, experience, and portfolio. Craft compelling proposals that highlight your unique selling points and respond promptly to client inquiries. Deliver high-quality work consistently to build a positive reputation.
What payment methods are typically available on freelancing platforms?
Freelancing platforms usually offer various payment methods, such as direct bank transfers, PayPal, Payoneer, or platform-specific payment systems. Choose the method that works best for you and ensures secure and timely transactions.
How can I avoid encountering spam or fake clients?
To minimize the risk of encountering spam or fake clients, research and verify the client's profile, reviews, and project details. Use the platform's communication and dispute resolution features to clarify expectations and protect yourself from fraudulent activities.