Flowkey is one of the top choices among piano lovers when it comes to picking a multi-platform piano learning app. Are you also interested in learning to play piano but not quite ready to commit to Flowkey's paid program?
If so, you might wonder if Flowkey has a free version or free trial. Well, here is a detailed guide on Flowkey free trial and everything you need to know about it. Read on to discover them all.
Does Flowkey Offer A Free Trial?
Yes, Flowkey offers a free trial. However, it's available only for yearly subscribers. A free or premium trial, as Flowkey calls it, is available when a user subscribes to their annual paid subscription.
Before committing to the subscription, you can actually test and try some piano lessons. There are no limitations on how many songs you can learn during the free trial. You are free to explore the entire platform and see what you like and what you don't.
Please note that you must cancel your Flowkey subscription one day before the free trial ends, that is, on the 6th day. Otherwise, they will charge you for the whole year.

To access the free trial, you have to enter your payment details. Flowkey won't immediately deduct the money, but they will as soon as the trial period ends. I understand not many people are comfortable sharing their card details when they aren't sure about the membership. That's okay because Flowkey has a solution for such users as well.
It has a free app. Once you sign up on Flowkey, you automatically become a free member. There are no time restrictions on the Flowkey free account, so you can use it as long as you want.
The free version has some basic course exercises and eight songs to learn. So till the time you're contemplating on the paid subscription, you can keep using the free app.
Signing Up For Flowkey Free Trial: Step-By-Step
You have decided to take the free trial; here is your step-by-step guide to avail of the same:
Step 1: Visit the official Flowkey website.
Step 2: Click on the start now tab you see in the middle of the page.

Step 3: Flowkey will run a quick survey to get an idea of your piano-playing skills. Answer them to proceed.
Step 4: Once you finish the survey, open an account with your email ID and set a password. Alternatively, you can use your Facebook or Gmail account to sign up.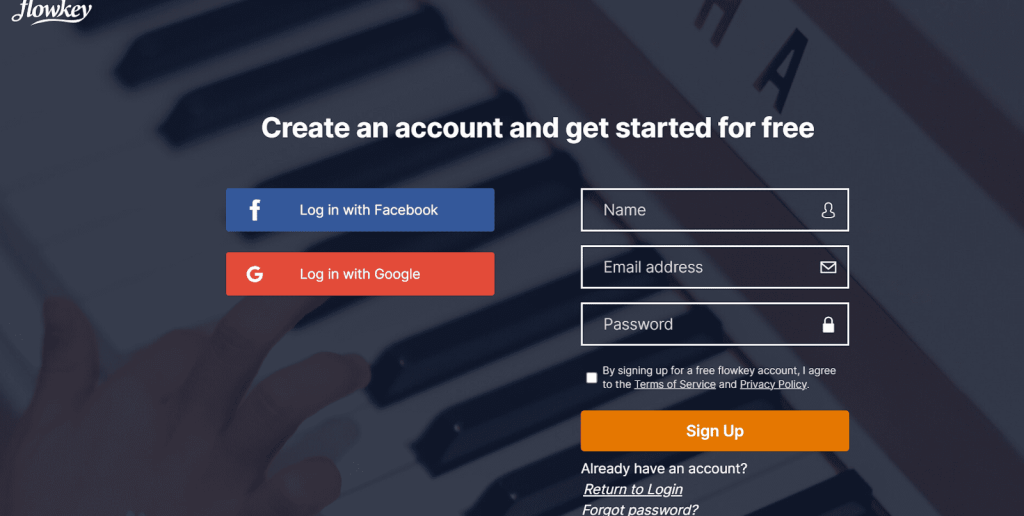 Step 5: Your free Flowkey account will be live once you provide the correct details. You'll see a similar page to the picture below. Click on start now.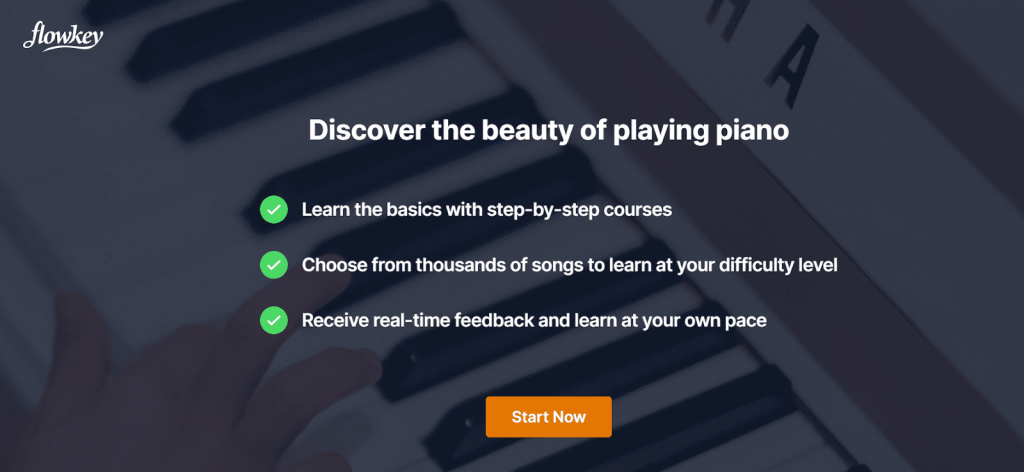 Step 6: Flowkey will show you the option to upgrade to the annual subscription and start the free trial. Click on start a 7-day free trial.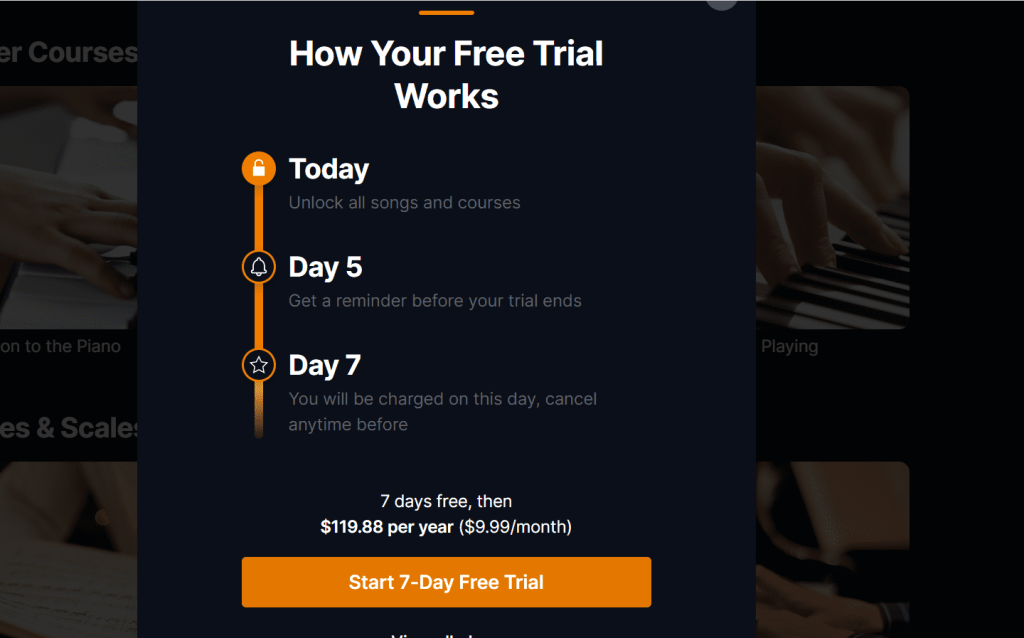 Step 7: Next, you have to provide your payment details. Flowkey accepts PayPal or Credit Card payments. Choose the payment option that works for you.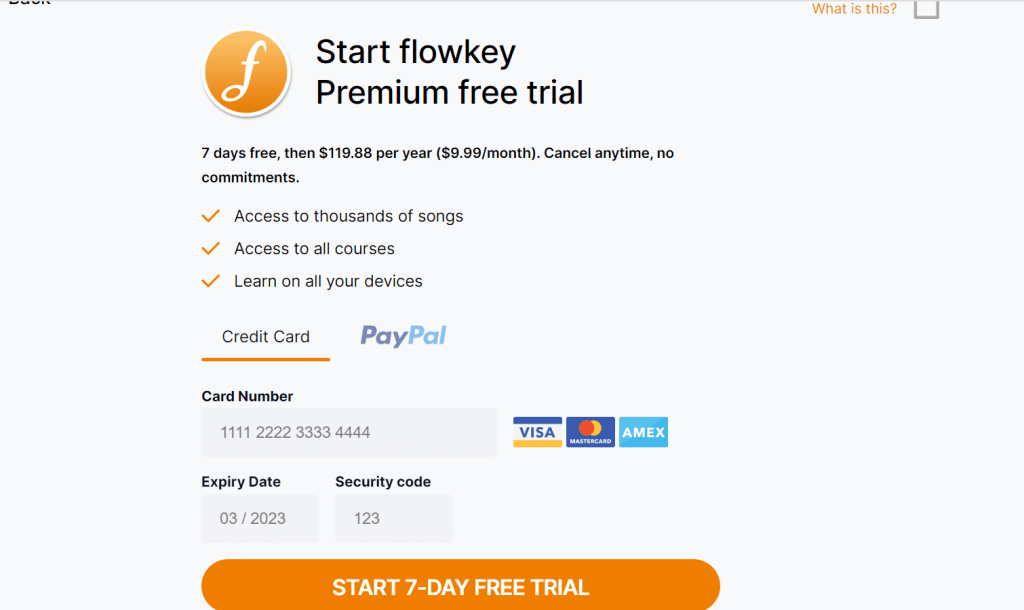 Step 8: After providing your payment details like card number, expiry date, and security code, your free trial of seven days starts. You can now explore the unlimited Flowkey library.
Conversion To Paid Subscription: Original Price Plan Of Flowkey
Flowkey has three different paid subscription options: monthly, half-yearly, and yearly. And here are the prices of all three subscriptions:
| | |
| --- | --- |
| Subscription Type | Price |
| Monthly paid plan | $19.99/ month |
| 6 months paid plan | $13.99/ month Or $83.94 for the tenure |
| 12 months paid plan | $9.99/ months Or 119.88 for the whole year |
The annual plan is the most cost-effective of all three options. Piano players who want to learn all ins and outs of playing piano like professionals would benefit most from the yearly plan.
If you only want to learn a few basic tricks, you can choose between a monthly or six-month subscription. But please note that apart from the annual subscription, none provide a free trial.
Concluding Thoughts On Flowkey Free Trial
Flowkey free trial is just the right way to get first-hand experience of how the platform works. Since they don't deduct any money within the premium trial period, opting for the annual subscription is actually a clever choice. Make sure to make the best use of the trial period and explore all features of the platform to make an informed decision!
FAQs- Flowkey Free Trial
Can I Cancel My Flowkey Free Trial Before It Ends? 
Yes, you can cancel your Flowkey free trial before it ends. You can cancel it anytime you want. 
Is The Flowkey Free Trial Available In All Countries? 
Yes, the Flowkey free trial is available in all countries. 
Is Flowkey Better Than Other Piano Learning Apps? 
Flowkey is a great piano learning platform with a wide range of piano lessons. They contain both beginner-friendly and advanced lessons making them a suitable option for learners of all stages.