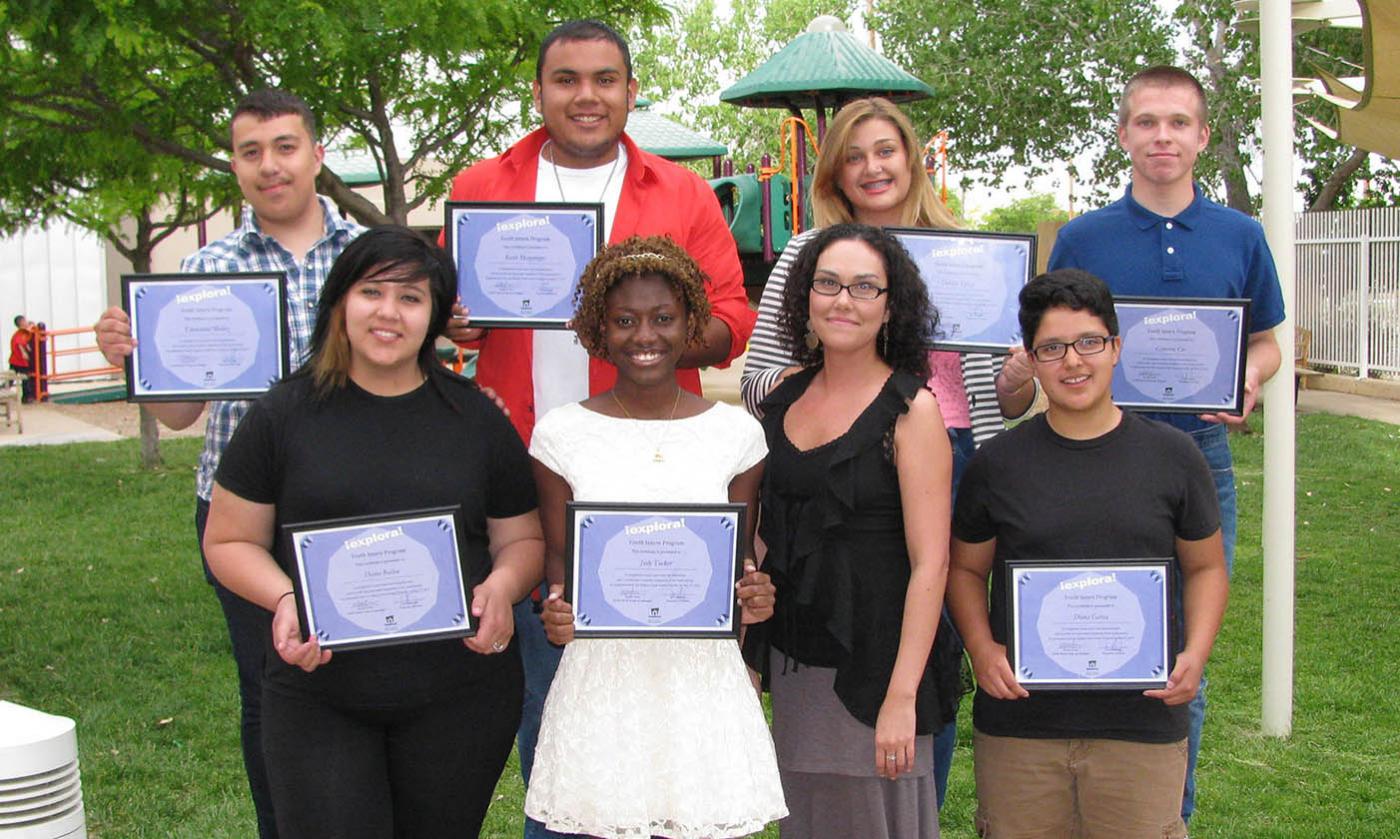 Organization:
Explora Science Center and Children's Museum
Having an impact on: High School Graduation, Postsecondary Enrollment, Workplace Competency Attainment
Explora, a children's museum and science center, is one of the most vibrant, stimulating, and fascinating places for children and adults alike, with a wide range of hands-on discovery exhibits about science, technology, and art. Many in Albuquerque know Explora as a special place for making science, technology, and art accessible to visitors, but fewer know that Explora has a hidden gem in its Youth Intern Program. In operation since 2004, the 2.5 year program offers low-income, high-achieving high school students an opportunity to learn science, technology, engineering, math, and art concepts, and to teach and serve as role models for children.
Daisy, a recent graduate of the University of New Mexico, completed the Youth Intern Program in 2011. She was the first in her family to attend college. Today she has her undergraduate degree in applied mathematics and is working in a laboratory utilizing math to investigate biomedical topics. Daisy says that she fell in love with math after being paired with a scientist during her internship at Explora. She grew her passion for math by teaching and mentoring elementary students through Explora's educational programs.
Like Daisy, many students learn about their interests and passions while interns at Explora. They also learn workplace skills that will benefit them in their future career paths. "The Youth Intern Program is great because you gain so many helpful people and speaking skills," explains James, a recent intern. "You also obtain the feeling of leadership when you're teaching. The staff works with you on interview skills to help you improve them. I have gained experience that I will always be able to use."
Explora takes a service-learning approach with the interns. In addition to the benefits the experience has for the interns themselves, their work in Explora's educational programs means that local children have the interns to look up to as role models from their own community. According to Explora staff, this enriches the quality and breadth of the organization's work. "This experience creates deep connections between interns and their communities," says Matt Makofske of Explora, "as well as an understanding of and commitment to community service, all the while contributing to Explora's educational mission."
Purpose and Goals
Explora's mission is "creating opportunities for inspirational discovery and the joy of lifelong learning through interactive experiences in science, technology, engineering, art, and math (STEAM)." The 2.5-year Youth Intern Program, designed for promising but disadvantaged high school students, exemplifies Explora's mission.  Interns' exposure to STEAM learning, professional skills, and community involvement is expected to be a pathway out of poverty into a rewarding career.  Interns also learn to question, explore, articulate, and then enjoy the rewarding experience of educating younger children. They develop strong ties to the community through outreach, and receive valuable mentoring to plan for college and career.
Population served
Explora's Youth Intern Program has provided about 30 paid internships a year for low-income, high-achieving, and culturally diverse high school students in Albuquerque. Students are recommended by teachers and then apply during their sophomore year. To participate, they must qualify for federal lunch program. Once accepted, the sophomore interns join the junior and senior cohorts, and stay in the program for additional 2.5 years through senior year.
Strategies used to achieve the goals
Orientation Semester: Before being selected for full internships, interested sophomores who have been recommended by their teachers come to Explora during the spring semester to learn about the organization and about principles of experiential education, while developing essential workforce skills including effective work behaviors, résumé writing, and successful interviewing.
Competitive Application Process: To be selected for full internships, students must actively participate in the orientation semester, complete an application, provide two adult references, and interview at Explora with their adult sponsor or parent.
Multi-Step Program: Once part of the team, student interns spend summers and afterschool hours learning about the exhibits and educational units delivered to elementary school students. Steps in the training process include experiencing a program as a student, experimenting with the program materials, learning the science behind the program, observing Explora educators, assisting Explora educators in providing the program, pairing with another intern to team-teach the program, and finally teaching the program solo to public elementary school students who come to the museum. The interactive, inquiry-based learning as well as the teaching assignments prepare students in STEAM concepts and also in community engagement.
Portfolios: Interns maintain portfolios on their progress, including self-evaluations; Explora staff use portfolios and attendance data to evaluate the interns' performance and experience.
Mentors: Each intern is matched with a mentor who supports their job performance and helps them explore potential careers. Mentors also provide support for the students' high school academic programs, and assist in selecting and applying to colleges.
Stipends: Interns receive a stipend during the school year and summer.
Data Snapshop
How much do we do?
31 students participated in the program during the 2014-15 school year.
The interns facilitated STEM explorations for 8,054 low-income elementary school students.
How well do we do it?
84% of interns were retained over the 2014-15 school year.
In 2014-15, interns accumulated at total of 8,200 contact hours, or an average of about 265 hours per student.
Is anyone better off?
100% of 12th grade interns graduated at the end of the 2014-15 school year.
85.7% of graduating seniors enrolled in post-secondary education in the first semester after graduation in comparison to Albuquerque Public Schools' rate of 68.9%[1]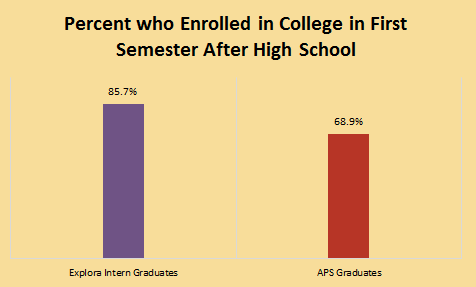 [1] Martinez-Papponi, B., & Genné (2014). High School College Going Report: 2007-2013 Trends and Analysis. Albuquerque, NM: APS Research and Accountability.
Website: www.explora.us/en/educational-programs/youth-intern-program
Phone: (505) 224-8388
Email: lavila@explora.us
---
To be selected for a Bright Spot, a program had to provide evidence that children or adults touched by their interventions were better off after participating. While the strength of evidence varied from program to program, all Bright Spots were able to show – at minimum – a correlation between participation in their program and positive outcomes. Those with stronger evidence provided pre- and post-data on participants in comparison to a similar group that did not participate.