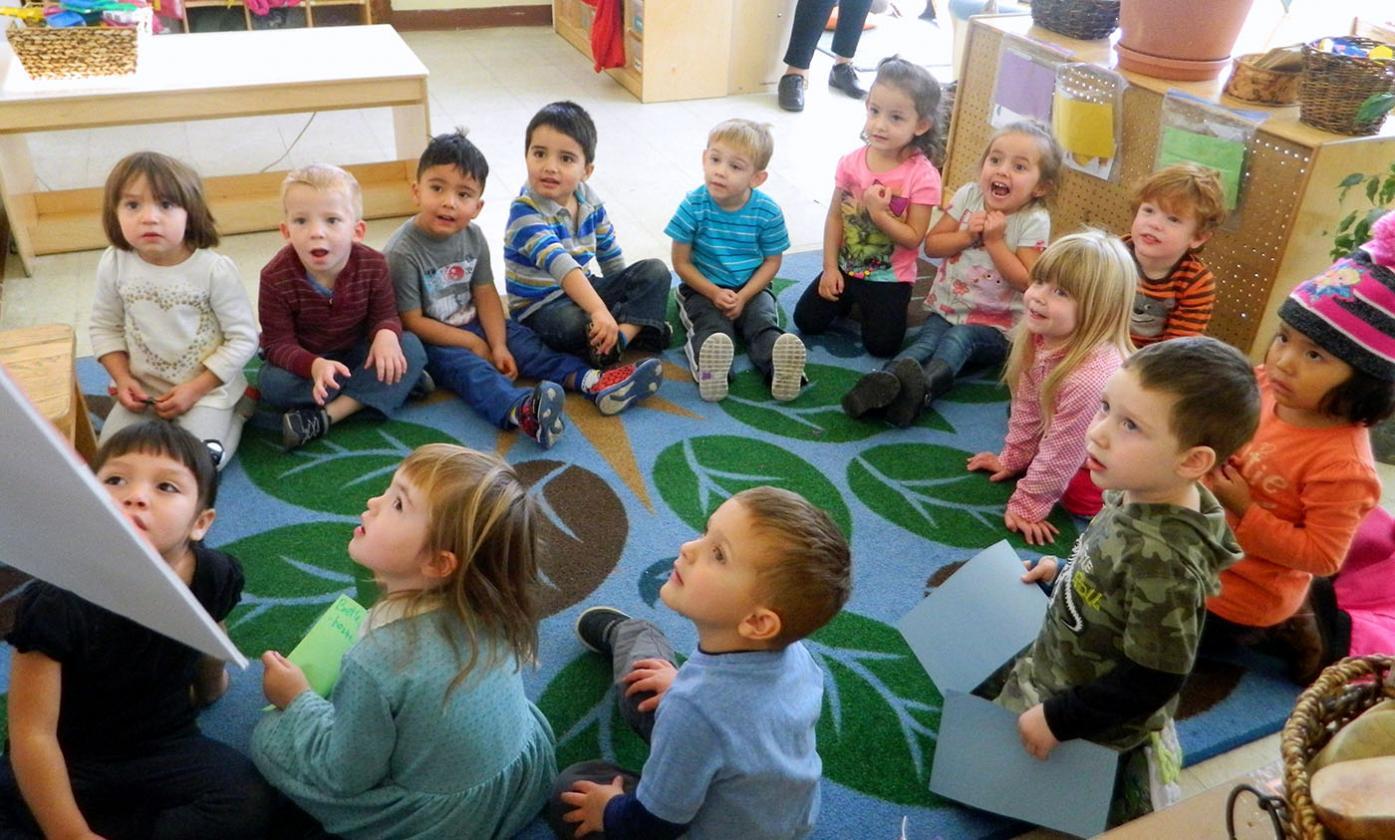 Program Name:
Kindergarten Readiness, Early Grade Literacy
Having an impact on: Kindergarten Readiness, Early Grade Literacy
Christina Kent Early Childhood Center (CKECC) is a five-star facility that has made its home in a quaint and quiet Albuquerque downtown neighborhood. CKECC serves youngsters two to five, provides a strong literacy curriculum that integrates computer technology, and emphasizes collaboration with parents in developing enriching programs. Since 2010, the Center has started studying and putting into practice the early childhood philosophy of the Reggio Emilia educational centers in Italy.
Parents recognize the Center's focus on learning.
"Because of the early childhood education component, Adelina is growing in every way," said Angela Swatkowski, mother of a four-year old. "She is talking more, is more friendly, and loves when her teachers use songs to help the kids learn."
Behind CKECC's simple façade resides a nearly 100-year history of providing quality early-childhood experiences to children born to low-income families. Founded in 1919 by the Women's Club of Albuquerque, what was then called the Albuquerque Nursery provided daycare to several dozen children, infants through age six, six days a week. Within a couple of years, the Nursery was caring for over 150 children of working mothers, although not all at the same time.
Christina Kent was one of the active members of the Club involved in founding the Nursery. In 1930, Christina Kent's daughter Margaret Medler, who was on the Nursery's board, requested that the name be changed in her mother's honor. Thus, Albuquerque Nursery became the Christina Kent Day Nursery, later moving to its current location in a duplex on Third Street.
I like playing with my friends at the chalkboard. My teachers help me when I'm on the ground get up. Chili mac is my favorite food. Christina Kent makes me feel happy.Orion, age 5
The Board changed the name again in 2008 when it became the Christina Kent Early Childhood Center to reflect its focus on early education.
The old building has undergone major renovations in the last three decades to comply with the City's fire code and meet the standards required for accreditation by the Children, Youth and Family Department (CYFD). CKECC is also accredited by the National Association for the Education of Young Children.
Purpose and Goals
The mission of CKECC is to serve the children of economically diverse working families with quality childcare, early education, and nutritional services in a safe and nurturing environment.
Population Served
In 2014-15, the program served 62 children in three classrooms: 20 four- and five-year olds in the Pre-K classroom dubbed "Busy Bee," 24 three- and four-year olds in the "Teddy" classroom, and 18 two- to young-three-year-olds in the "Bunny" classroom. About 81 percent of the enrollment are children of color, and 77 percent are from low-income families. About half the students' families have childcare assistance contracts with the State of New Mexico CYFD. Additional 29 percent are on a sliding scale and pay a reduced tuition.  
Strategies Used to Achieve Goals
Reggio Emilia approach: The pedagogy and philosophy of education at CKECC are inspired by the schools for young children in Reggio Emilia, Italy. The Reggio Emilia principles include:

The image of the child as strong and competent
Collaboration between parents, teachers, and children
The environment as the third teacher
The power of documentation to make the learning process visible
In-depth studies based on children's interests
Collaborative planning and professional development (took out periods)

Interactive environment: In this approach, the classroom environment is set up to make the material accessible and the child, independent. The social environment includes positively worded responses.
Trained Teachers: Children's interests and development are rigorously documented and applied in the teachers' practice. Early learning guidelines and educational standards serve as a framework and help capture the child's development in early years. The teaching staff meet NAEYC's guidelines for training and educational qualifications.
Data Snapshot:
How much do we do?
20 children are served in the state Pre-K "Busy Bee" classroom
24 three- and four-year-olds are in the "Teddy" classroom
18 two- and young-three-year-olds attend the "Bunny" classroom
How well do we do it?
11 (55%) children in Pre-K have been at CKECC for three years, and another two (10%), for two years.
13 (54%) children in the "Teddy" classroom have been at CKECC for two years. 
Is anyone better off?
A comparison between scores in the fall 2014 and spring 2015 on the New Mexico Pre-K Observational Assessment shows growth on six dimensions of kindergarten readiness.
Website: christinakent.org
Phone: 505-242-0557
Email: allison@christinakent.org
---
To be selected as a Bright Spot, a program had to provide evidence that children or adults touched by their interventions were better off after participating. While the strength of evidence varied from program to program, all Bright Spots were able to show – at minimum – a correlation between participation in their program and positive outcomes. Those with stronger evidence provided pre- and post-data on participants in comparison to a similar group that did not participate.